The 5 Most Important Things To Do Before You Move
As an Amazon Associate I earn from qualifying purchases. | Amazon and the Amazon logo are trademarks of Amazon.com, Inc, or its affiliates. | As a content creator, I may receive payment for the endorsement of apartment communities.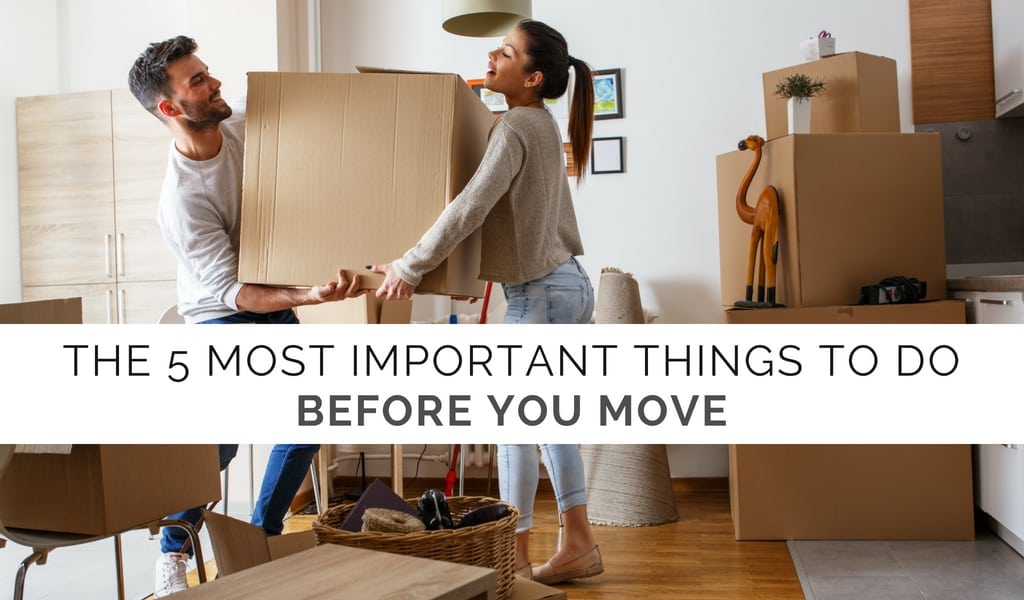 Surely, all of us will agree that the fun part of having a to-do list is checking off the completed tasks. When it comes to moving, a to-do list is a must for you to help you not to get lost in all the chaos. Moving is stressful, and there are a lot of things to do before you move. The best way to stay organized is to write down everything you need to do.
Moving arrangements will differ from person to person, and therefore, not everyone's priorities will be the same. However, there are certain things that individuals on the move will have in common. To make moving less stressful and more efficient, take a look at these five essential things that you should add to your moving list before you proceed.
Timing Is Everything
When you are moving, put your procrastination habit aside and make sure you get the needed things done, day by day, week by week. Sticking to a packing schedule like this one will avoid stress and chaos in the final hours. Choose your moving date and stick to it! You can even save money by choosing a less busy moving time, such as mid-month, to take advantage of lower moving rates.
Do not wait for the end of the moving process, and then notify the post office about your change of address. Notify your bank, phone company, magazine subscription, utility companies, etc. about your address change at least three weeks before you move. This is a simple task that can be done online and will avoid confusion later on.  Check out our definitive moving checklist here for more must-do items.
Only Take What You Need
Avoid paying for the relocation of unwanted things by decluttering your home. We tend to store stuff for "one day when we need them," but in most cases, that day never comes. Take advantage of the situation and get rid of clutter ASAP!
Start eliminating things that you do not need before the packing begins. Aside from having less to pack and minimizing the moving costs, throwing out some of your old stuff will give you a great excuse to shop for your new living area.
You can choose to donate things like appliances, furniture, and clothes, recycle some old stuff if you practice green living, or you can even make some extra cash by selling your stuff online. It will also be wise to go through your pantry ahead of time so that you can finish food items to ensure a lighter move.
DIY or Moving Company
If you have the time, vehicle and enough people to help you, then doing everything yourself can save you some money. However, moving by yourself might have some hidden cost and can be a very exhausting process.
If you choose to stick with a moving company, then you should do some research and ask for recommendations to ensure that you hire the right professionals for the job. Many moving companies offer a packing service as well which will save you even more time.
For more tips about choosing how to handle your move, check out our interview with the moving pros at Bellhops.
Use Creative Packing Methods
Think outside of the box to ensure efficient boxing! For instance, you can use clothes to wrap up breakable items, make use of baskets, laundry bins and hampers instead of boxes and cover your clothes that are on the hangers with garbage bags instead.
Make sure you have all the supplies before you start packing which includes boxes, packing tape, etc. Do not forget to mark each box after its sealed to make unpacking easier. Relevant documents should be filed correctly, and copies should be made just in case.
Have your essentials that are needed for the first week after moving all in one box. Make a list of what these essentials as the packing process continues so that you are sure not to forget anything. Remember to arrange for the moving day which will include a closeby parking area and open moving space if you live in a building.
Click here for our expert tips on what exactly should go in your first night box, plus other pro packing tips.
Quick Cleaning and Saying Goodbye
Cleaning your old home is vital to do as packing progresses, but one more quick cleanup should be done when everything is out, the day you leave. This is important so that you can get a return on your security deposit and also make sure that you didn't leave anything behind. Just as you would enjoy moving into a clean house, so would the new residents of your old home.  More tips on how to get your security deposit back can be found here.
Say your goodbyes to the neighbors the day before if you think that the moving day will get too busy. If you are lucky, maybe a friendly neighbor will even offer a helping hand when the moving vehicle arrives.
Final Thoughts
There are many things to take into consideration when you are moving your belongings. The best way to get it all done is to start planning early, have a packing checklist, and address to-dos one day at a time. Ticking off that to-do list as the days go by will help you stay calm and collected for when the big day arrives.
Equal Housing Opportunity Rental providers will not refuse to rent a rental unit to a person because the person will provide the rental payment, in whole or in part, through a voucher for rental housing assistance provided by the District or federal government.
Offers included in posts
Pricing and availability is subject to change. | Terms and conditions may apply to any special offers referenced. Contact the apartment communities for details.
Sponsored Posts
Aparrtminty may receive payment for sponsored posts and guest posts