How To Pack For A Move: When To Start & What To Pack First
As an Amazon Associate I earn from qualifying purchases.
A Packing Timeline To Help Prepare For Your Move
Packing for a move is a daunting task. What to do and when to start, you might ask? Don't worry, we are here to help. With our two-month schedule, we have made packing easy and removed any question about what to pack when, when to start and what to pack first. Organize your belongings and prepare for your move in the least stressful way possible with these tips for how to pack for a move.
Looking for a little more assistance in planning for your upcoming move?  Download our definitive guide to moving PDF with all of the packing and moving checklists you need. It's free!
THE DEFINITIVE GUIDE TO MOVING
THINGS TO KEEP IN MIND AS YOU GO
Label Everything: Labeling all of your boxes, bags, and items packed away is crucial. This will help the unpacking process when you have moved into your new home.
De-Clutter: Moving is the perfect time to get rid of things you no longer need. Examine everything you have acquired as you pack and clean out anything you no longer need. This will help with unpacking and feeling good about your belongings as you settle into your new home.
Have Fun: Ok, ok…we know moving isn't fun, but try not to take it so seriously.  While moving can be stressful, it is also a very exciting time! Turn on your favorite music, have some snacks ready for when you need a break, recruit a few friends to help, and make the packing process fun.
What To Pack Two Months Before Your Move
This is the perfect time to start packing your non-essential items. Think: off-season clothing and decorations, random knick-knacks, and anything you aren't using on a regular basis. 
Holiday Items: Gather and pack all of your ornaments, lights, and holiday decorations that you have stored away.
Art and Decorations: While art and visuals make you feel at home, you will be just fine without them while you prepare for your move. Take all hanging items down, wrap and box them up, and prepare them to be safely moved.
Photo Albums and Scrapbooks: Similar to art and décor, we know these make your house feel like home, but packing these items up is a great kick-start to the moving process. Storing them away now will make them feel all the more special at your housewarming!
Books and Cookbooks: Box up your cookbooks and save mastering any new recipes for after your move. If you are a reading fanatic, pull your current read aside, then pack the rest of your library away.
Off-Season Clothing: Now is a great time to pack up any clothing you don't foresee yourself needing for the next few months. If you are moving during transitioning seasons, give yourself some leeway, but go ahead and pack up the items you know you won't need.
Coats: Similar to packing up your off-season clothing, set aside coats you will most likely need, and pack away the rest.
What To Pack One Month Before Your Move
With one month until your move, you can start to organize and pack even more of your non-essential household items. While you may feel like you'll want to have access to some of these, we promise you will feel more confident in your move by packing these away in advance.
Non-Essential Kitchen Gadgets: You know the juicer you hardly use or the Zoodle maker your forgot you have? Those can get packed up now.
DVD's, CD's, and Video Games: Keep a few of your favorites out, but for now, these are items that can be packed away.
Extra Dining Sets: The china you rarely use, or the extra sets you have for parties can be wrapped and packed away. One month before your move is a great time to break out the paper plates and plastic silverware.
Entertainment Items: Pack up the board games, crafts, and any miscellaneous entertainment items you have laying around. Until you are settled into your new place, there won't be much time for these.
What To Pack Two Weeks Before Your Move
Time is ticking, and now is the time to pack up all of the

"

extra" things you have at home

–

extra linens, extra cleaning supplies, and anything else of that nature.
Non-Essential Lamps and Bulbs: Any sort of decorative or non-essential lighting can be packed up now. If you have overhead ceiling lights, then you should be able to pack up all floor and table lamps.
Extra Linens and Towels: Make sure that every household member has a towel and change of sheets and pack the rest. Any washing and changing that needs to occur over the next two weeks will be easier than leaving these items out.
Office Supplies:
Keep out any items you may need during the move
–
a few sharpies, pens, sticky notes, and packing tape should do the trick. Everything else can be boxed up.
Random Cords and Electronics:
You know that box or drawer of cords you keep in case you someday remember what they belong to? That extra DVD player or old cable modem? Pack
'
em up.
Extra Cleaning Supplies: Pack away your extra cleaning supplies, and those items that are less frequently used. Be sure to keep the essentials out so that you can continue to clean as you pack.
Decorative Items: Throw pillows, throw blankets, small rugs, and any sort of decorative furniture or finishes, there's no need to keep them out during your final weeks.
What To Pack One Week Before Your Move
Pantry Items: Baking items, spices, canned and dried goods, and anything non-perishable can be packed up now.
Small Appliances:
Other than the daily essentials, pack up your small appliances
–
the hand vacuum, extra coffee machines or toasters, humidifier, etc. Getting as many of these bulky items packed away now as possible will help on moving day.
Important Documents: Store a folder with any documents you may need in the moving process in your first night box and pack the rest of your important documents away.
Dining and Serve Ware: Either keep out a set of one plate, bowl, knife, fork, spoon and cup for each member of your household or pack it all up and use plastic and paper for the last week. We recommend the latter to keep things easy and organized.
Clothing: For your last week, pack a bag of all clothing items you will need. Once you have that, box up everything else. This includes shoes too.
What To Pack The Day Before Your Move
Toiletries: Keep the essentials in the bag packed for your final week.
Curtains and Blinds: Unless there is a window where privacy is necessary, one night without window treatments is worth it. Be sure to keep the hardware organized as you pack these up.
Pet Supplies: We can't forget about our furry friends during the moving process. Keep out any important medicines, a toy for comfort, and enough food to get you through the first couple of days during the move.
First Night Box:
A box of essentials will come in handy for your first night. We recommend gradually adding items to your box as you go through the packing process. Unsure what should go in this box?
We have you covered.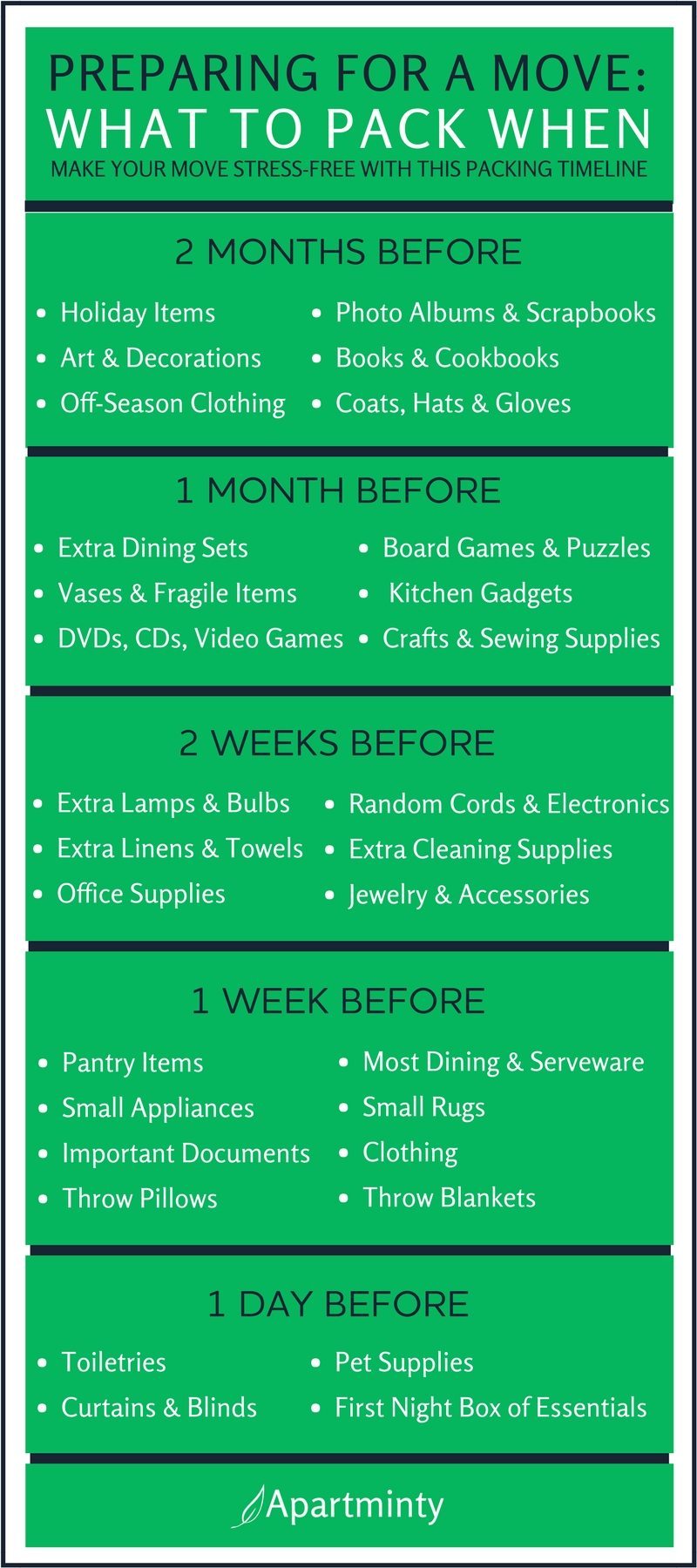 Equal Housing Opportunity Rental providers will not refuse to rent a rental unit to a person because the person will provide the rental payment, in whole or in part, through a voucher for rental housing assistance provided by the District or federal government. Amazon and the Amazon logo are trademarks of Amazon.com, Inc, or its affiliates.
Summary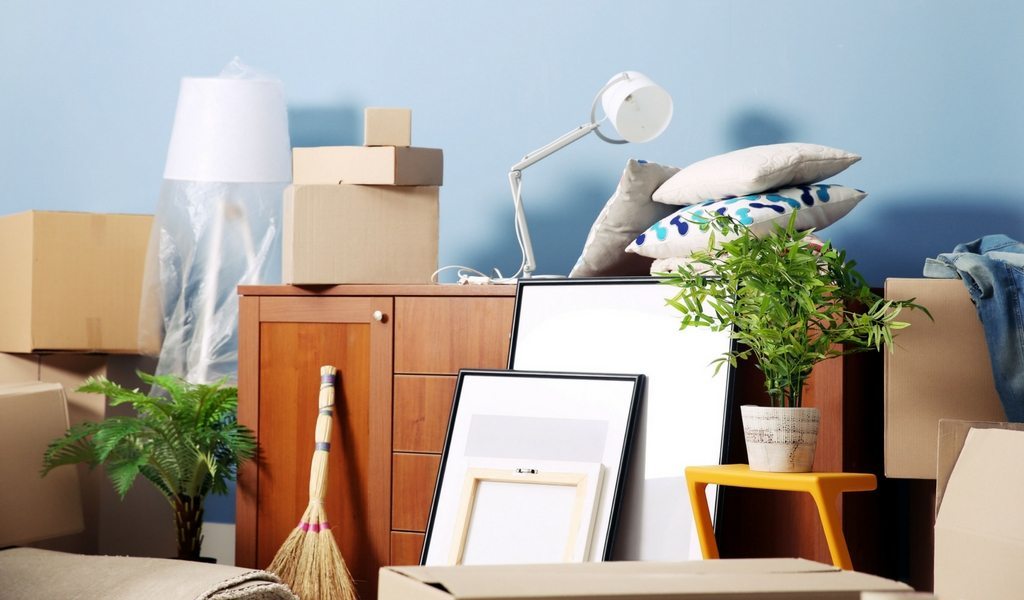 Article Name
How to Pack for a Move: When to Start and What to Pack First
Description
How to pack for an apartment move: this checklist details out for you when to start packing and what to pack first.
Author
Publisher Name
Publisher Logo