Why Happy People Invest in Hygge
As an Amazon Associate I earn from qualifying purchases. | Amazon and the Amazon logo are trademarks of Amazon.com, Inc, or its affiliates. | As a content creator, I may receive payment for the endorsement of apartment communities.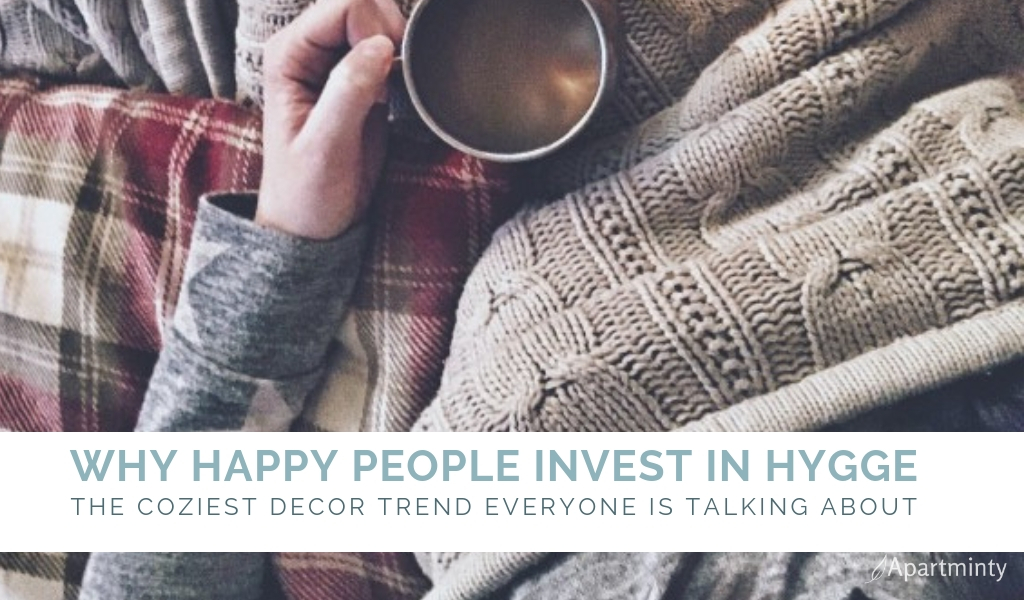 Don't miss out on the coziest home decor trend everyone is talking about
Can home decor shape the way you think and feel about everyday life? The Danes seem to think so.
Denmark has consistently been recorded as one of the happiest countries in the world for the past seven years. A major aspect the Danish culture attributes to that statistic is hygge. Hygge (pronounced hoo-gah) is a long-used Scandinavian philosophy based on the deliberate acknowledgment of a moment and enjoying it to the fullest. Specifically, this principle focuses on celebrating feelings of comfort and joy in safe, cozy surroundings.
So, how does this translate to home decor? Through continued research, science has found that your home surroundings affect your experience through something called neuroaesthetics. Neuroaesthetics study how a person's immediate environment can affect their emotional responses and in turn influence their everyday happiness.
Hygge has withstood the test of time as a practice that many advocates believe affect their happiness for the better. There are several ways to incorporate this specific style of decor into your space and home environment. Use these helpful tips and tricks to get started on your hyggelig home!
1. Surround Yourself with Things You Love
When you hygge, be sure that you pick styles that mean something to you! Indulging in the little things is a great way to incorporate this cozy lifestyle. Adorn your space with special photos and items in your favorite colors. Include meaningful pieces like inspirational murals, family heirlooms and unique items that speak to your inner self. Tapestries are another great way to bring in some worldly vibes.
2. Create a Cozy Haven with Furniture and Accents
Ramp up the comfort level by filling your space with affordable pieces you love. Furniture is often overlooked when considering hygge, however, it can have a great impact. Get a better night's sleep with a comfortable mattress or lounge the day away relaxing on your favorite sofa.
3. Dive Into A Good Book
Hygge is all about embracing your space to accept anything it can offer. A great way to appreciate your surroundings is by unplugging from modern, everyday devices and immersing yourself into a great story. Start a hygge book club or decorate your space with your favorite novels. For those of you who are less inclined to pick up a book, your favorite tv show is another great way to decompress. Just make sure to stay totally engaged in the activity you're doing so that you can enjoy it to the fullest!
4. Bundle Up in Soft Textures
Remember, comfort is the main objective. Decorate your home with your favorite textures. Faux fur, chenille and chunky textures are having a major moment right now so keep them in mind when you consider options for your home. Have plenty of blankets available for cozy layering. Plush accents, such as throw pillows, can be a great way to tie in soft textures as well!
5. Light Up Your Space
At its core, hygge is really all about the space you create and the vibe that you connect with. Some prefer dim lighting while others crave natural light. Keep to your preferred aesthetic and add on with candles, twinkle lights or the glow of a fireplace.
Equal Housing Opportunity Rental providers will not refuse to rent a rental unit to a person because the person will provide the rental payment, in whole or in part, through a voucher for rental housing assistance provided by the District or federal government.
Offers included in posts
Pricing and availability is subject to change. | Terms and conditions may apply to any special offers referenced. Contact the apartment communities for details.
Sponsored Posts
Aparrtminty may receive payment for sponsored posts and guest posts