What Your Moving Company Wants You to Know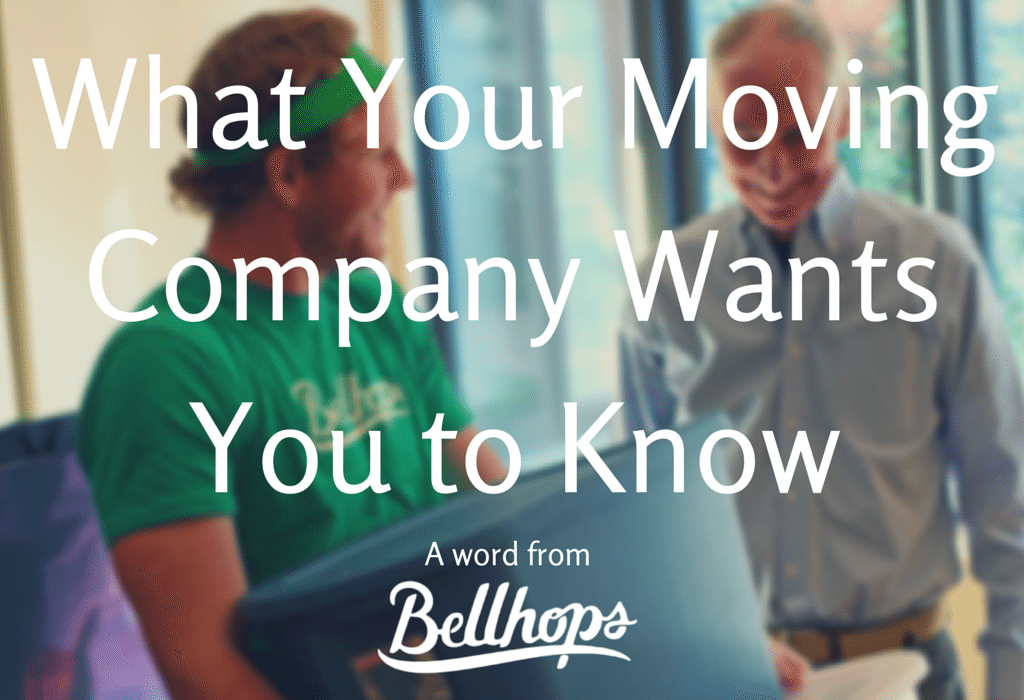 As an Amazon Associate I earn from qualifying purchases. | Amazon and the Amazon logo are trademarks of Amazon.com, Inc, or its affiliates. | As a content creator, I may receive payment for the endorsement of apartment communities.
We've said it before and we'll say it again: moving can be really stressful.  We've been through it ourselves and shared our tips for a smooth move here, here and here, but those are all written from a renter's perspective.  To make sure your move is pleasant for everyone involved, we asked our friends at Bellhops to give us the rundown about what your moving company wants you to know.  Bellhops provides an awesome on-demand moving service that's a step above begging your friends for help and a few notches below the cost of hiring a full on moving company.  When you're ready to load up your moving truck, you can count on the Bellhops to do the heavy lifting and put a smile on your face during a truly exciting time in your life.  We asked co-founder Cameron to share some of his best tips and insights with us; here's what he had to say:
What do you wish renters knew about moving?
Traditional 'moving companies' don't make sense for most renters- too expensive, unknown costs/fees, hard to schedule, etc. Their services are just excessive for the needs of most apartment renters.  Bellhops was built specifically for renters and caters to small, much more affordable moves while still creating an enjoyable, hands-free experience.
What can renters do to make things easier for the movers?
Just have everything ready to go when we get there, that way, we can get in and out quickly!
How do you pack the perfect box?
Heavier items in the bottom, lighter items near the top. Just use your best tetris skills to minimize the number of boxes you need!
What's the best tape to use?
Packaging tape, no question. It sticks to cardboard well and is easy to cut. Be sure you have a tape dispenser, it will make life much easier.
Where should the fragile sticker go on your fragile boxes?
Fragile boxes need to be labeled on all sides! That way your Bellhops can be warned from any angle.
How long can a renter expect the move to take?
It all depends on how far you have to drive, and how accessible your residences are. Stairs, long hallways and access to the parking lot are all factors that increase move time. But as a rule of thumb, it takes a team of two Bellhops around 1.5 hours to load and 1.5 hours to unload a typical 2 bedroom apartment.
Ready to find your next apartment?
What can renters do to prep furniture for a move?
If you're renting a truck for your move, you'll have the option to purchase furniture blankets. These are super cheap, but super important! Pick up as many as you think you'll need, and have them available for your movers when they arrive. They will make sure everything that needs to be wrapped, will be wrapped.
What's better-cardboard boxes or plastic bins?
Cardboard is much lighter, cheaper and easier to dispose of when you're done. Bins are great for certain applications when storage is involved, but typically not for the DIY mover.
What is the heaviest a box should be?
Because boxes typically sit on the ground, and are sometimes difficult to get under, boxes should never weigh more than 25 pounds, in even the largest boxes.
What is your best packing/moving tip?
Bag your clothes in trash bags right on the rack, and keep them on the hangers!
Bonus: A handy infographic of the top ten moving hacks from Bellhops to get you started on the right foot!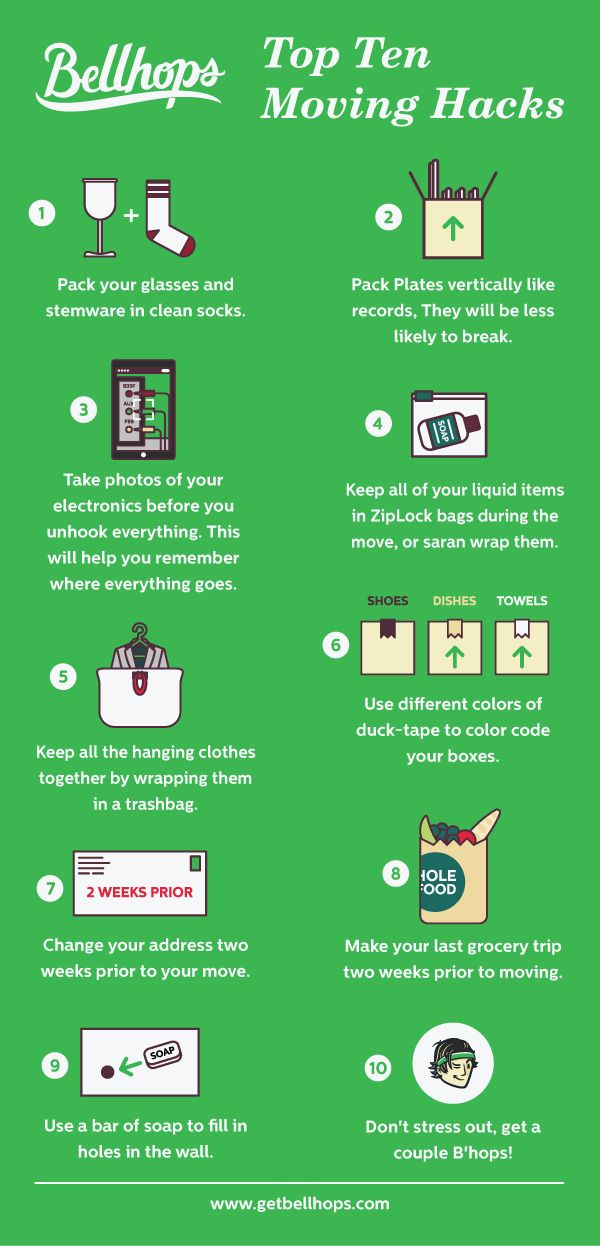 Equal Housing Opportunity Rental providers will not refuse to rent a rental unit to a person because the person will provide the rental payment, in whole or in part, through a voucher for rental housing assistance provided by the District or federal government.
Offers included in posts
Pricing and availability is subject to change. | Terms and conditions may apply to any special offers referenced. Contact the apartment communities for details.
Sponsored Posts
Aparrtminty may receive payment for sponsored posts and guest posts