We Tried Lush Shampoo Bars: Here's What to Expect
As an Amazon Associate I earn from qualifying purchases.
Who else feels as though a new beauty trend emerges every day? We have a hard time keeping up! One trend we have been seeing a lot lately? Shampoo bars. These got our attention right away. Anything that makes the process of showering, doing our hair, and getting ready faster is a win in our books. Because everyone's hair is different, three of us gave the shampoos a try so that we could give a complete review. We decided to try out the shampoo bars made by Lush as all of their products are fresh and handmade. Each of us shampooed with these for roughly two weeks to get a good feel for the product. Check out our reviews below.
Three Shampoo Bars, Three Hair Types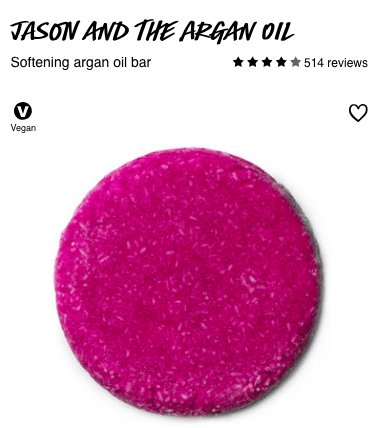 Jason And The Argan Oil Shampoo Bar
This particular bar was tried by me, Emily. I'll start by giving you the rundown on my hair type and typical washing routine: I exercise daily and sweat A LOT, so I usually don't go a day without washing my hair. I have tried to break from that habit, but fine hair and sweat don't mix well, even with dry shampoo.
I was very impressed with the Jason And The Argan Oil bar. They claim that the bar lasts for up to 80 washes and I certainly believe that. After two weeks of washing almost every day, there was still a substantial amount left, and it didn't seem to deteriorate from sitting in the shower uncovered.
The bar lathers and washes very well, and it left my hair smelling delicious all day long. Because my hair is on the finer side, I didn't feel like I necessarily needed conditioner after using the bar unless my hair was considerably more tangled than usual.
My only complaint is that it left a bit of a mess in my shower. The bar would get runny after use, leaving my shower pink. Since it is only shampoo, it is easy to clean up, but just something to note. Overall, I would definitely use this product again! This would be great to travel with when space is limited in a suitcase.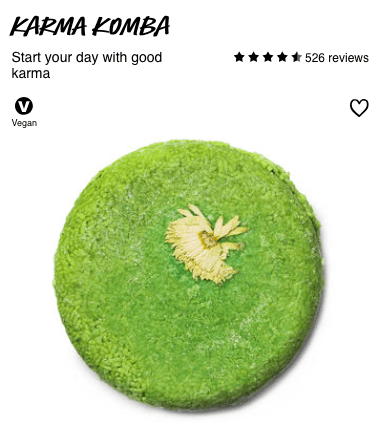 Karma Komba Shampoo Bar
Holli gave the Karma Komba shampoo bar a try. Before we get into the review, I will tell you a little bit about her standard hair routine. Holli is an avid exerciser, but with her long and luscious hair, shampooing is not part of her everyday regimen. Washing and drying her hair is quite the process, so the idea of using a shampoo bar to save some time appealed to her.
Similarly to my review, the Karma Komba bar held up well for Holli, especially since she was not using it on a daily basis. She also found that it lathered and washed very well for her. Holli's favorite part? The smell. Lush really nailed it on that.
Holli's hair is on the thicker side, so using conditioner is non-negotiable. Despite the Karma oils, which are supposed to help detangle and smooth, the shampoo bar alone was not enough to take her through her full hair routine.
While we initially thought using a shampoo bar would be a time saver for Holli, it didn't help much. In her case, it is nothing against the product, it just doesn't work with her hair type.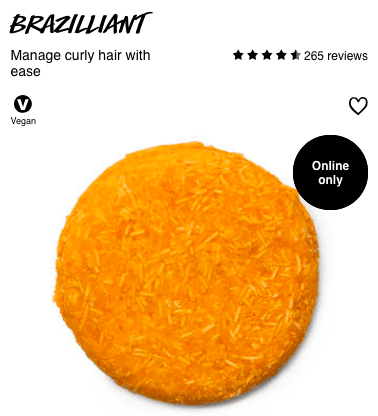 Brazilliant Shampoo Bar
Christine tested out the Brazilliant shampoo bar. Christine's typical routine is similar to mine, she works up a sweat on a regular basis and washes her hair daily.
For Christine, she found that the shampoo bar did reduce shower time significantly. The bar lathers well, and with her short hair, she was able to wash and rinse very quickly. While this is a great benefit, the shampoo bar left her hair feeling coarse and hard to brush through. Using conditioner after the shampoo bar was necessary for Christine.
Christine had a similar concern to me in that it left her shower somewhat messy. Other than that, she felt that it was a great time saver, and would be convenient while traveling.
After two weeks of using the shampoo bars amongst three different active and busy women, we have come to the conclusion that these are great, depending on your hair type. They definitely are not for everyone, but if they work on your hair, you will love them! Ladies with finer hair, or hair that is not prone to tangling, you should be able to get great use out of the shampoo bars. Additionally, for anyone on the go, we think you will find these especially convenient. Next time you are looking to change up your hair routine, try out a shampoo bar and see what all of the hype is about.
Amazon and the Amazon logo are trademarks of Amazon.com, Inc, or its affiliates. Rental providers will not refuse to rent a rental unit to a person because the person will provide the rental payment, in whole or in part, through a voucher for rental housing assistance provided by the District or federal government.