Using a Moving Company: FAQs We've Got You Covered On
As an Amazon Associate I earn from qualifying purchases. | Amazon and the Amazon logo are trademarks of Amazon.com, Inc, or its affiliates. | As a content creator, I may receive payment for the endorsement of apartment communities.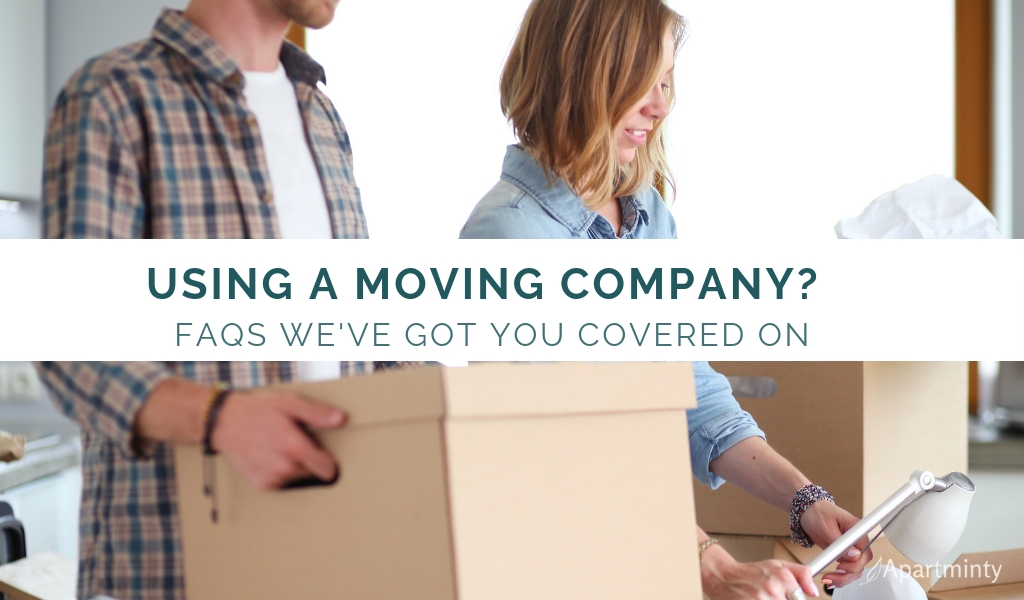 Using a Moving Company: FAQs We've Got You Covered on
Moving to a new home is an exciting yet stressful endeavor. A lot of different factors go into a move, and it can be difficult to keep everything straight. A major question that we find comes up a lot: should I use a moving company? And with that question, many other questions can come up. How much will it cost? Do they pack my things? The list goes on. We've broken things down for you below, and have tackled some major questions that could come up when deciding to use a moving company. The key to a stress-free move is being prepared, and we are here to help you with that. 
How much should you tip the movers?
We know, paying for a moving company is expensive enough as it is, and to throw a tip on top of it all may feel like you're breaking the bank. That being said, your movers are working very hard to make sure your items get from point A to point B safely, so tips are much appreciated. The amount you should tip is up to you based on your experience, the service you received, and the complexity of your move. A good rule of thumb to follow is to tip anywhere between 5-10% of the total cost, which will then be split amongst the moving team. If you are feeling tight on money, providing water, snacks, or meals for your movers is another great way to show your gratitude during the move.
Do movers cost more on weekends?
Peak times for moving include the weekends, summer, holidays, and both the first and last few days of the month. Because of the high demand during these times, you can expect the rates to be higher. Regardless of the time of year, moving during the week will always be the more affordable option. While this isn't always the most convenient option for everyone, scheduling a mid-week move will definitely save you some cash.
When is the best time to move?
May through September, the beginning and end of the month, and weekends are the most popular times people choose to move. If you can be flexible with your move, choosing any off times will not only be cost-effective, but your movers will be considerably less busy and therefore, more attentive. Choosing the best date and time for your move will make things a lot easier and a lot less stressful when the day finally comes.
Is it worth having movers pack my things?
This really depends. Do you have a lot of large or hard to move items or a lot of breakable items? Do you have a lot of friends or family help you pack? If you are confident that you can handle the packing on your own, or have plenty of people to help you with it, it may not be worth having the extra money to have the movers pack your things. That being said, if you can afford the splurge, we do think it is worth it. There are a lot of factors that go into moving, and a million things to worry about on moving day. Having someone else handle the packing for you is a huge stress relief, and well worth it in our opinion.
How do I make my move cost less?
In our opinion, planning your move as far in advance as you can be the best way to cut down on costs. As we just mentioned, choosing your move date wisely will be a huge help in terms of cost savings. October through March are your best bet for lower costs. Opting out of having your moving crew pack everything up for you is another great way to cut costs as well. Grab a few friends and pack up your place together rather than paying someone else to do it for you. Another tip: don't pay for boxes. While one box seems cheap, it adds up when you have a whole home to move out of. We like to head to our local liquor store to load up on boxes when we are getting ready for a move.
Do I need insurance while my belongings are being moved? 
Insurance is a great thing to consider having for your belongings while they are being moved, especially if you are moving far. Established moving companies will typically offer liability insurance for an additional fee, and there are typically different levels to choose from. Another important thing to note: if you have homeowner's insurance, it may cover any damage to your belongings in the event that something happens. While paying for insurance may feel like an additional unnecessary cost, it is worth it for the peace of mind.
What if they charge me more than the quote?
We've said it already, and we will say it again. Moving can get very pricey. Make sure you are paying attention each step of the way when utilizing a moving company. If moving companies offer you quotes, make sure they are firm. On top of that, make sure you are asking the right questions when you are examining the costs behind your moving company. Are there any additional fees that may be added on to this quote? What about cancellation fees? How much more will it cost if things take longer than expected? These are all important things to know and address at the beginning to avoid being charged more than you are expecting.
Equal Housing Opportunity Rental providers will not refuse to rent a rental unit to a person because the person will provide the rental payment, in whole or in part, through a voucher for rental housing assistance provided by the District or federal government.
Offers included in posts
Pricing and availability is subject to change. | Terms and conditions may apply to any special offers referenced. Contact the apartment communities for details.
Sponsored Posts
Aparrtminty may receive payment for sponsored posts and guest posts