Top 5 Reasons to Move to Adams Morgan
As an Amazon Associate I earn from qualifying purchases.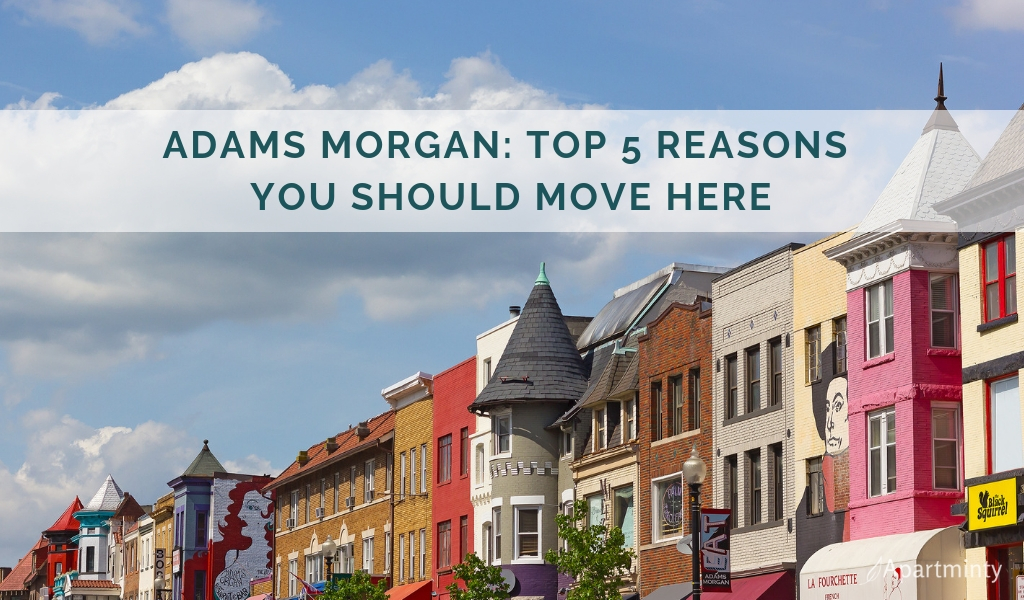 Top Five reasons to move To Adams Morgan, DC
The Adams Morgan neighborhood may be small, but there is no shortage of things to do while here. This charming neighborhood is one of the most sought out areas to live in, and for good reason. Between the convenience and ease of living here to the excitement of the nightlife scene, this five-square-block area will have you falling more in love with living here each day. Adams Morgan is one of our favorite areas in the District, and these are the top five reasons you should move here.
Walkability
Adams Morgan is one of DC's most convenient neighborhoods. The neighborhood is extremely walkable, and it's WalkScore of 95 confirms that for us. We love wandering the streets of AdMo to explore the various restaurants, bars, and shops throughout the neighborhood. Aside from the various hot spots to walk to within the neighborhood, many of DC's other popular neighborhoods are an easy walk away from Adams Morgan as well. The U Street Corridor, DuPont Circle, and Georgetown are all easily accessible by foot. You can't beat that.
It's Booming Nightlife Scene
If you are looking to live in a neighborhood with a booming nightlife scene, Adams Morgan is the place for you. The streets of AdMo are lined with unique bars and clubs, and the streets feel lively and fun well into the night with music and commotion. These aren't just your average bars either. Options range from secret speakeasies and rooftops to dive-y and upscale bars. Don't you worry, the night doesn't end there. The late-night food scene is just as lively as the bars. Who wouldn't want a slice of pizza the size of their face or authentic Gyros to end a long night out?
Foodie Heaven
The nightlife and food scenes of Adams Morgan are worth differentiating between, and we can't get enough of either. There are countless spots to try (and try again) for every meal of the day. From upscale, fancy restaurants and classic neighborhood establishments to international cuisine and to late night eats, the AdMo food scene has got you covered.  Tail Up Goat, Lucky Buns, Jack Rose Dining Saloon, and Federalist Pig are just a few of our favorites. AdMo has its fair share of noteworthy coffee shops as well. Wake up on a Saturday morning and wander into Tryst, The Potter's House, or Lapop for a delicious cup of coffee. The wide variety of food options in the neighborhood will never leave you craving more. 
Neighborhood Charm
We can't get enough of the vibes that the Adams Morgan neighborhood puts off. Think neighborhood vibes with a city feel, quaint yet eclectic, and altogether full of life. The diversity of the neighborhood adds to its charm. There is such a wide variety of individuals living here, young and old, families and singles. The mix of people in AdMo brings so much character to the neighborhood unlike anywhere else. While there is a strong neighborhood feel to AdMo, a lot of people are hustling in and out, so there is still a strong city feel as well. You get the best of both worlds, and we love that. 
Adams Morgan Day
We. Love. Adams Morgan Day. On the second Sunday of September, Adams Morgan comes even more alive than we ever thought possible for Adams Morgan Day. This day-long festival is a celebration of culture, togetherness, music, food, and more. Live vendors and live music line the streets while residents and visitors enjoy the day. Cultural demonstrations and dances take place throughout the streets, while everyone watches on from the sidewalk cafés. It is a day to remember for everyone in Adams Morgan. The sense of community is extra strong on Adams Morgan day, and being a part of that is something special. 
Amazon and the Amazon logo are trademarks of Amazon.com, Inc, or its affiliates. Rental providers will not refuse to rent a rental unit to a person because the person will provide the rental payment, in whole or in part, through a voucher for rental housing assistance provided by the District or federal government.