Tips and Tricks to Get You Through Your Post-Holiday Detox
As an Amazon Associate I earn from qualifying purchases. | Amazon and the Amazon logo are trademarks of Amazon.com, Inc, or its affiliates. | As a content creator, I may receive payment for the endorsement of apartment communities.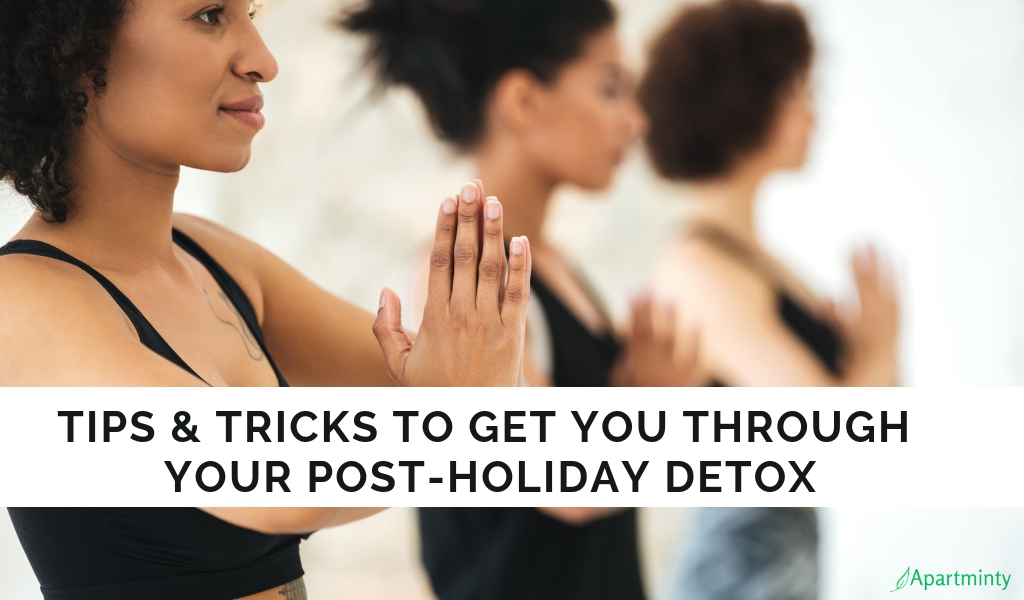 Need advice to get you through your post-holiday detox? We got you.
While we are always sad to see the holidays come to an end, we can't but let out a little sigh of relief. Post-holidays, we love being able to slow down, relax, and give ourselves a little TLC after a crazy season. A post-holiday detox is a top priority for us once we get through the festivities. While we thoroughly enjoy allll of the holiday treats, getting back to our normal routine of mindfulness, clean eating, and exercising is the perfect way to kick off the new year. A few simple tips will get you through your post-holiday detox, and we've got you covered below.
Get Back to Your Normal Routine
The holidays are a hectic time. Between all of the family gatherings, holiday parties, present shopping, and more, it is way too easy to veer off track from your normal routine. Getting back to a routine is critical to bouncing back post-holidays. Whether it was a consistent workout schedule, daily meditation, or weekly meal-prep sessions, making these things a priority again will have you feeling back to normal in no time. While prioritizing these healthy habits after weeks of indulging can be tough, your body and mind will thank you.
Find a Physical Activity You Love, and Stick With It
Once the holidays come to an end, everyone's minds begin to shift towards New Year's resolutions. While the whole "new year, new me" motto seems promising, we like to keep things more simple than that, especially when it comes to working off those pesky holiday pounds. You hate running? Don't! Yoga isn't your thing? Skip it. Find an activity you love, and that will make committing to it much more realistic. Getting your body moving is critical to your post-holiday detox, and enjoying the physical activity to engage in is crucial to making it part of your routine. Nowadays, most boutique fitness studios offer some sort of new client deal, which makes experimenting with the various studios a lot easier on your wallet. Grab a friend and try out your local studios, once you find one you love, make it a part of your daily routine.
Stay Hydrated
Hydrate, hydrate, hydrate! This is key to ridding all of the toxins from your body. In addition to clean eating and working up a sweat each day, giving your body enough fluids on a daily basis will speed up the detoxification process. Staying hydrated enough every day can sometimes be a challenge, so I personally find ways to switch up my water intake. Water with freshly squeezed lemon in it is my go-to, but there are other ways to naturally flavor your water to make the hydration process more enjoyable. Cucumber, mint, and orange are other great additives to liven up your H20 intake. Sipping on water consistently throughout the day is proven to aid in weight loss, speed up your metabolism, clear up your skin, and much more. Sounds like the perfect post-holiday detox to us.
Find Yourself an Accountability Partner
The beautiful thing about post-holiday detoxing? Almost everyone is on the same page. Having a friend to hold you accountable is the key to success, so why not find someone who would like to put in the work with you? Whether it is a workout buddy, a meal-prep partner, or a friend to keep you motivated, you are sure to find more success this way. After all of the holiday fun, getting back to your routine can be tough, do it with someone else to make things more enjoyable. Send each other motivating texts each day or hit the gym together, whatever it takes to keep each other going.
Positivity is Key
Positivity will be a key component of your post-holiday detox. We know its hard not to beat yourself up after indulging all holiday season, but that will only hold you back from your New Years goals. Maintaining a positive outlook will allow you to stick to your new routine, even when things get tough. This is going to help with all things mind, body, and soul. Everyone has their own ways of keeping their cool. There are plenty of ways and outlets to de-stress and regain your cool – meditation, music, art, or, essentially whatever works for you. Stay positive, and stress less.
Equal Housing Opportunity Rental providers will not refuse to rent a rental unit to a person because the person will provide the rental payment, in whole or in part, through a voucher for rental housing assistance provided by the District or federal government.
Offers included in posts
Pricing and availability is subject to change. | Terms and conditions may apply to any special offers referenced. Contact the apartment communities for details.
Sponsored Posts
Aparrtminty may receive payment for sponsored posts and guest posts