Where To Find The Best Ice Cream In DC
As an Amazon Associate I earn from qualifying purchases.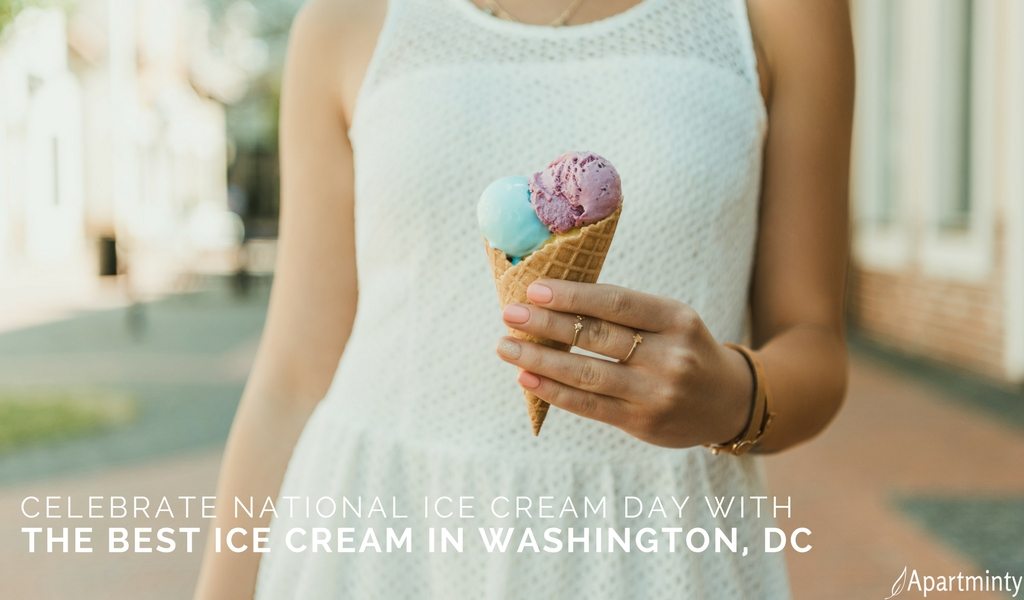 The third Sunday in July marks a very important summer holiday: National Ice Cream Day.  Nothing is better on a hot July day than an ice cold ice cream cone (ok, we could probably be tempted with a frozen cocktail, too).  Celebrate the holiday properly by heading to one of the spots for some of the best ice cream in DC.  Can't make it this weekend or missed out?  Don't worry – July is technically ice cream month, so you still have plenty of time to indulge!
Ice Cream Jubilee
It is far from unusual to see a line out the door at this Capitol Riverfront favorite, especially on game days at the nearby Nationals Park.  The adorable shop serves up scoops, cookie sundaes, and pints – they even sell DIY sundae kits to take home with your pints! Come see what all the fuss is about and sample classic Ice Cream Jubilee flavors like the Honey Lemon Lavander and Banana Bourbon Caramel, or go for a seasonal offering like the Basil Goat Cheese or Coffe & Doughnuts.
Momofuku Milk Bar
There was a buzz in the air when New York's Momofuku Milk Bar first opened up shop in DC, and for good reason!  This sweets shop offers everything from cookies and truffles to cakes and pies, but their soft serve really calls your name in the midst of the summer heat.  For first timers, a must-try is the cereal milk soft serve: "made with milk, cornflakes, brown sugar and a pinch of salt, it tastes just like the milk at the bottom of a bowl of cornflakes!".
Icy Code Ice Cream Rolls
A relatively new offering in the frozen dessert world, rolled ice cream is both delightful to devour and mesmerizing to watch being prepared.  Also known as "stir-fried ice cream", this Thai dish is made by pouring milk onto an iced steel plate surface, where flavorings are mixed in, spread thin, then scraped into rolls of frozen goodness.  Customer favorites include the Baked Alaska and Matcha Honey flavors.
Trickling Springs Creamery
This Pennsylvania creamery prides itself on offering premium organic and non-GMO products, one of the most popular of which is their collection of ice cream flavors.  Made from organic milk from grass-fed cows, you can truly taste the difference in this Super-Premium, high fat ice cream.  Trickling Springs Creamery ice cream can be found at Union Market, as well as at local Whole Foods Markets and in a number of local restaurants and specialty markets.
Captain Cookie and the Milkman
Want a side of cookies with your ice cream?  This trio of ice cream trucks serves up some of the most delicious and inventive ice cream sandwiches we've ever had!  You can find their schedule on their website, so you'll know where to track them down to try delicious, customizable pairings like Nutella cookies with black cherry ice cream or peanut butter cookies with salted caramel ice cream.  You can even choose 2 different cookies for one sandwich!
SaveSave
SaveSaveSaveSave
Equal Housing Opportunity Rental providers will not refuse to rent a rental unit to a person because the person will provide the rental payment, in whole or in part, through a voucher for rental housing assistance provided by the District or federal government. Amazon and the Amazon logo are trademarks of Amazon.com, Inc, or its affiliates.