The Best of Bethesda and Chevy Chase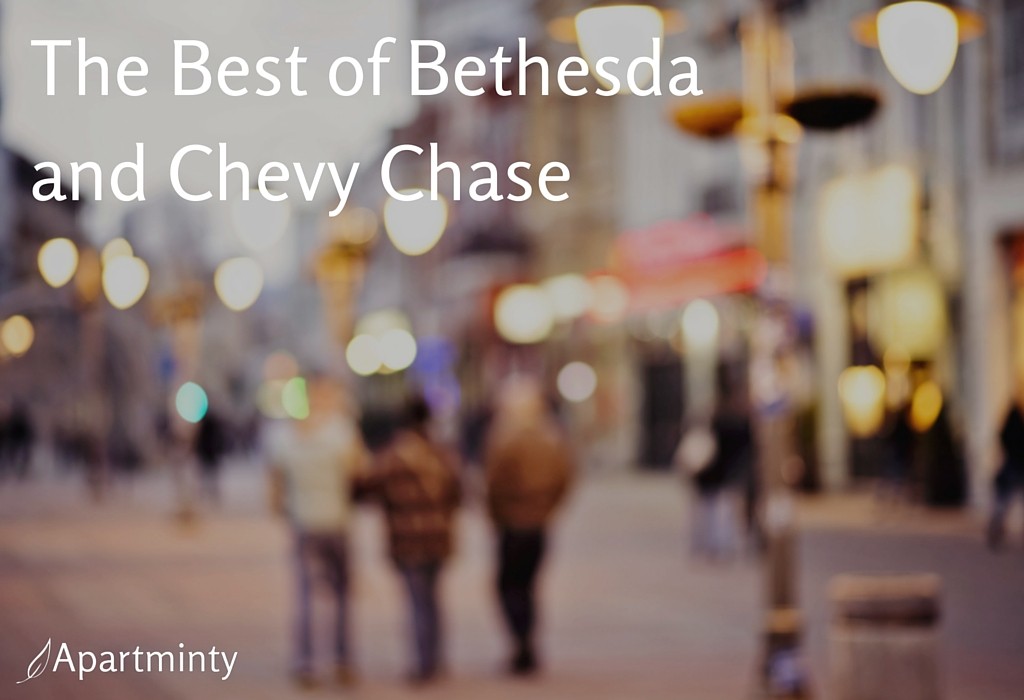 As an Amazon Associate I earn from qualifying purchases.
Bethesda and Chevy Chase collectively make up a very large DC suburb that is constantly adding new residents, restaurants, shops, and entertainment. Located in Montgomery County, MD on the NW border of D.C., it gives residents a break from the hustle and bustle of the city while offering the comfort of a suburban lifestyle. Here we will highlight some of our favorite activities and places to dine in the area.   
WHAT TO DO
You can literally spend an entire day here! Take care of your morning grocery store run at Whole Foods before shopping at stores like Bloomingdale's or Eileen Fisher. Work up a sweat at Potomac Pilates and then grab a bite to eat at PF Changs or The Capital Grille. There is something for everybody here and the shops are easily accessible via the Friendship Heights Metro station.
Surrounded by the beautiful Strathmore mansion and outdoor sculpture garden is a state of the art concert hall, the 2,000 seat Strathmore Music Center. Check out a world class performance from major national artists including folk, blues, jazz, pop, and many other music genres.
Built atop the abandoned rail-bed of the B&O Railroad, this 11 mile trail stretches from Georgetown to Silver Spring through the heart of Bethesda and Chevy Chase. The trail is used by bikers, walkers, and joggers for both recreational and commuting purposes. Users can pass through 2 historic tunnels and cross 4 historic bridges to experience beautiful views of the Potomac River.
WHERE TO DINE
Bethesda and Chevy Chase are home to such an abundance of delicious restaurants that it was hard to narrow it down. While you can't go wrong with most places in town, we highly recommend these hot spots.
Lunch
Brown Bag offers fast, convenient cuisine while still managing to make everything from scratch with locally sourced products. They serve a variety of soups, salads, and sandwiches that will leave you wanting more every time. Try the Grilled Chipotle Chicken Sandwich or if you're in the mood for some fresh greens, we recommend the Thai Shrimp Salad.
Dinner
Woodmont Grill has been a neighborhood favorite for over 20 years now. Part of that homey feeling comes from the nightly, live jazz music. Diners are greeted with fresh, in-house baked bread and can choose between a variety of delicious salads, sandwiches, or entrees. Try the famous French Dip Au Jus or the Pan Seared Ahi Tuna and we know you'll leave happy. Make sure you leave room for dessert!
Dessert
Dolcezza prides itself on making everything by hand with as many locally sourced products as possible. Whether they're spinning a fresh cup of gelato or pouring a neat cappuccino, you can expect perfection. Flavors will vary depending on the season but range from Blackberries & Cream to Lemon Ricotta Cardamom.
HAPPY HOUR
Brickside was built to have a fun, relaxed environment. Who wouldn't want to enjoy happy hour at a place like this? Every Monday thru Friday from 4-7:00 PM enjoy $3 Miller Lite and Yuengling drafts, $4 rail drinks and house wine, $5 bombs, $10 lite beer buckets, and special discounted appetizers. There are various other specials that run throughout the week after 7:00 PM like All Night Happy Hour on Mondays and Flying Dog and Fireball Thursday's (Flying Dog and Fireball are only $5)!
Ready to find your next apartment?
STAY A LITTLE LONGER
The Newdale Mews Apartments offers either 1 bedroom apartments with private patios or 2 bedroom/2 bathroom duplex apartments. Units come equipped with new energy efficient windows and updated kitchen appliances. There is free assigned parking so there will never be a hassle fighting for spots when you get home from work. The apartments are located adjacent to the Crescent Trail so you can commute to work via the trail or just enjoy a nice leisurely stroll. Newdale Mews are within walking distance of the Chevy Chase Supermarket, Starbucks, Einstein Bagels, and a handful of other neighborhood restaurants. The Metrobus and Ride On are right at the front door so there is easy access to the Metro.
KEEP IN MIND
Bethesda and Chevy Chase offer convenient access to 3 different metro stations: Medical Center, Bethesda, and Friendship Heights. On top of that, they are just a short drive into DC or to I-495 which gives you access to the entire DC metropolitan area. If you're looking to visit, there is plenty of street parking and parking garages around, or you can bike or walk into town via the Crescent Trail.
Visit Bethesda and Chevy Chase and let us know what your favorite activities in the area are as well!!
Equal Housing Opportunity Rental providers will not refuse to rent a rental unit to a person because the person will provide the rental payment, in whole or in part, through a voucher for rental housing assistance provided by the District or federal government. Amazon and the Amazon logo are trademarks of Amazon.com, Inc, or its affiliates.