Thanksgiving Rental Pick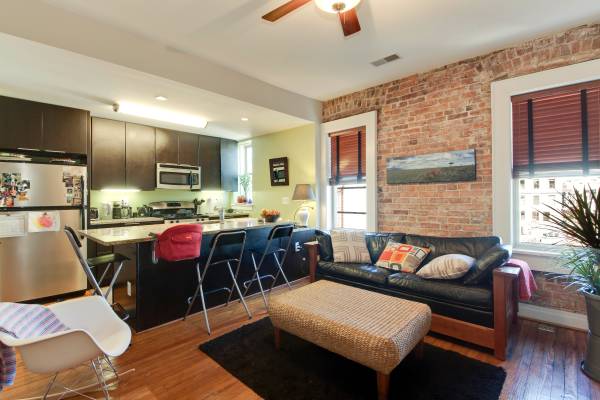 As an Amazon Associate I earn from qualifying purchases.
One key to finding the best real estate deals is to build relationships with others who are 'in the know'. Jamie Grigg is one of those very such people, and we are lucky to count her as a friend. In order to expose you to as many awesome deals in DC rentals as possible, each week we will highlight an affordable apartment for rent available right now in DC courtesy of one of our favorite Washington real estate experts and her blog, Exposed Brick DC.  This week, we're bringing you our Friday Pick a day early: give thanks!  
$2400
2 BD/1 BA: 740 sq ft
Adams Morgan
Some utilities included
What makes it great: I can't get over this living area. Bright, spacious, and full of charm this space won me over immediately. The floor plan is open concept and features a stunning kitchen. The kitchen has stainless steel appliances and granite countertops. There is a washer and dryer in the unit. The bedroom situation is a little bit tricky. Pet friendly!
Why you should think twice: The current tenant has sectioned off the large bedroom into two smaller bedrooms. Therefore, this space was not designed to have two bedrooms. The second bedroom is definitely tiny.
To see this listing and others like it, go to Exposed Brick DC.
Ready to find your next apartment?
Amazon and the Amazon logo are trademarks of Amazon.com, Inc, or its affiliates. Rental providers will not refuse to rent a rental unit to a person because the person will provide the rental payment, in whole or in part, through a voucher for rental housing assistance provided by the District or federal government.