How 2 Multifamily Brands Use Snapchat for Marketing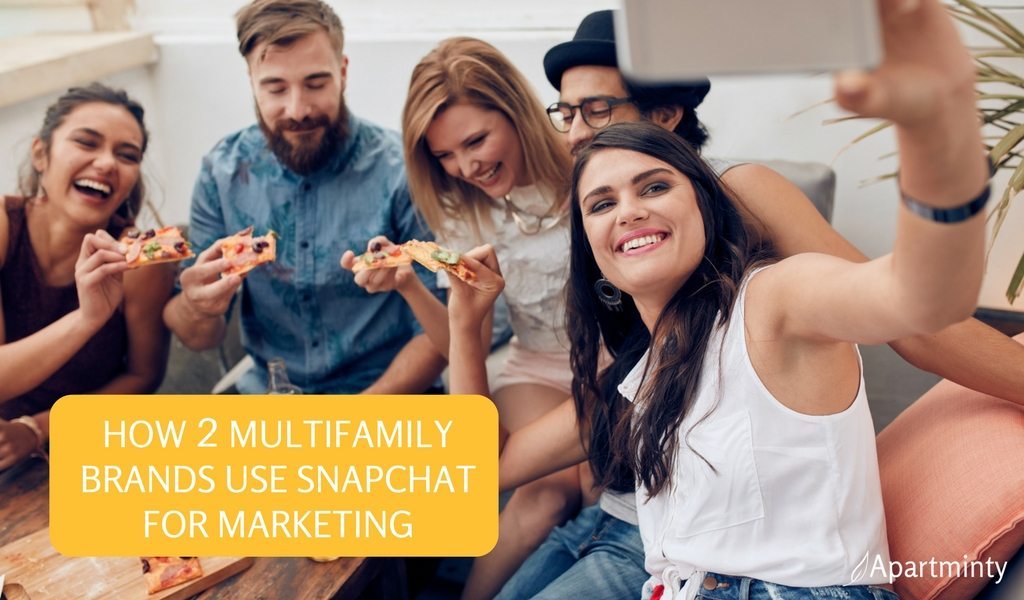 As an Amazon Associate I earn from qualifying purchases. | Amazon and the Amazon logo are trademarks of Amazon.com, Inc, or its affiliates. | As a content creator, I may receive payment for the endorsement of apartment communities.
 How do you and your brand stand out and where will your message be best received?
The annoying answer we all know is, "You have to be where your audience is." As marketers, that typically means a ton of experimentation as new social media platforms emerge almost weekly.
At Apartminty and some of our client properties, we have been experimenting with Snapchat and Instagram. Why? Because Instagram has 300 million daily users. 53% of which are between the ages of 18-29 years old.  What's more, ads on Instagram had 8 times the ad recall on any other social network!!   Couple that with the fact that the bounce rates from Insta are pretty low.  We hypothesize that it has something to do with customer intent.  You see, on Instagram, there is really only one place for a link and that's in your bio.  So someone coming to your site has done so with some pretty serious intention.  I like determined customers! 😉
While it's fun to see is when other people start to use your geofilters or engage with your content on Insta and Snapchat and not only 'like' your images, but start asking questions and engaging, at the end of the day, we all want data. Specifically, is this worth our time and money to create content and connect with individuals on yet *another* platform. Lucky for you, we are data nerds and so are some of our friends! Together with Lori Valenti-Webb we will share some of Apartminty's successes and Lori will share LMC's case study regarding Snapchat and Instagram. Check it out below.
Why Is LMC Snapping?
Lori: LMC has taken a proactive and progressive approach to staying on the most current platforms. We know the importance of the millennial audience and the influence they have in their respective spaces. At the moment, these folks are on Snapchat. Recent stats have shown that 76% of the people on Snapchat are 34 or younger. This is our target audience.
With over 200+ million active users, we want to reach that audience.
With Snapchat really needing to be in the moment, who handles posting to the Snapchat accounts?
Lori: We've had many team members that have mastered Facebook, Twitter, Instagram and others- and they continue to do it well- so why not open up the opportunity to utilize Snapchat! We currently use GTMA as a partner to manage some of our social spaces. This opens up the ability for our team to actively participate and engage on Snapchat.
How did you decide at which properties to pilot the Snapchat?
Lori: We have selected West & Fondren, located in Houston to pilot Snapchat. It was the perfect project to start our Snapchat adventure- most of the team members currently have their own Snapchat accounts and really understand the platform. Additionally, they understood geofilters. Lacie Lugo headed up the Snapchat management at W&F and has recorded 6 weeks of trends showing friends and views for the account.
What tips can you share to boost your properties impact on Snapchat?
Lori: Last week, we started using geofilters. These offer the opportunity for the community to reach the audience while they are close to the community. It's a great way to promote events, the property and the specific location of the property. Lacie also created an extended version of the filter, as a custom wooden photo op piece, where new prospects love to get their pictures taken!
So now the big question….how has the engagement been?
Lori: Below is the data on our growing audience.  It's not fast, but the growth of both the audience and engagement is steady and encouraging.
Date            Friends      Views
7.29.16          9                 138
8/5/16          20               206
8/12/16        15                232
8/19/16        15                286
8/26/16       15                332
9/3/16         20                345
9/10/16       25                373
9/17/16       38                456
You've been working on Instagram, too right?
Lori: We have recently launched Instagram ads at Boca City Walk, with a large focus on excellent Instagram photos, delightful video streams, and personal and exciting updates from the team. Our social lead, Eddie Martinez, has focused on Instagram in the last 3 weeks and we have launched a campaign in this time that has built up to 225 followers. More interestingly, we have consistent direct messages on IG, from businesses wanting to partner with us as well as an average of 55-60 likes per posts, plus comments, which shows about 27% engagement. Looks promising!
We agree!
The filters on Snapchat are really an inexpensive way to meld on-site events or local community events with your residents' and prospects' digital habits. For instance, we had a summer pool party at one community, Park Chelsea at the Collective. Not only were residents using the Snapchat geofilter, but they were also taking screen-shots of their Snapchat image and posting the image on Instagram as well.
During the event, we saw 211 pieces of traffic driven to the property website from social media. 2 leases can directly be attributed from the Instagram posts and that makes experimenting with Insta and Snapchat well worth our time!
Check out West & Fondren  + Boca City Walk  + The Collective DC to see more about what the LMC and WCSmith teams are doing!
Equal Housing Opportunity Rental providers will not refuse to rent a rental unit to a person because the person will provide the rental payment, in whole or in part, through a voucher for rental housing assistance provided by the District or federal government.
Offers included in posts
Pricing and availability is subject to change. | Terms and conditions may apply to any special offers referenced. Contact the apartment communities for details.
Sponsored Posts
Aparrtminty may receive payment for sponsored posts and guest posts