7 Expert DIY Tips for Redesigning Your Apartment Bathroom
As an Amazon Associate I earn from qualifying purchases. | Amazon and the Amazon logo are trademarks of Amazon.com, Inc, or its affiliates. | As a content creator, I may receive payment for the endorsement of apartment communities.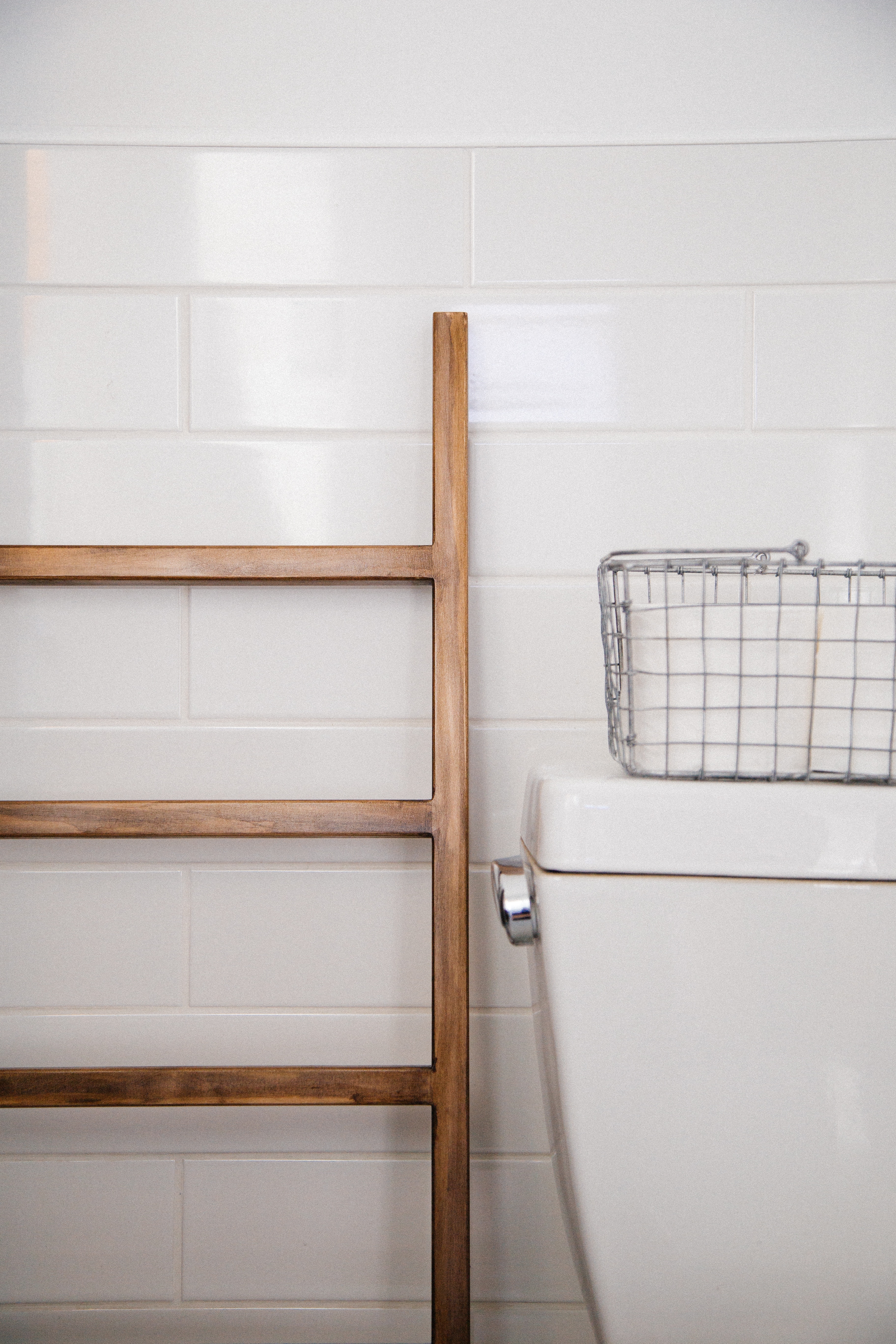 Redesigning a space takes a lot of work.
Fortunately, the common elements of a bathroom (such as a shower, sink, toilet, and tub) break the space down into design pieces.  Being able to work with a space that's easy to break down gives you an ideal DIY opportunity. Use your imagination to redesign things how you want and add colors that will complement the rest of the apartment. Tackle the projects you would like to work on and take time coming up with a beautiful space both you and your guests will love.
Below are 7 expert DIY tips to keep in mind while transforming your apartment bathroom:
#1: Consider the layout
As you plan where to put accessories and decorative elements, make a note of what your needs are in the space. If you plan to add small pieces of furniture, like a hamper or stool, experiment with different arrangements. For items that won't always be in use such as a stepstool see if you can find a collapsible version or figure out where you can put it when it isn't in use. Have a plan right from the beginning where everything will go, and you might end up with some free space. Having some space on the floor will make the room appear larger which is better than making it look cramped.
#2: Add storage
Sometimes it's hard figuring out where put everything in a bathroom, especially if you have a lot of toiletries or towels, for example. One way you can do that is by showing off colorful towels in open shelving instead of stuffing everything in large cabinets. Adding playful colors to the bathroom personalizes the space without having to add large pieces of furniture.
Here are a few other ideas:
Sink skirts on pedestal sinks add personality and hide toiletries

Stack floating shelves to organize accessories in a creative and attractive way

Small containers like wooden crates provide accessible floor storage

Use bright and colorful storage ladders to store smaller containers
Utilizing accents with personality, even in the form of storage, will help you customize a bathroom and tell your personal story.
#3: Swap out old fixtures
It's the small things that make a bathroom feel luxurious. For instance, replacing old fixtures with new ones can make a big difference. Do you have cloudy glass shades on a bathroom fixture? Swap out the outdated shades with new sconces that look better.  Aim for a minimal sconce design so that it'll work in any bathroom (assuming you have more than one bathroom in your apartment).  After replacing the sconces, don't forget to store the old shade so that you can put it back when you move out.  Another fixture you can swap out is the showerhead. Replace the showerhead with one that makes you feel like you're staying in a fancy hotel.
If it doesn't match other fixtures and appliances in your apartment, you can paint it so that it'll match the faucet, for example. Your local hardware store may even have paints with chrome or bronze finishes. If you decide to paint the showerhead, don't clog up the holes where the water comes out. Putting toothpicks in the holes before painting it will eliminate any clogs.
#4: Add a few rugs
Adding a few rugs to the bathroom is easy to do and will make the space more comfortable and inviting. A great type of rug to add is a rag rug. As opposed to traditional bath mats, rag rugs bring in more color and personality. They're also easy to wash.
If a rag rug isn't your thing, we've compiled a list of other popular types of rugs you can choose from:
Bamboo rugs are affordable but aren't soft

For a bathroom with a lot of moisture, a chenille rug would work because it is not easily damaged

If you plan on having a lot of guests over a polyester bathroom rug is a durable option

A traditional cotton bathroom rug is thinner than other options but comes in many types of designs
#5: Update the Walls
Continue to set the vibe for your apartment bathroom by personalizing the walls. Remember to check your lease agreement or ask your apartment manager what changes you can safely make.There are several DIY options you can consider for updating your bathroom walls:
Installing boards

Smoothing out the old wall texture

Painting the walls with a new, light color

Installing contemporary wallpaper
If you aren't authorized to make permanent changes to the bathroom walls, try applying fabric to a wall with liquid starch. It may be time intensive, but it'll look just like real wallpaper and will be easy to take down before moving out.
#6: Expand wall space with wall designs
Do you want to expand wall space with art? Put a mural on the wall. A mural will make the room look bigger. Another option is to feature artwork that has a scenic location like a favorite beach, garden, or national park. You can also hang a picture that reminds you of a window view. Artwork that gives the illusion of space can visually expand the room despite how small the bathroom actually is.
#7: Add pops of color
Instead of painting the bathroom walls, an alternative is to make it seem colorful with rugs and hand towels. Hang bright and bold towels to add instant personality and color. Add attractive soap dishes and other bathroom elements for a stylish touch. If you add a storage ladder, as we mentioned above, paint it to complement other accessories in the bathroom.
****************************************************************************************************
Redesigning an apartment bathroom can be a bit challenging. But, with the right techniques, the bathroom can become the star in your apartment. Use these seven tips to bring your bathroom to life and don't be afraid to use your imagination. This is your space and it can look however you want!
We can't wait to see how your DIY projects turn out.
The Team at Coronado
Apartment Community
Located just 49 feet from St. Louis University for graduate and undergraduate programs, and only a short drive from Saint Louis University, Coronado Place and Towers is SLU 's best source for attractive apartment homes.  Learn more about our apartments and see if Coronado is the right place for your next home.
Equal Housing Opportunity Rental providers will not refuse to rent a rental unit to a person because the person will provide the rental payment, in whole or in part, through a voucher for rental housing assistance provided by the District or federal government.
Offers included in posts
Pricing and availability is subject to change. | Terms and conditions may apply to any special offers referenced. Contact the apartment communities for details.
Sponsored Posts
Aparrtminty may receive payment for sponsored posts and guest posts