Our 5 Step Guide to Designing a Minimalist Kitchen
As an Amazon Associate I earn from qualifying purchases. | Amazon and the Amazon logo are trademarks of Amazon.com, Inc, or its affiliates. | As a content creator, I may receive payment for the endorsement of apartment communities.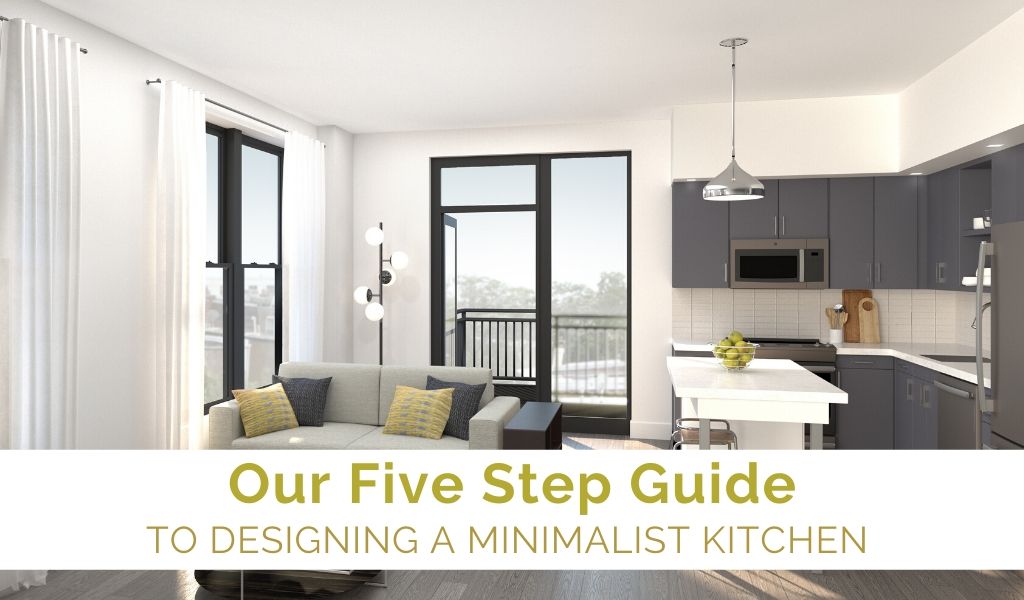 Are you inspired by clean lines and simplified design?
Do you love the idea of having a clutter-free kitchen?
If so, you could be a minimalist. 
If you're having a ton of extra accessories around your kitchen, you're not alone. Too much clutter can make it tough to enjoy spending time in your kitchen. But luckily, minimalism can save you. This trend is aesthetically pleasing and can make your kitchen far more functional. Want to know more? Ready to rid your kitchen of clutter and turn it back into the enjoyable space it's meant to be? Here are seven easy steps to designing a minimalist kitchen.
1. Focus on Clean Lines 
A kitchen fit for a minimalist is all about clean lines. No curvy, organic lines to distract the eye here! When designing a minimalist kitchen, you should do your best to eliminate any round or oval shapes from the room. It's okay to have one or two nature-inspired accessories around (maybe a few potted plants, for example). But the majority of your decor should be sharp-edged and geometric. Something as simple as a square knife block can add lines into your kitchen. It may seem small, but it will help your kitchen look and feel more streamlined. If your kitchen cabinets come with hidden handles, great! That's a perfect feature in a minimal kitchen. But if it doesn't, you might want to consider adding them. A true minimalist would get rid of their drawer handles right away, because even brass knobs feel like too much clutter. Consider other techniques so you can stick with this theme. Modern and clean designs are incredible and can make your kitchen feel like a whole new room.
2. Clear the Countertops
No one likes looking at countertop clutter — so why is it still there? The beauty of a minimalist kitchen is that you can clear the excess and stick to the essentials. Here are a few tips to help you organize your countertops:
Stick to Minimalistic Kitchen Tools 
Narrowing down your kitchen tool collection is a challenge. If you currently have a lot to work with, it's time to narrow them down. That way, you can open up more space on the counter (and in the room as a whole).
Start by getting rid of doubles. If you have two coffee makers, get rid of one. If you have several knife blocks, keep the one you like best and give the other away. Also, try to find the smallest kitchen items possible. If you have a large mixer on the counter, for example, trade it in for a handheld one that you can keep in a drawer. Your kitchen will look way sleeker without all that extra scrap metal on the counter! Cutting down on kitchen accessories may seem counter-intuitive. After all, it is a kitchen. Despite that, reducing the number of items you keep around will result in a much cleaner look.
Select High-Quality Appliances 
Even though you want the countertops to stay clear, it's okay to have a few appliances. I mean, you have to keep at least a few of them. But if you're going full-on minimalist, you should try to have high-quality appliances. They may be expensive, but they'll last a lot longer. To make a statement, well-designed appliances can do the trick, no matter the kitchen size. So when it's time to select a toaster, kettle, or blender, look for ones that will complement your decor. For example, you might buy a juicer that combines modern features with an iconic mid-century style. It'll contribute to your slick, minimal look.
3. Add Some Warmth 
Yes, it's possible to make your kitchen feel cozy without adding a bunch of stuff. Contrary to popular belief, minimalism doesn't have to be stark and cold. Sure, you're freeing yourself from excess clutter, but you can also create a warm, comforting kitchen. To do that, incorporate some nature-inspired decor into the room. Something as simple as a vase of flowers or a cluster of branches can make your kitchen feel more inviting.
4. Bring in Some Color
A minimalistic kitchen is all about clean lines and a simplistic look. But that doesn't mean you can't have a pop of color to break things up. Especially if you have white walls, a single color can add a dramatic effect. You can either paint one of your walls an accent color or place a bright and colorful framed photograph on your counter.
Take it one step further by buying some brightly colored seat cushions. Think of how nice some lime green cushions might look in your white and grey room …If you like the idea of colorful accents but don't want to see them every day, you could keep some fun placements in a drawer for when guests come over for dinner. You don't have to use them all the time, but it's a nice way to make guests feel welcome in your minimal space. Remember, the word minimalist isn't a synonym for boring. So, don't be afraid to incorporate a bit of your fun personality into your kitchen!
5. Add a Space Between Things 
No matter what you end up keeping in your kitchen, try to keep it sparse. And more importantly, make sure there is enough space between each item. This means that furniture, appliances, and accessories should all have some breathing room. The minimalist aesthetic is all about giving your eyes, and thus your brain, room to rest. If there are too many things in the kitchen, you'll subconsciously feel overwhelmed. So, make sure to space things out properly.
In other words:
Instead of putting three picture frames on your counter, opt for one. It'll feel much more like a statement, instead of just clutter. Play around with the design layout to see what you like the best. If it starts feeling overly cluttered, edit something out. We hope these tips gave you some inspiration on how to create a clean look in your kitchen. Embracing minimalism can result in a sharp and refined interior. It also makes keeping your kitchen organized easier, which can help you to be more productive. Think about it — you'll no longer have to dig through every drawer to find the one thing you need.
If you want to improve the function of your home, the minimalist style is perfect for you. So start getting rid of the excess, get yourself organized, and you'll have a sophisticated kitchen in no time.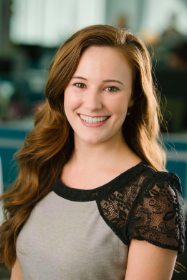 Dominique Daniels
Account Manager
Dominique Daniels is a marketing account manager who works with Skyhouse to continue to improve their Salt Lake City apartments. She holds a Business Communication degree and a minor in real estate from Arizona State University.
Equal Housing Opportunity Rental providers will not refuse to rent a rental unit to a person because the person will provide the rental payment, in whole or in part, through a voucher for rental housing assistance provided by the District or federal government.
Offers included in posts
Pricing and availability is subject to change. | Terms and conditions may apply to any special offers referenced. Contact the apartment communities for details.
Sponsored Posts
Aparrtminty may receive payment for sponsored posts and guest posts