5 Cozy Arlington Restaurants To Cozy Up To This Winter
As an Amazon Associate I earn from qualifying purchases.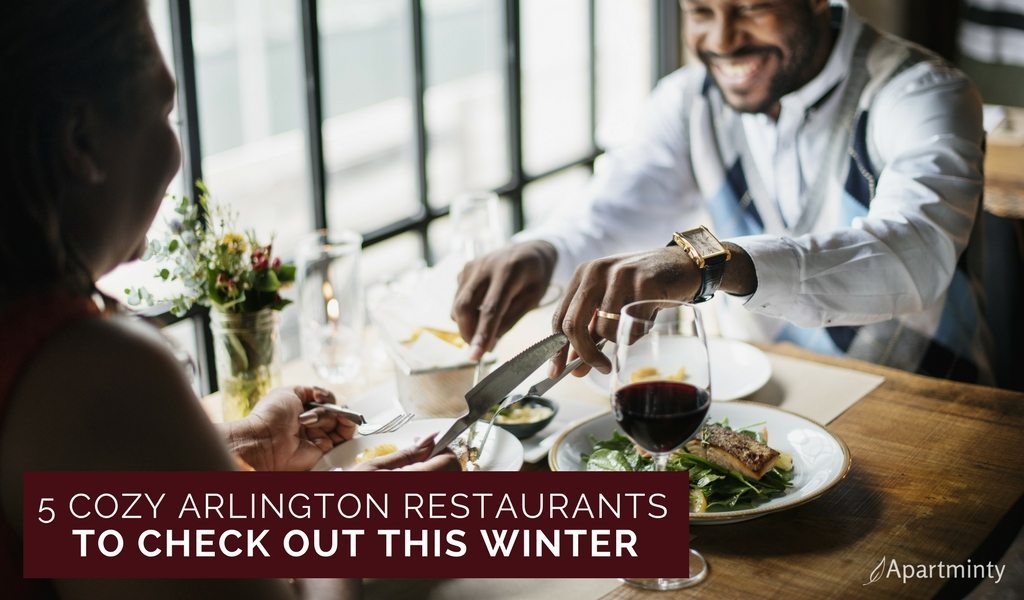 Winter and colder temperatures are upon us, which means it is time to get creative with evening and weekend plans. To avoid stepping out into the cold, we have compiled a list of the most winter-friendly restaurants in the Arlington area. Whether you are looking for options for a laid back and casual date night, girl's night, or a fun family gathering, these restaurants will allow you to enjoy these wintery evenings. 
Baba Bar
Baba is a unique cocktail bar that also offers dinner, brunch, and coffee. With soft and warm lighting, comfortable leather seats, and retro décor, Baba is an easy place to lounge and enjoy. Brunch and happy hour are two of our favorite times at Baba. Baba's Fun Brunch is $29 per person and includes an unlimited buffet and made-to-order breakfast dishes. While brunch cocktails are not included in the deal, you can enjoy Mimosas, Bellinis, or Bloody Mary's for just $5 each. Happy hour takes place from 4:00pm – 7:00pm, and select cocktails are just $6 and select dishes are $5.  We love the lounge-style seating and a warm fireplace for hiding from the cold over brunch or happy hour. 
William Jeffrey's Tavern
It's hard to beat the atmosphere of a cozy tavern on a cold evening, and William Jeffrey's Tavern has mastered this. Casual décor, a roaring fireplace, dim lighting, and friendly service create the ultimate experience. Whether you are dining in for brunch, lunch, or dinner, the menus offer a variety of delicious pub and comfort food. Beer Cheese & Warm Bavarian Pretzels is one of their signature appetizers and paired with the Lobster Pot Pie, this makes for the perfect comfort meal. Enjoy a nightcap at the bar that wraps around the large gas fireplace – an Irish Coffee will leave you nice and warm before you have to brace the cold again. 
Galaxy Hut
Galaxy Hut opened its doors as the first craft beer bar in DC in 1990. They have maintained their reputation with 28 taps that rotate with specialty, hard-to-find brews. They have a full dinner menu available, and all items can be prepared vegan. Grilled cheeses, subs, hot dogs, and a variety of sides and snacks make up their menu, adding to the casual feel of the bar. Every Sunday and Monday Galaxy Hut offers live music for just $5. The laid back and casual feel of the bar makes this a great choice for a low-key cozy evening. The lighting is dim, the menu offers "hand-held comfort food", and the vibes and individuals here are always friendly and relaxed. 
Kona Grill
For classic American cuisine, sushi, and specialty cocktails, Kona Grill is a lively Arlington restaurant that offers all three. The variety of food options here is unique – the menu includes everything from sandwiches and sliders, flatbread pizza, and fish entrees to poke, sushi and sashimi, and traditional and specialty rolls. Happy hour is a great time to visit Kona Grill – drinks are as low as $4, and food items are as low as $5. The environment of lends itself to both date nights and group dinners. Dim lighting, a funky bar with intricate décor, and a cool and casual atmosphere are what you can expect at Kona Grill. 
Boccato 
To end your cozy evening on a sweet note, visit Boccato, a gelato and espresso lounge. Comfortable chairs and couches allow you to enjoy your dessert in a warm and relaxing environment. Occasionally, live music is offered, which is always a nice treat. There is a designated co-work café here as well so you will find individuals reading, working, or studying. Overall, the cozy atmosphere and the delicious coffee and gelato make Boccato a great place for a date, a post-dinner treat, or somewhere to catch up with friends. 
Amazon and the Amazon logo are trademarks of Amazon.com, Inc, or its affiliates. Rental providers will not refuse to rent a rental unit to a person because the person will provide the rental payment, in whole or in part, through a voucher for rental housing assistance provided by the District or federal government.