Moving from New York to DC: 5 Things You Never Thought of
As an Amazon Associate I earn from qualifying purchases. | Amazon and the Amazon logo are trademarks of Amazon.com, Inc, or its affiliates. | As a content creator, I may receive payment for the endorsement of apartment communities.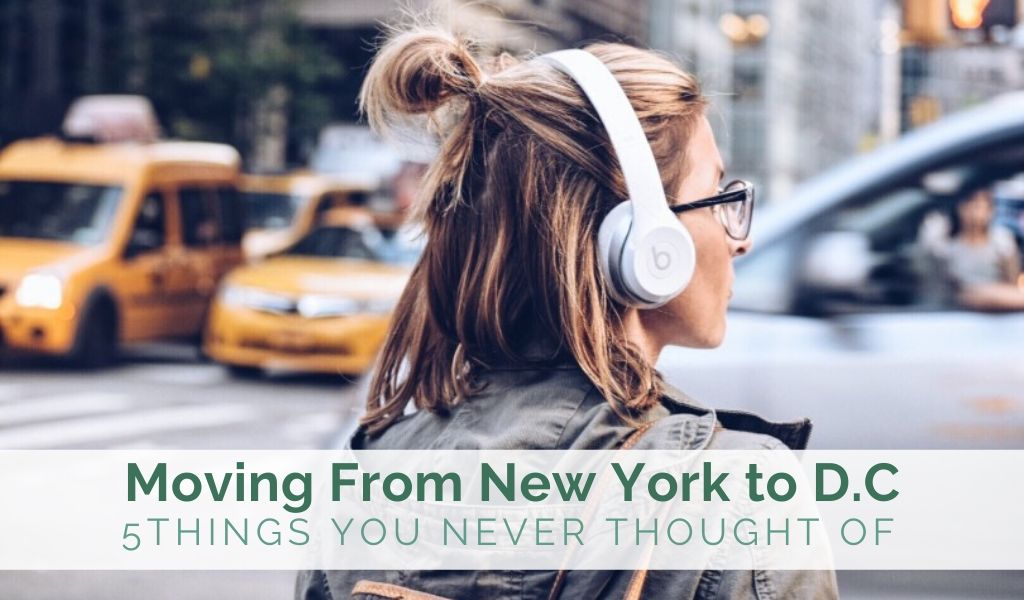 Moving From New York To DC: 5 Things You Never Thought Of 
Moving from New York to DC is a big decision. It may just be a zip along the coast from one city to another, but it is a long-distance move—which always has the potential to be stressful and overwhelming. Luckily, by gaining as much knowledge as possible about where you are moving and what to expect, you can ease some of your moving anxiety and make the best possible moving decisions. 
Whether you are simply thinking about a long-distance move from NYC to DC or have already started packing your home in the Big Apple, here are 5 commonly overlooked things to consider.
1. It's Not That Expensive
DC is an expensive place to put down some roots. But it has nothing on New York. 
When the topic of moving to DC comes up, many will be quick to tell you how expensive it is to live there—and they certainly aren't wrong. A one-bedroom apartment in the city center of DC will cost you, on average, $2,350 per month, while buying in the same area will run you around $6,529 per square meter (10.7 sq. feet). 
However, in comparison, renting a one-bedroom apartment in New York's city center costs $3,275 per month on average. Then there is buying which is over double the price, coming in at $14,946 per square meter (10.7 sq. feet). The verdict? With the cost of rent being around 25% cheaper and buying costing 50% less in DC, you can save a lot of money or finally get that housing upgrade you've been dreaming about.
How do food prices compare? Also favorably! Staples like rice, bananas, and potatoes cost approximately 50% less in DC, while onions, eggs, and bottled water are 25% cheaper. 
SOURCE: Numbeo 
 2. Double the Snow
Prices aren't the only thing that gets doubled in New York—on average, New York gets almost twice as much snow as DC. 
DC may not be the best choice if you are a snowman aficionado or love the look of fresh snow. On average, New York will get around 25.1 inches of snow in a year, while DC boasts only getting a little over a foot, 14.5 inches. However, you will find that the temperature across both states is highly similar. 
SOURCE: Current Results
Pro Tip: If you are thinking about moving in winter, keep in mind that snow can be a hindrance. Bad weather on moving day can be a recipe for disaster with unfavorable road conditions, soggy boxes, and wet shoes. If possible, hold off your move until spring or consider hiring professional movers that are accustomed to dealing with hazardous weather.
3. There's a Dress Code 
Dust off your formal and business attire if you want to fit in with the DC crowd.
New York is known for its diversity, and that certainly extends to the clothing you see on the streets. However, DC is another story. The influence of the government in DC is very apparent, especially around The Hill, with formal and conservative attire being the norm. It is the unspoken way of the land and if you want to blend in, you should adopt the same style. Nothing will make you stick out more than sore thumb like unprofessional or unkempt attire—it is how you can spot a non-DC native a mile away. 
Have an interview in DC? Opt for a more formal outfit than usual to err on the safe side. Chances are your idea of formal and DC's differ, so kick it up one notch higher than you normally would. Going for a night out? Upscale bars and places with fine dining in DC may turn you away if your attire isn't up to par. Be sure to phone ahead of time and ask about dress codes of establishments if you are unsure.
 4. 

Cleaner Public Transportation

Sitting on DC public transportation might not leave you feeling like you need a hot shower with extra soap.

It is no secret that NYC subways don't exactly have the cleanest feel, so you'll be thrilled to hear that DC's Metro system is much cleaner. Mind you, there is a bit of a trade-off as it covers less ground and is less efficient. But don't let that deter you. In conjunction with the subway, DC also has a great bus system, the DC Circulator, which covers most of the city.

Want a more private commute? Those familiar yellow taxis are also available. Alright, they aren't as yellow, but their fares are comparable to NYC.
 5. Taxes are Different
DC sales tax is lower than New York's, but there are a few other taxes to consider. 
With New York's sales tax averaging 8%, DC's is a bit lower at 5.75%. Plus, medication, groceries, and utilities are exempt. The downside? Liquor, car rentals, and restaurant bills are taxed at 10%. While parking will charge you 19% and hotels will tax 14.8%.  
Flipping back to the positive side of DC taxes, did you know if you are an individual making 50% or 60% of the area median income (AMI), you may qualify for a tax credit apartment? Also known as workforce housing. Finding a tax credit apartment in DC can make living much more affordable, so it is worth looking into if you think you qualify. 
DC is filled with a rich history and many opportunities, so don't let its differences from New York deter your move. If you are considering a move to DC or are about to embark on one if you do your research, make a moving checklist, and plan ahead, you can make sure your move is a huge success. Before you know it, you'll be settled into your new home! Will you start cheering for the Washington Nationals instead of the Mets? Well, that's a whole other story.
Equal Housing Opportunity Rental providers will not refuse to rent a rental unit to a person because the person will provide the rental payment, in whole or in part, through a voucher for rental housing assistance provided by the District or federal government.
Offers included in posts
Pricing and availability is subject to change. | Terms and conditions may apply to any special offers referenced. Contact the apartment communities for details.
Sponsored Posts
Aparrtminty may receive payment for sponsored posts and guest posts