Making Connections in a fast paced city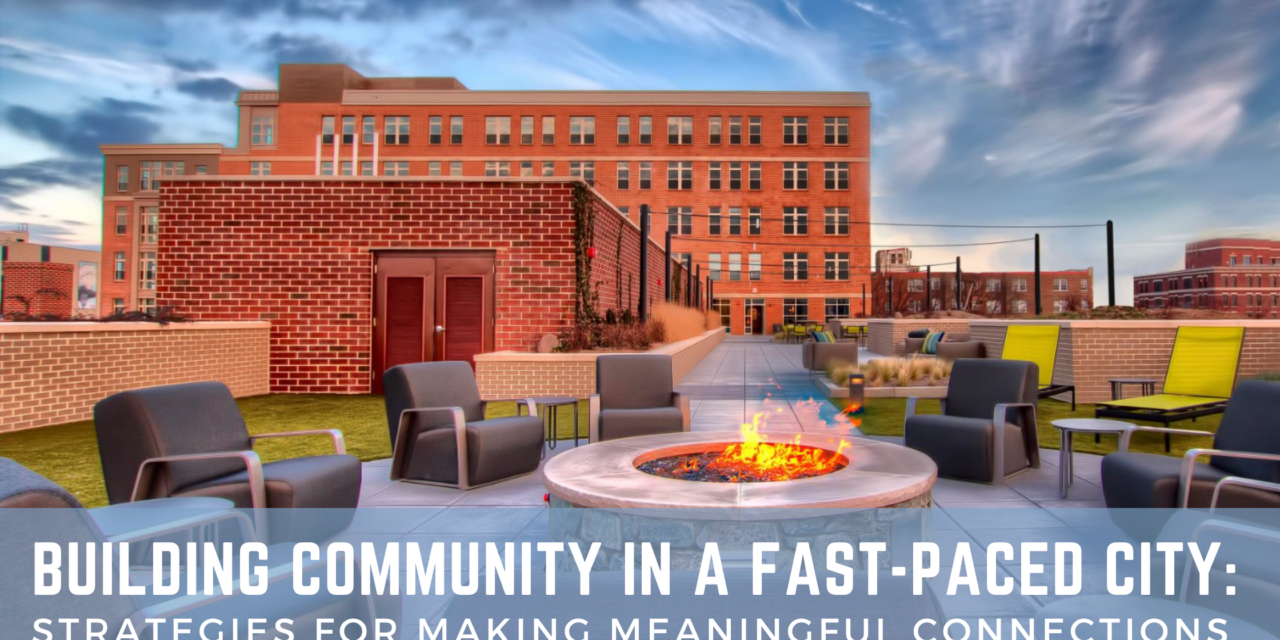 As an Amazon Associate I earn from qualifying purchases.
Introduction: Living in a fast-paced city like Washington, DC, can sometimes feel overwhelming and disconnected. However, finding ways to build community and make meaningful connections is essential for a fulfilling life. Whether you're a pet owner, eco-conscious individual, active individual, social butterfly, professional, or an art and culture enthusiast, The Swift Petworth offers a range of amenities and features that can help foster a sense of community and create lasting connections. This blog post explores strategies to help you build a vibrant community amid a bustling city.
Embrace Pet-Friendly Spaces: For pet owners, Swift Petworth's pet-friendly community creates the perfect opportunity to connect with like-minded individuals. Take advantage of the nearby green spaces and pet-friendly businesses in the Petworth neighborhood to meet fellow pet owners during walks or at local pet events. Bonding over the shared love for our furry friends can lead to new friendships and social connections.

Engage in Sustainable Initiatives: Get involved in on-site recycling and composting programs and connect with other residents who share a passion for sustainability. Consider joining or organizing community events focused on environmental awareness to meet like-minded individuals who value eco-conscious living.

Stay Active and Connect: The Swift Petworth's fully-equipped fitness center and convenient access to Zipcar and Capital Bike Share make it easier for active individuals to pursue their fitness goals while connecting with others who share a passion for an active lifestyle. Attend fitness classes or join community-led sports activities to meet fellow fitness enthusiasts and build connections that extend beyond the gym.

Socialize in Shared Spaces: The Tech Lounge with iMacs, the clubroom with panoramic views of DC, and the organized community events provide social individuals ample opportunities to connect and engage with their neighbors. Attend social gatherings, participate in game nights, or host a meetup in one of the shared spaces. These areas are designed to facilitate interaction and foster a sense of camaraderie among residents.

Networking for Professionals: The Swift Petworth offers amenities tailored to professionals seeking a convenient and comfortable living experience. Take advantage of the 24-hour on-site concierge service to get recommendations for local networking events and professional development opportunities. Attend organized meetups and seminars in the community to expand your professional network while connecting with fellow residents who are also navigating a busy career.

Explore Art and Culture: Art and culture enthusiasts will find endless opportunities to immerse themselves in the vibrant Petworth neighborhood. Discover independent stores, galleries, and the stunning street art that lines the streets. Participate in neighborhood events or art walks to engage with the local artistic community and connect with others who share your passion for creativity and cultural exploration.
Conclusion: Living in a fast-paced city doesn't mean sacrificing community and meaningful connections. The Swift Petworth provides a supportive environment for pet owners, eco-conscious individuals, active individuals, social butterflies, professionals, and art and culture enthusiasts alike. By embracing the amenities and opportunities available within the building and exploring the vibrant Petworth neighborhood, you can build a strong sense of community and create lasting connections with like-minded individuals. Take the first step in building a vibrant community within the bustling city, and enjoy a fulfilling and connected life at The Swift Petworth.
Equal Housing Opportunity Rental providers will not refuse to rent a rental unit to a person because the person will provide the rental payment, in whole or in part, through a voucher for rental housing assistance provided by the District or federal government. Amazon and the Amazon logo are trademarks of Amazon.com, Inc, or its affiliates.