Make it Stop! How to Stop Junk Credit Card Offers
As an Amazon Associate I earn from qualifying purchases. | Amazon and the Amazon logo are trademarks of Amazon.com, Inc, or its affiliates. | As a content creator, I may receive payment for the endorsement of apartment communities.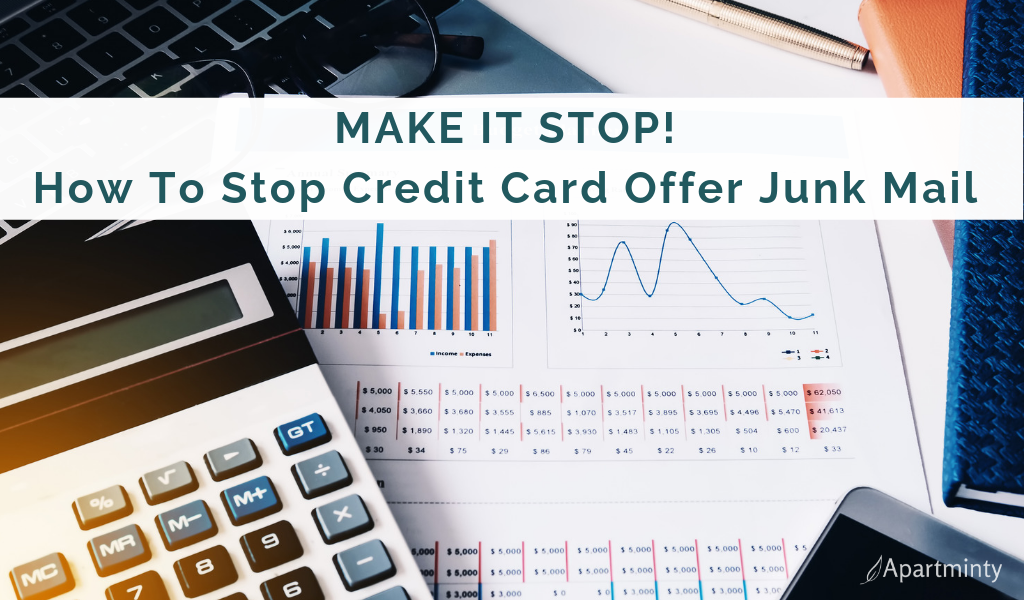 Make it Stop! How to Stop Credit Card Offer Junk Mail
Does anyone else receive a new credit card offer in the mail on a daily basis? The safe answer here is yes, we all do, and we are all sick of it. Luckily, there are ways to put this to an end. Whether your mailbox, voicemail box, or email is overflowing with pre-screened credit card offers, there are ways to stop it, and we've got you covered. While there are ways to opt out of these offers, it is important to note that they aren't full proof. You may still get an offer here and there, and if that's the case, requests to individual credit card companies may be the solution. Either way, any relief is some relief, and eliminating as much junk mail/email as possible is a huge de-stress for everyone.
How to Opt-Out of Credit Card Offers
Luckily, there is a way to stop those offers from piling up in the mail. Thanks to Federal law, the credit bureaus legally have to allow us to opt out of receiving the countless credit card pre-screening offers. Making matters even better, it is an easy process. There are two methods: online or over the phone. Visit www.optoutpresreen.com to remove yourself from the pre-screened lists online, or call 1-888-5OPTOUT (1-888-567-8688). By visiting the website or calling in, you have the ability to remove yourself from the pre-screened lists for as long as you wish, or indefinitely. Opting out essentially means that the credit bureaus can no longer sell your information to the various credit card companies out there. All you have to do is provide your name and address, how easy is that? If you decide you'd like to receive credit card offers again, opting back in is just as easy!
Say Goodbye to Credit Card Telemarketers
Nowadays, calls from credit card telemarketers feel just as common as the offers we receive in the mail on a daily basis. How do they get our numbers and why don't they ever stop calling?! Whether they are calling about an unrealistic deal, credit card insurance, or interest rate reductions, the offers almost always seem too good to be true. Spoiler alert: they are too good to be true. These phone calls are typically scams, and definitely calls you shouldn't pick up. A lot of these calls come in with numbers that appear similar to yours, and I don't know about you, but that can be easy to fall for. By registering your phone number with www.donotcall.gov, you can avoid receiving these calls altogether.
Reduce Credit Card Offer E-Mails
They send direct mail, they call our phones, and they send e-mails too. It feels nearly impossible to get through a day without receiving a pre-approved credit card offer, doesn't it? Putting an end to the email offers isn't as direct as ending the direct mail and phone calls. The best way to go about filtering these offers out of your email is to continually update your spam filters. While it seems annoying at the time, marking offers as spam as they come in will pay off in the long run. Addressing them each one at a time will prevent you from needing a full day to sort through and delete the various offers you receive. Another great way to prevent an overload of offers in your email? Subscribe to www.unrollme.com. While this website isn't specific to credit card offers, it can still help. Basically, you either unsubscribe from specific subscription emails or combine all of your subscription emails into one daily email. Maybe you like to see some of those credit card offers, but don't want them overwhelming your inbox. That is where unrollme.com will come in handy.
Equal Housing Opportunity Rental providers will not refuse to rent a rental unit to a person because the person will provide the rental payment, in whole or in part, through a voucher for rental housing assistance provided by the District or federal government.
Offers included in posts
Pricing and availability is subject to change. | Terms and conditions may apply to any special offers referenced. Contact the apartment communities for details.
Sponsored Posts
Aparrtminty may receive payment for sponsored posts and guest posts