Lust List: Pet-Friendly DC Apartments & Their Amazing Amenities
As an Amazon Associate I earn from qualifying purchases.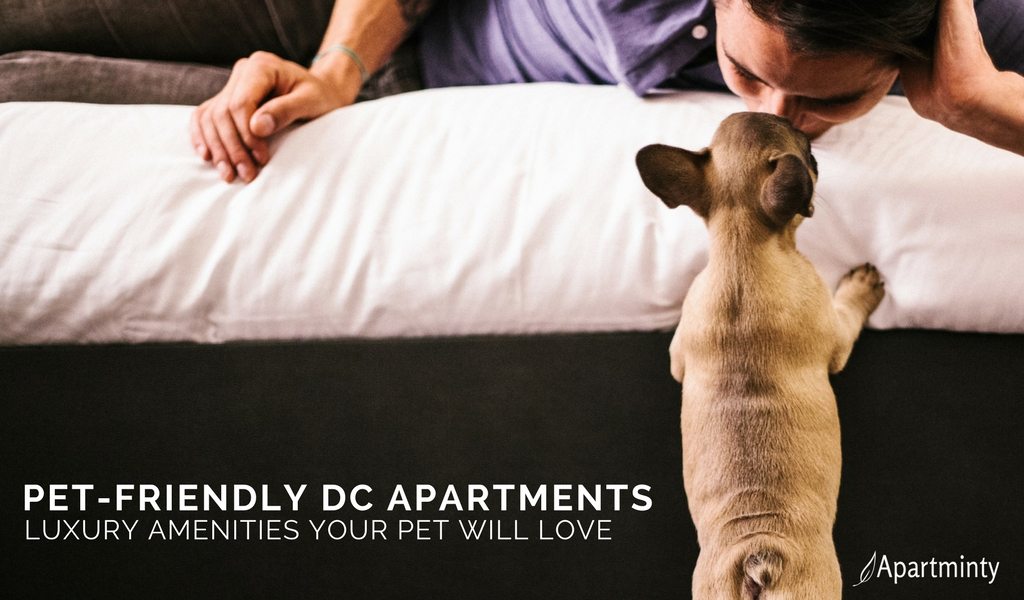 2M's luxury offering in the NoMa neighborhood goes beyond simply accepting pets.  They love your four-legged friends so much that they put a private dog park right in the middle of the interior courtyard of the building.  Where 2M really takes it a step further is with their building pet ambassador, Emmy.  Emmy is a ridiculously adorable Miniature English Bulldog that spends her days in the leasing office with the rest of the 2M team, inviting belly rubs and head scratches.  Residents are able to take Emmy for supervised walks in the interior dog park, allowing those who cannot (for whatever reason) have their own pet to still get their puppy fix from the comfort of home.  
Located in the hotter than hot Capitol Riverfront neighborhood, Park Chelsea is the first of 3 pet-friendly buildings that will make up The Collective – a collection of 3 apartment buildings that will all share amenities.  When all is said and done, your pooch will be able to enjoy 2 separate rooftop dog parks, but for now, they'll have to settle for the one on Park Chelsea's roof, complete with agility course and dog run.  Another great offering is the dog wash room, which allows you to easily shampoo, rinse and blow-dry your dogs without ever leaving home – and without the mess of trying to do it in your own bathroom!  
City Market at O offers a luxurious lifestyle not just for us humans, but for your pets as well.  With a rooftop dog park boasting sweeping views of the city and pet spa rooms perfect for grooming, your pooch will be more pampered than ever!
Equal Housing Opportunity Rental providers will not refuse to rent a rental unit to a person because the person will provide the rental payment, in whole or in part, through a voucher for rental housing assistance provided by the District or federal government. Amazon and the Amazon logo are trademarks of Amazon.com, Inc, or its affiliates.