The Basic Bitch's Guide To The Farmers Market
As an Amazon Associate I earn from qualifying purchases. | Amazon and the Amazon logo are trademarks of Amazon.com, Inc, or its affiliates. | As a content creator, I may receive payment for the endorsement of apartment communities.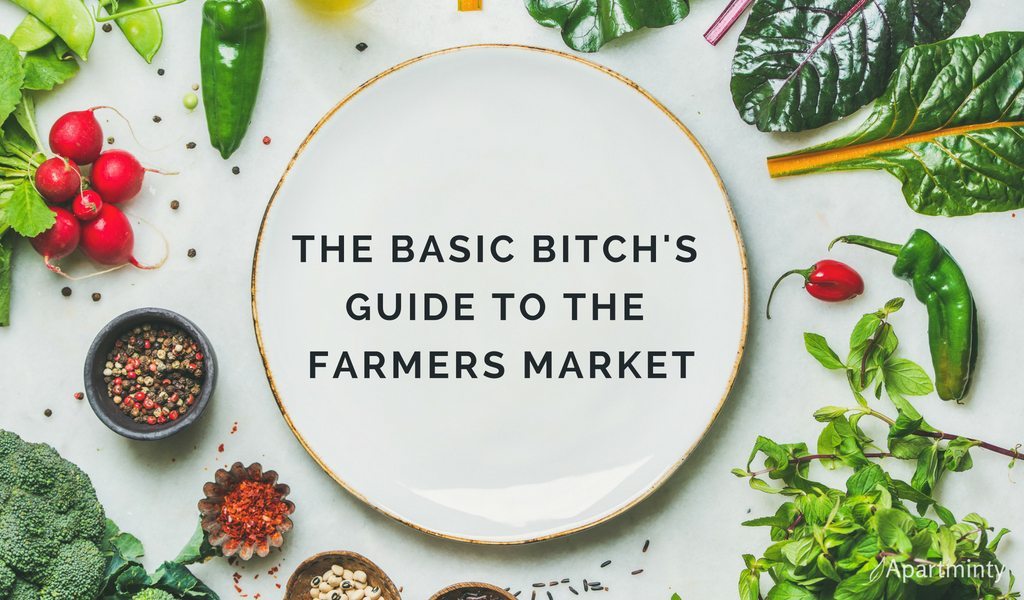 As the weather warms up, farmers markets begin to sprout up across the city! Paying these pop-up markets a visit is a great way to support and get to know your local farmers and makers, but there are some dos and don'ts to consider. Read on for our basic guide to doing the farmers market right once and for all!
Farmers Market Dos:
Bring a vessel to carry your items in
Sure, many vendors provide plastic bags, but they're terrible for the environment and make for bad Instagram photos. Bring along a reusable bag with a cute design or message on it, or even a pretty basket with handles, depending on how far you have to travel – a basket not only looks nice but helps keep your produce from getting squished as you transport it home.

Sample the goods
Many vendors provide free samples of their products, so don't be shy about trying before you buy! Just don't abuse the privilege by going overboard and making a meal of it without purchasing anything. If you're curious about a product and no samples have been provided, don't be afraid to ask, especially if it's a food that is new to you.
Tag the vendors in your social posts
Support your local farmers, bakers, and makers! When you purchase or sample a product and decide to share a photo on social, take a minute to see if they have an account and tag them in the post. A little love can go a long way in helping spread the word for local farmers and makers.
Try something new
While you're likely to see a lot of familiar favorites, consider adding something new to your basket. Don't be shy about asking what something is, what it tastes like, and how it can be prepared. This gives you an opportunity to chat up the farmer and who knows, you just might discover a new favorite!
Give feedback
Tried something and loved it? Let the farmer know! Tried something that wasn't quite right? Take a moment to let them know that as well. If you had, for instance, a peach that was particularly mealy, this could be useful information for the farmer – just use a friendly, forgiving approach.
Consider signing up for a CSA
Found a favorite farmer and want to enjoy their goods all season long? Ask if they offer a CSA, or Community Supported Agriculture program – an option to pay a set amount up front, then receive weekly produce bundles throughout the season. Depending on the farm and location, you may be able to pick up your box each week at the farm or farmers market or they may even deliver it straight to your door.
Farmers Market Don'ts:
Ignore the farmers/vendors
As you peruse the goods, take a moment to engage whoever is working the stand. You'll learn more about what you're buying and can appreciate more of the hard work that goes into growing the food, plus it will make for a better Instagram post! Gather a few interesting details about the farm, process or product and you'll have an interesting story for your caption.
Buy the whole farm
Few things are sadder than a fridge full of rotting produce. Before you purchase, have a general plan for how you'll use each item and don't go overboard – be realistic about how much you'll actually consume in the coming days. We find that local farms tend to use fewer pesticides and preservatives, so your haul is likely to only keep fresh for a few days – plan accordingly, supplement at the end of the week with grocery store purchases if need be, then come back for more local goodness next weekend!
Try to negotiate prices
In case you haven't heard, farming is one of the hardest, most underpaid, and under-appreciated professions out there. Unless you're looking to buy an item in bulk, don't be that person that tries to haggle with the farmer. It's not a good look and is an insult to all of the handwork that goes into bringing you fresh, local produce.
Rush through the market
If you truly only have a few minutes, that's fine, but to fully enjoy the farmers market experience, give yourself some time to peruse, mix and mingle. Many farmers markets even provide live music and entertainment as well as vendors serving up prepared snacks, meals, coffee, and juice. Make a solo afternoon of it or invite a friend or loved one along!
Here you can create the content that will be used within the module.
Here you can create the content that will be used within the module.
Equal Housing Opportunity Rental providers will not refuse to rent a rental unit to a person because the person will provide the rental payment, in whole or in part, through a voucher for rental housing assistance provided by the District or federal government.
Offers included in posts
Pricing and availability is subject to change. | Terms and conditions may apply to any special offers referenced. Contact the apartment communities for details.
Sponsored Posts
Aparrtminty may receive payment for sponsored posts and guest posts