How to Use Lighting to Make a Room Feel Larger
As an Amazon Associate I earn from qualifying purchases. | Amazon and the Amazon logo are trademarks of Amazon.com, Inc, or its affiliates. | As a content creator, I may receive payment for the endorsement of apartment communities.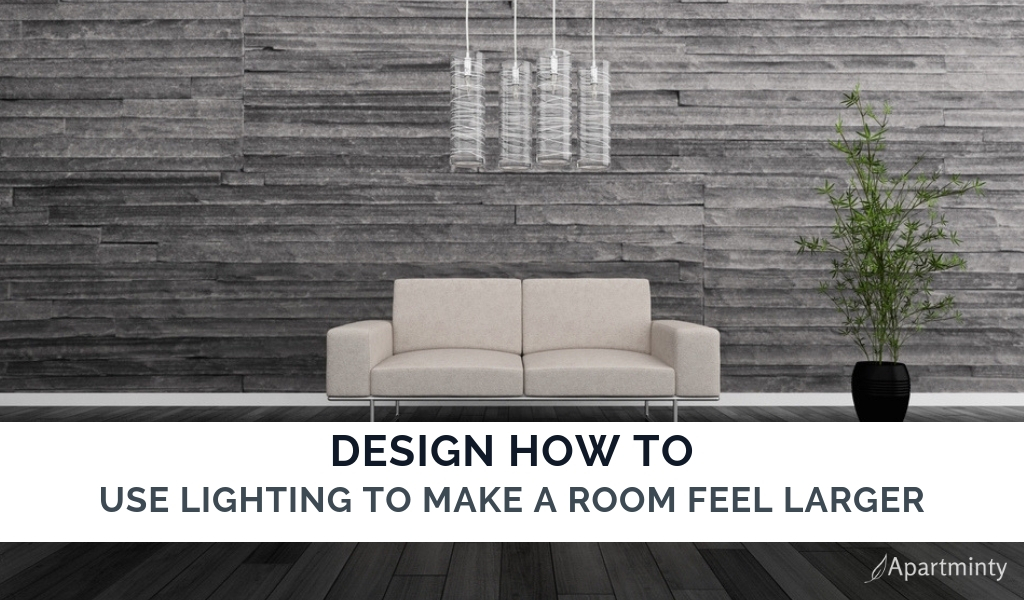 It can be hard to make an apartment feel like home because you are limited in changes you can make to it unless you want to forfeit your deposit. Even though your space may have a good amount of square footage if it's poorly lit the apartment will feel smaller and uncomfortable. But you just don't have the budget to enhance the look and feel of your apartment. The great thing is you can transform your space from dark and depressing to bright and cozy without spending much. It doesn't take expensive fixtures to make your apartment appear upscale. Finding the right fixtures and their placement will make all the difference without destroying walls or needing a professional. With 5 tips, you'll have a budget-friendly way to enhance your apartment lighting and keep your deposit!
Placing Your Fixtures
It's best to start with the ambient lighting layer, the least amount of light needed to navigate the space. Your apartment probably came with the basic ceiling light which provides ambiance. Floor lamps, table lamps, sconces, and even candlelight are also other lighting options. Increase the brightness with additional fixtures until you get the right lighting. This will save you energy and money. Brighten the space by lighting walls or the ceiling to produce a soft ambient light throughout the entire room. This technique also prevents glare or harsh shadows.
For bedrooms, you want an intimate and cozy vibe. Illuminating two corners with soft lighting will give you a warm glow. Feel free to add a reading lamp. The great thing about bedrooms is that they require little lighting. Shining light in the corners will not only brighten the space, but it will also increase the size of it as well. When lighting your bathroom, place fixtures close to the mirror. If you prefer brighter illumination, you can achieve that effect by installing bare bulbs.
Don't be afraid to brighten the room by hanging a large chandelier or pendant for character. These fixtures are a great way to draw attention away from eye-sores or less appealing features because it creates a focal point. Place large mirrors across from windows to reflect light, adding depth and size to the room. Keep in mind, focus on lighting areas you frequently use rather than areas you don't use.
Swapping Your Fixtures
As a renter, you don't have the luxury of drilling holes in the walls to hang fixtures. Instead of installing wall sconces, use an arc lamp. They can provide the same amount of light but aren't fixed to the surface. Replace any outdated fixtures with stylish ones that you can remove and reuse in another space. Switching old, unattractive shades with contemporary ones, and swapping bulbs is another excellent way to modernize the space.
Dimmers
Be sure to install dimmers wherever possible! They allow you to set the mood regardless of the time of day and can be reused in other locations. Go cheaper with wireless remotes which are also perfect for when you want to avoid rewiring. Simply plug the fixtures in a special socket and use the remotes to control the lighting layers and atmosphere.
Shopping for Fixtures
When shopping for fixtures be sure to research any current deals. Local boutiques are a great resource for sales, while showrooms may budge on their pricing. Bring fixtures with you so that you can see what style shades work best with the lights. Manufacturers tend to produce knockoffs of popular designer fixtures and then sell them at a lower cost so be sure to compare store prices for the best deal. If you want to buy a statement piece for a focal point, then it's okay to spend a large portion of your budget on it. But keep in mind your other fixtures will need to be cheaper. LEDs are ideal for cost-effective lighting and are compatible with many types of fixtures. If you want to focus on objects and certain areas, then go for inexpensive lighting since they will be unnoticeable.
Brighten with Color
Make use of colors to brighten your apartment. Painting the ceiling with a gloss finish will bounce light from the ceiling, illuminating the room and giving the room the illusion that it is bigger. Try rich colors on wood ceiling panels or fun patterned wallpaper for brightness and a cozy feel. Paint unattractive light switches and plugs the same color as the wall or use stylish covers to hide them.
Before installing any fixtures, figure out what areas you want to light, which fixtures are appropriate, and where to place them for your desired lighting effect. Even if your apartment has an outdated look, changing your fixtures with modern styles will make a big difference. Turning your drab and cramped apartment into a luxurious and cozy space doesn't have to break your wallet. Following these simple tips will help you make the most of your budget and make your rental feel like it belongs to you.
Jessica L. Murray
Social Media Associate
Jessica L. Murray is the Social Media Associate of lampsexpo.com, one of the largest designer lighting showrooms in Los Angeles, where she blogs and handles all social media. As a blogger, she enjoys giving lighting design ideas and tips to people for enhancing the look and feel of their homes.
Equal Housing Opportunity Rental providers will not refuse to rent a rental unit to a person because the person will provide the rental payment, in whole or in part, through a voucher for rental housing assistance provided by the District or federal government.
Offers included in posts
Pricing and availability is subject to change. | Terms and conditions may apply to any special offers referenced. Contact the apartment communities for details.
Sponsored Posts
Aparrtminty may receive payment for sponsored posts and guest posts