How to Make Your Apartment More Eco-Friendly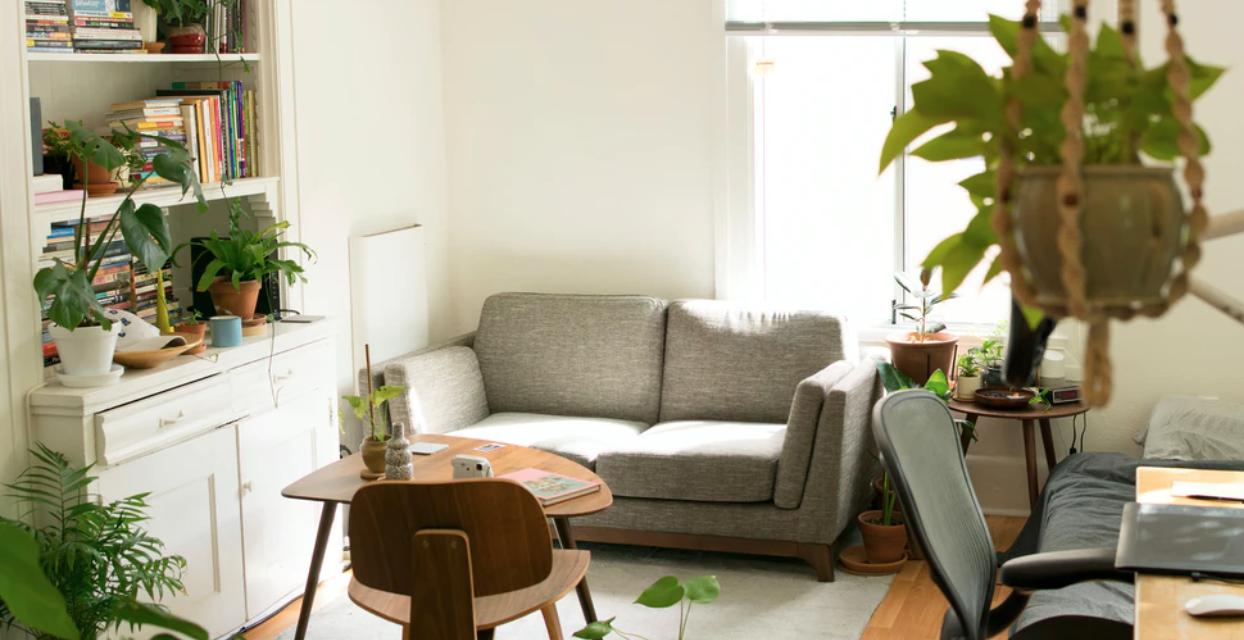 As an Amazon Associate I earn from qualifying purchases. | Amazon and the Amazon logo are trademarks of Amazon.com, Inc, or its affiliates. | As a content creator, I may receive payment for the endorsement of apartment communities.

There are a lot of perks to apartment living. They're generally easier to maintain, can be more affordable than a house, and are great short-term commitments for those always on the go. However, one of the drawbacks to apartment-dwelling, particularly if you're an environmentalist, is often the limited green actions available. Whether you rent or own your apartment, it can be difficult knowing how to get involved in sustainability efforts. However, eco-friendly changes can be applied everywhere, including apartments.
It's important for the sake of our future here on Earth to begin taking green actions to help minimize the negative impacts on the environment. For those living in apartments, getting started on making your living space more eco-friendly is easier than you think:
Construct with Mother Nature in Mind
The best place to start is at the beginning, right? If you're an apartment owner or landlord, it's important to prioritize constructing any new apartments with the right materials. Some of the best sustainable building materials to use include:
Reclaimed Wood: Reusing materials like reclaimed wood is a perfect way to cut down on waste and reduce production costs. Reclaimed wood also typically has a lot of character which only helps make each of your apartments more unique while also being sustainable.
Bamboo: The thing that makes bamboo a great sustainable material choice is its rapid growth rate. Bamboo is ready to be used in just six years and when it's of high quality and sold by reputable dealers, it's extremely durable and long-lasting. It's also one of the more affordable options to pick from.
Green Insulation: Unlike traditional insulation that's made from synthetic materials, which can be damaging to the environment, green insulation is made from recycled materials. From old denim to sheep's wool, green insulation is a great substitute for fiberglass insulation and more.
Making the initial decision to build with sustainable materials benefits the environment long-term by reducing the overall negative impacts. It also can help save future tenants money on utilities thanks to sustainable building materials like green insulation helping to reduce energy use. It may be more expensive at times to pick the sustainable option over the non-sustainable counterpart, but it's worth the cost.
Don't Shy Away from Pre-Owned Appliances
Appliances breaking down or not working properly is a common issue for tenants and owners alike. Moreover, many apartments still have the same appliances they were built with decades ago. While certain types of appliances were definitely built to last regardless of age, for the most part, many are now inefficient and that can be costly. As pointed out by General Contractors License Guide, "Not only do inefficient appliances waste energy, but they can also cost you extra money. A 21-cubic foot refrigerator using 750 watts of power costs an average of $27 each month to run, which can add up fast when you factor in additional energy use each month." With that being said though, don't be temped quite yet to toss out your old appliances.
While it may depend on where you live, there is likely a used appliance business you can and should utilize. Organizations such as Habitat for Humanity have numerous stores you can contact. They will not only replace broken appliances with functioning ones but will also take your old ones away and repurpose them. The appliances these types of businesses have are typically lightly used and worked on to be good as new. This reduces the overall impact on the environment by increasing better energy usage functions, minimizing waste, and providing more materials to be re-used.
Small Changes Have Big Impacts
Wanting to make some green changes to your apartment is understandable as we begin learning more and more about serious environmental threats and problems. However, it's worth keeping in mind that it's easy to overload yourself when taking on major eco-friendly projects and renovations. Furthermore, it's not always possible to make those apartment-altering changes. While big green actions are certainly important, small, everyday green actions are just as essential in regards to the planet's health. Try incorporating some of the simple green actions found in things like eco-friendly apartment guides if you're unsure where to start. It may feel perhaps ineffectual, but changing your habits to be more conscious of the environment is a great way to make a difference, regardless of where you live.
Equal Housing Opportunity Rental providers will not refuse to rent a rental unit to a person because the person will provide the rental payment, in whole or in part, through a voucher for rental housing assistance provided by the District or federal government.
Offers included in posts
Pricing and availability is subject to change. | Terms and conditions may apply to any special offers referenced. Contact the apartment communities for details.
Sponsored Posts
Aparrtminty may receive payment for sponsored posts and guest posts