House Rules: 5 Rules to Keep You and Your Roommate Sane
As an Amazon Associate I earn from qualifying purchases. | Amazon and the Amazon logo are trademarks of Amazon.com, Inc, or its affiliates. | As a content creator, I may receive payment for the endorsement of apartment communities.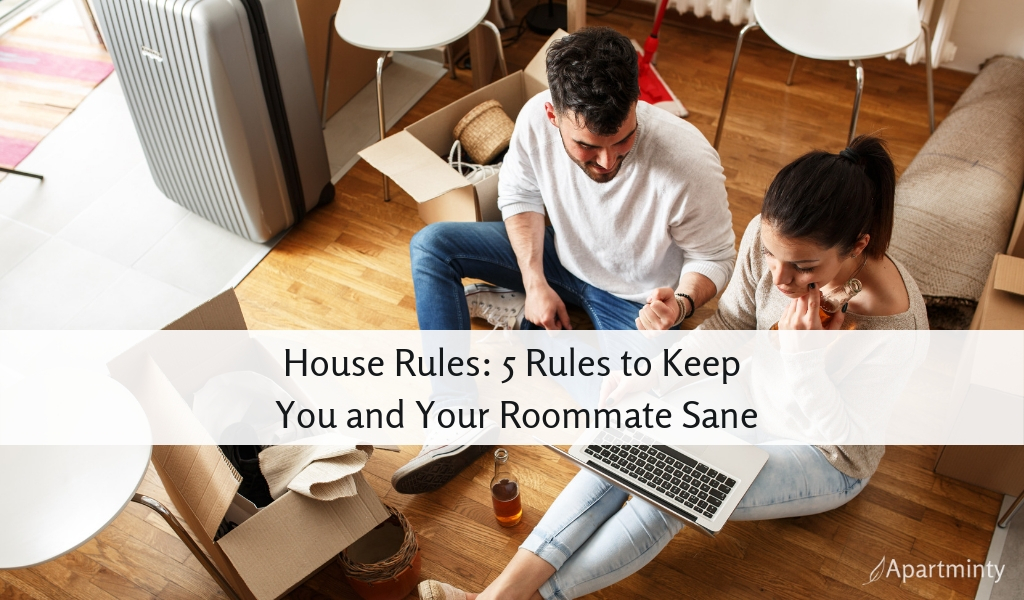 5 House Rules Rules to Keep You and Your Roommate Sane
While setting "house rules" may sound silly, we can't tell you enough how important it is for a successful roommate relationship. Without establishing things from the beginning, pent up frustrations can go too far and things at home will get tense. Set your ground rules, show each other respect, clean up after yourself, and we promise you both will be happy and sane in the comfort of your own home. Establishing house rules doesn't have to be a negative thing, make it a fun roommate bonding night! Pour some wine, and put your heads together to create an enjoyable (crazy-free) home.
Set Ground Rules
How will you divvy up cleaning duties? What is the house guest policy? Are you open to sharing food? These are important questions to ask at the beginning of a roommate relationship, and they will help establish ground rules for the house. Ground rules are important. They will help you and your roommate get on the same page about things and prevent fights that are easily avoided. Setting ground rules and holding true to them will create a positive relationship between roommates, and will prevent either of you from going crazy at home.
Converse Face to Face
It is inevitable that issues will arise at some point in your roommate relationship. It is important to address them right away and to address them face to face. Regardless of the issues, large or small, talking things out in person is crucial. In this day and age, so many of us rely on technology for handling things, but it is so easy for conversations to be misconstrued this way. Sending the wrong message, or interpreting a message in the wrong way, could easily hurt either one of you unintentionally. Converse face to face, and handle confrontation in a respectful manner, and both you and your roommate will be able to move past any issue that may come up
Cleanliness
This rule will go hand in hand with setting ground rules. Keeping things clean and tidy around the house will keep both you and your roommate sane. The best way to go about this? Clean up after yourself! Nobody wants to live in someone else's mess or clean up after others either. Do you own dishes, clean up behind yourself, tidy up in the bathroom each time you use it…these are quick and easy ways to ensure your home feels clean. While cleaning up after yourself is crucial, it won't hurt to do a group clean or hire a cleaning service periodically. Clean home = happy roommates.
Set Aside Some Alone Time
Whether you are the kind of person who needs alone time to recharge or not, ensuring that you have some alone time from your roommate will keep you both from going crazy. As fun as it can be to find a new best friend in your roommate, there is such a thing as too much time together. That's not to say you shouldn't be close friends with each other, we just find it important to spend some time apart to avoid feeling overwhelmed by each other. Learning to recognize when your roommate may be in need of some alone time will save you both from any unnecessary tension. Enjoying time apart will allow your time together to be that much better.
Respect
Share mutual respect for each other. This is one of the most critical components of creating and maintaining a positive and enjoyable roommate relationship. By listening and sticking to the other four rules, you, in turn, will be showing your roommate respect. Respect can come about in many different ways. From keeping your space clean, to taking out the trash on your way out, to checking in with your roommate before a guest stays over, you are showing your roommate that this is their home too. Respect for each other and respect for your mutual living areas will keep you both sane, we promise.
Equal Housing Opportunity Rental providers will not refuse to rent a rental unit to a person because the person will provide the rental payment, in whole or in part, through a voucher for rental housing assistance provided by the District or federal government.
Offers included in posts
Pricing and availability is subject to change. | Terms and conditions may apply to any special offers referenced. Contact the apartment communities for details.
Sponsored Posts
Aparrtminty may receive payment for sponsored posts and guest posts