Holiday Gift Guide: Travel Gifts for Your Friends Filled with Wanderlust
As an Amazon Associate I earn from qualifying purchases. | Amazon and the Amazon logo are trademarks of Amazon.com, Inc, or its affiliates. | As a content creator, I may receive payment for the endorsement of apartment communities.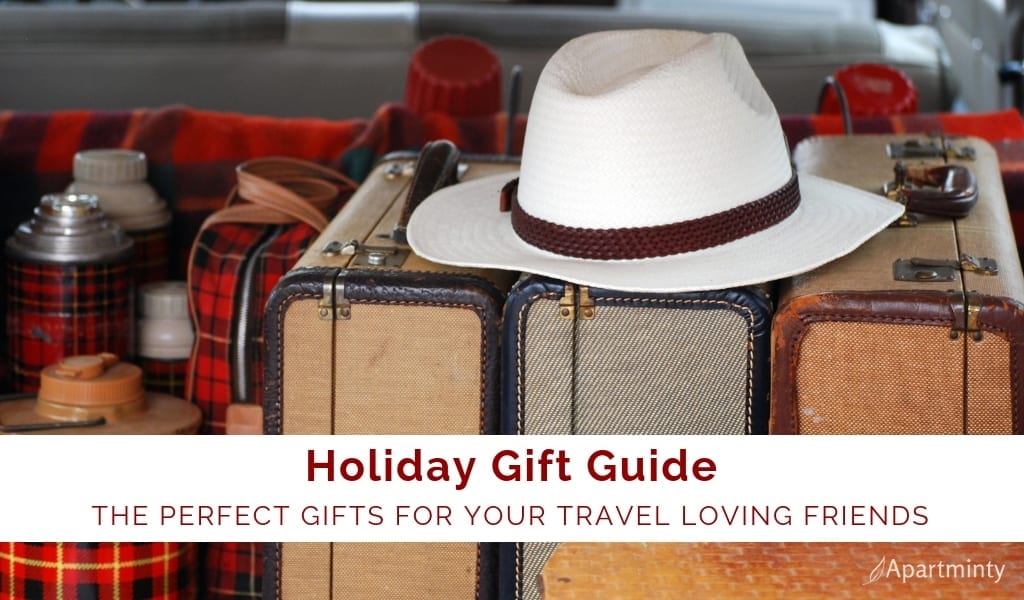 We know how hard finding the perfect holiday gift can be.  This year, as our gift to you, we did some early holiday shopping and created this set of gift guides to help!  This edition is full of gifts to give your travel loving friends.  It's full of the items you typically wish you had but always forget to buy ahead of time!  So give these awesome travel gifts, inspire your friends to plan their next adventure, and then take credit for their vacation 😉

Pocket Size Toilet Spritz
Whether it's your first overnight with your new amore or tight quarters on a cruise ship with your bff…you and your travel companion will be thankful for this pocket toilet spritz!

*This is an affiliate post, which means if you purchase something, Apartminty may get something in return. Thanks.*
as someone who is in an airport every single week, there's nothing more annoying than the cost of a bottle of water at the airport…and I'm always thirsty.  That's why the collapsible bottle was a revelation!  It clips onto my bag, so I always have it with me and when it's not in use it's super compact.  But as soon as I get through the security line, I can fill it up at the water fountain and we're in business…without breaking the bank!

Tank Top with Secret Pockets
We're forever being warned about pickpocketers…I guess that's just the case in any tourist location.  This tank top solves the worry by having two compartments under your arms for your cash, hotel room key or even passport.  This is especially awesome for any of your friends that hate to carry a purse!
Vlando Portable Jewelry Roll
This compact jewelry organizer is the perfect travel companion.  It packs easy, takes up almost no space in your carry on and it keeps everything from getting tangled! Plus, if your vacation is going to be posted on Instagram, you're going to need all your statement pieces with you!
This is a must-have

travel 

accessory for any road trip.  You don't want to be stuck with me in a car for too long without my coffee! Besides being beautiful the Ello travel mug is also dishwasher safe and BPA free.
Insect Shield Sport Crew Socks
Bug bites are the worst!  Also, the idea of bug bites can be a bit scary with Zika still being a threat in some countries.  All the more reason to pick up a pair of these Insect Shield socks.  The repellent lasts for about 70 washes and doesn't require any extra care.

JOTO Waterproof Phone Pouch
We bought this case several years ago before our trip to Hawaii.  I  was not convinced it was really going to work and put it through multiple bathtub tests before trusting my iPhone to its protection.  It works like a charm! I used it while kayaking and snorkeling and it kept the phone completely dry and still functional.  Obviously, photos taken while in the case are not going to be crystal clear…but they were totally passable.

Venture Pal Lightweight Backpack
This lightweight backpack can be rolled up and squished into your suitcase.  It's wonderful for day trips to the waterfalls or hiking in the mountains.  While it's not waterproof, it is water resistant.  We've had ours on all of our trips over the past few years and it never fails to come in handy!

JMFONE Travel Power Adapter
This is a must-have for most international travel.  I actually just leave ours in my suitcase so we never forget it.

Pop Fashion Scarf with Hidden Pocket
If you're really concerned about pickpocketers, this is just another option for concealing your valuables.  The scarf has a zippered pocket and while I had my doubts about comfort or usefulness, it has 4.5 star rating!

Lifestraw Personal Water Filter
Staying on the 007 / survivalist train for just a second, the Lifestraw is pretty incredible! The filter removes bacteria and parasites allowing you to drink from any stream you come across.  The best part is for every straw you purchase, a school child in need receives safe drinking water for an entire school year!

Coffee Gator Pour Over Coffee Maker/Travel Mug
Remember what I said about me without coffee?  The Coffee Gator is the perfect solution.  This travel mug comes with a mesh filter so you can make fresh pour-over coffee right in your mug!

Mossio Packing Cubes with Shoe Bag
Save time, energy and space with these packing cubes.  You can pack by activity and it even comes with a laundry pouch so you can separate your dirty clothes as you use them!

Equal Housing Opportunity Rental providers will not refuse to rent a rental unit to a person because the person will provide the rental payment, in whole or in part, through a voucher for rental housing assistance provided by the District or federal government.
Offers included in posts
Pricing and availability is subject to change. | Terms and conditions may apply to any special offers referenced. Contact the apartment communities for details.
Sponsored Posts
Aparrtminty may receive payment for sponsored posts and guest posts
---
Also published on Medium.