Holiday Cocktail Recipes for Every Taste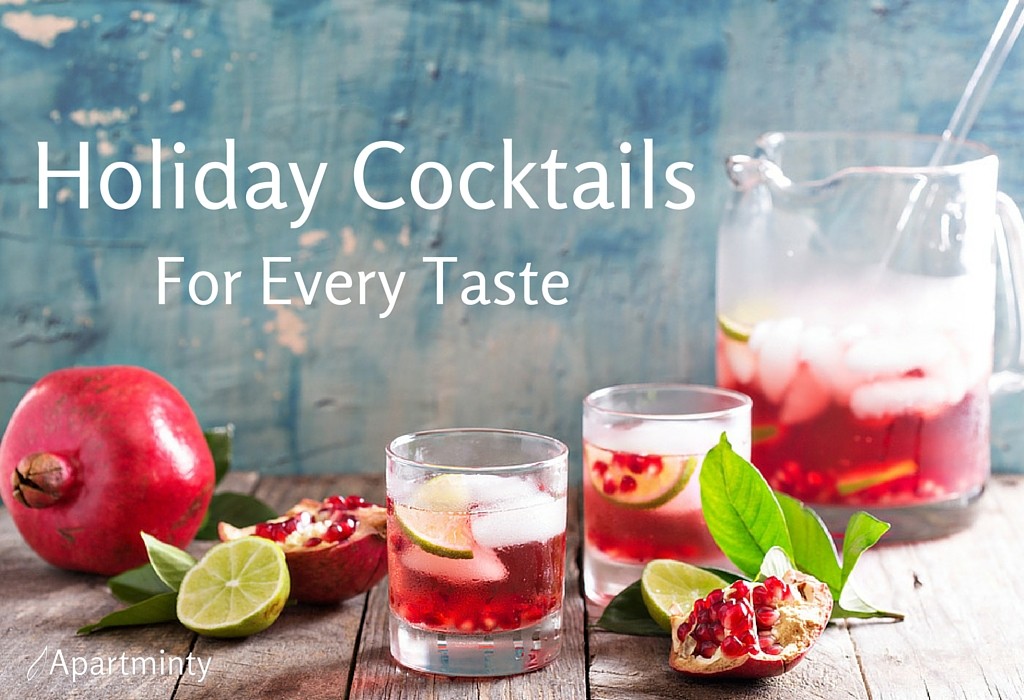 As an Amazon Associate I earn from qualifying purchases. | Amazon and the Amazon logo are trademarks of Amazon.com, Inc, or its affiliates. | As a content creator, I may receive payment for the endorsement of apartment communities.
Office parties, presents, and shopping, Oh My! With all the stress the the holiday season brings along with it, we decided you could use a double-shot of good cheer! While Holli usually sticks to the bourbon and Maddie never says no to champagne, we know that everybody has a preferred liquor of choice.  So, here's our list of holiday cocktails with a little something for every taste.
Vodka
Winter Sea Breeze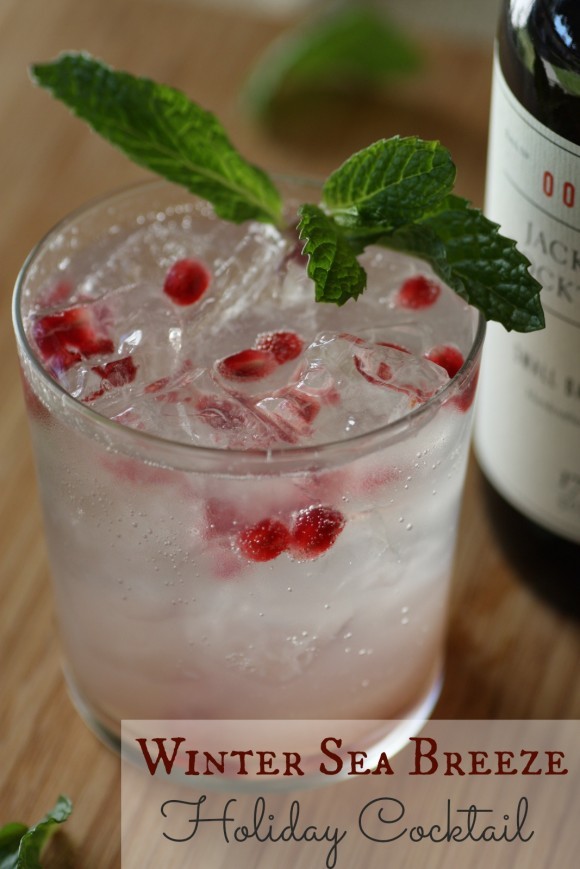 via Catch My Party
I'm pretty partial to grapefruit juice year round and well…the mint thing goes without saying, right? This cocktail is awesome to serve at the beginning of the night. It's crisp, bubbly, and light, plus the pomegranate seeds and spring of mint give it a festive holiday feel.
INGREDIENTS:
1 oz vodka (1/8 cup)
1 oz grapefruit juice (1/8 cup)
1/2 oz tonic syrup (2 tablespoons)
2 oz soda water (1/4 cup)
12 pomegranate seeds
3 mint leaves (for garnish)
DIRECTIONS:
Fill your glass about 3/4 full with ice. A lowball glass is the perfect size. Add the vodka, grapefruit juice, tonic syrup and stir. Pour in the soda water and garnish with the pomegranate seeds and mint leaves.
Tonic is one of my favorite cocktail mixers, and I love that there are now artisanal tonic syrups. I used Jack Rudy Tonic Syrup that I found at Whole Foods. I recommend using a syrup because it's not too sweet and has a little more complexity of flavor. If you don't have tonic syrup, you can substitute 1/4 cup regular tonic for the soda water and syrup. I might add a little extra grapefruit juice just to balance it out.
Gin
Charred Lemon Gin Sparkler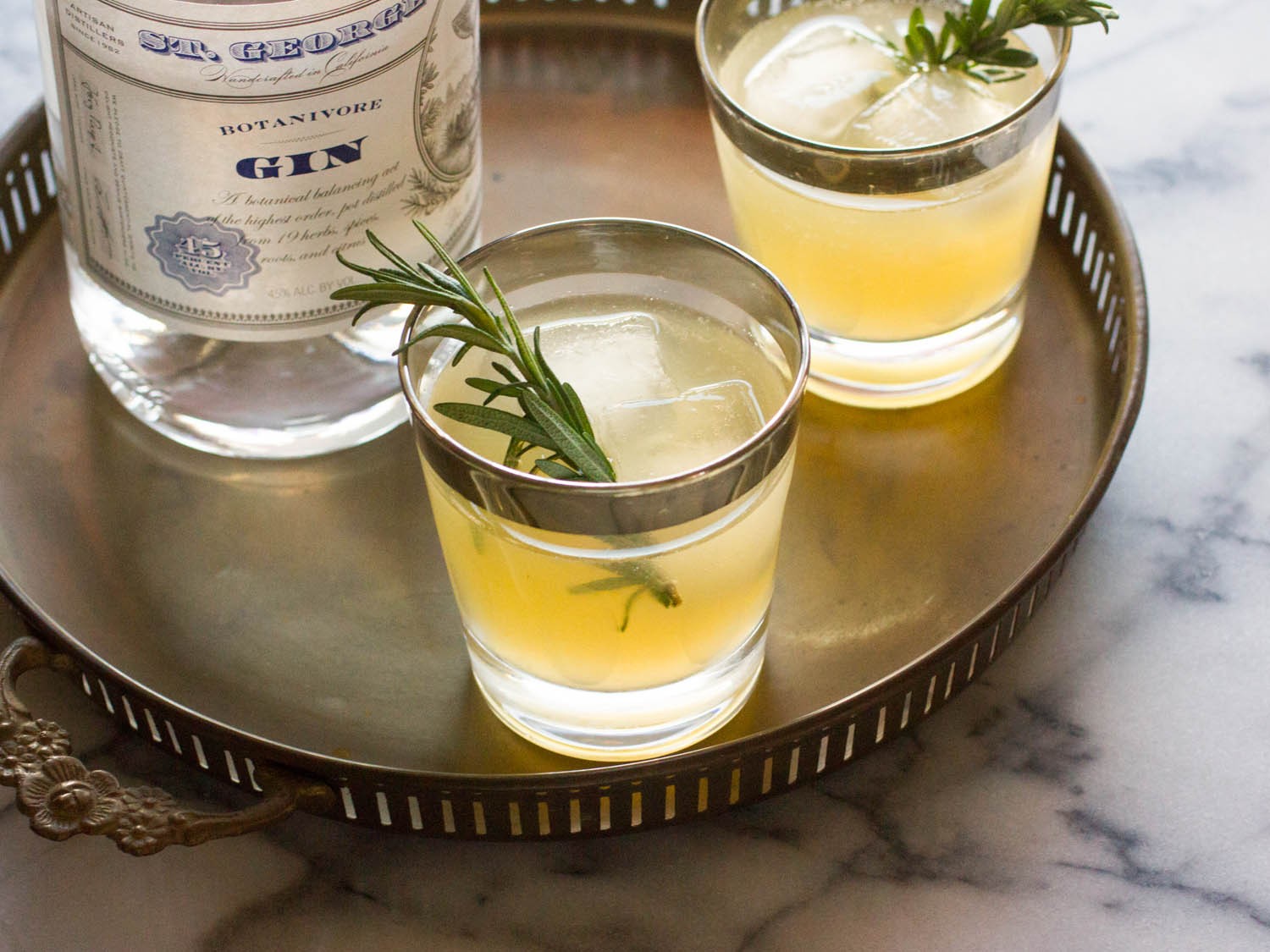 via Serious Eats
The seared lemon is a total game-changer in this make-ahead gin cocktail that's great for crowds.
Sip worthy tips:
Searing the lemon halves before juicing mellows their acidity and transforms their flavor into something richer.
Chilling the mixer base lets you mix up a big batch ahead of time and gives the rosemary time to infuse.
INGREDIENTS:
For the charred lemon juice:
12 lemons, halved
For gin rosemary mixer:
8 (5-inch) sprigs of rosemary, cut in half
6 tablespoons sugar
2 cups gin, such as St. George Botanivore
1 cup charred lemon juice
For each cocktail:
1/4 cup gin rosemary mixer
2 tablespoons sparkling wine
Ice
Rosemary sprig for garnish
DIRECTIONS:
For the charred lemon juice: Preheat a well seasoned cast iron or stainless steel skillet over high heat. Add lemon halves cut side down and cook until well charred, about about 2 minutes. Let cool then juice, straining out seeds.
For gin rosemary mixer: In a pitcher or quart jar, combine the rosemary and sugar, bruising it with the back of a wooden spoon until you can smell the rosemary. Add the gin and lemon juice and stir to dissolve the sugar. Refrigerate, removing the rosemary sprigs after one hour.
For each cocktail: Fill a glass with ice. Pour in gin rosemary mixer through a fine-mesh strainer. Top with sparkling wine. Stir once. Garnish with a sprig of fresh rosemary and serve.
Tequila
Cranberry Margaritas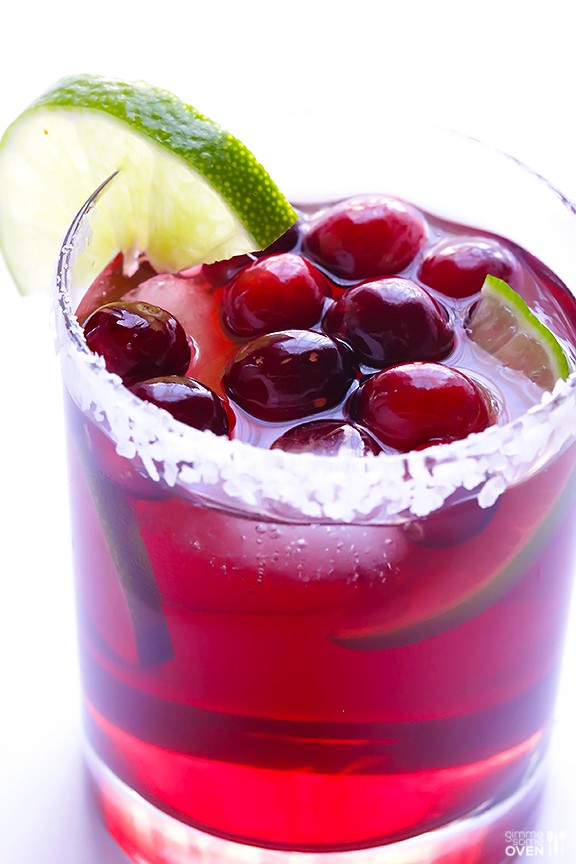 via Gimme Some Oven
INGREDIENTS:
1 1/2 cups cranberry juice cocktail
3/4 cup fresh lime juice
3/4 cup tequila
1/2 cup orange-flavored liqueur, such as Cointreau or Triple Sec
ice cubes
DIRECTIONS:
Stir all ingredients together until blended.  Serve over ice in sugar or salt rimmed glasses, garnished with fresh cranberries and lime wedges if desired.
Ready to find your next apartment?
Rum
Cider Rum Punch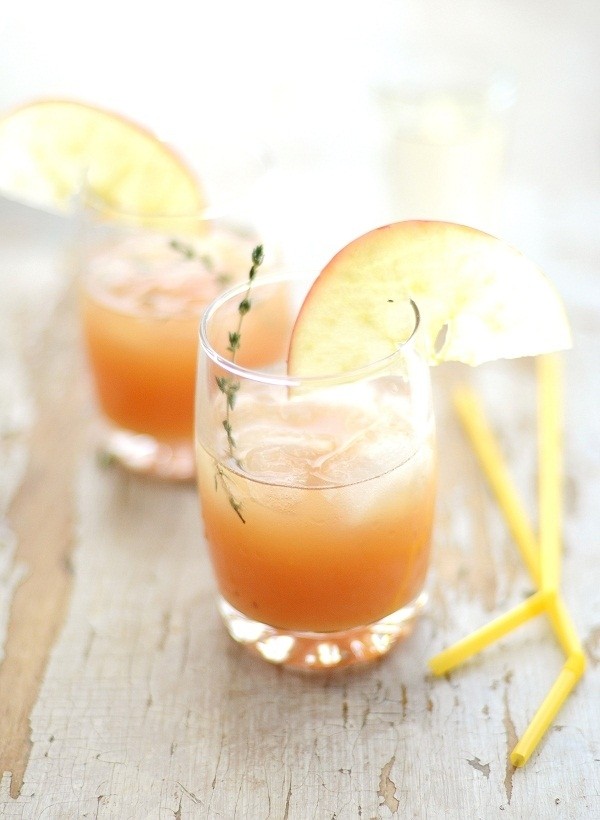 INGREDIENTS:
8 ounces dark rum
3 ounces lemon juice
4 ounces thyme simple syrup
12 ounces apple cider
4 ounces water
4 ounces club soda
8 dashed of Angostura Bitters
sprigs of thyme, garnish
apple wheels, garnish
DIRECTIONS:
To make thyme simple syrup, combine 2 cups sugar, 1 1/2 cups of water and 6 thyme sprigs in a saucepan over medium heat. Bring up to a boil and reduce to simmer, until the sugar has fully dissolved, about 5 minutes. Remove from heat and place the syrup in the fridge to cool.
Place all the ingredients in a large picture or carafe with ice and stir.
Fill your glasses with crushed ice and fill. Place a sprig of thyme inside and put an apple wheel on the rim. Serves 6.
Whiskey
Spiced Maple Whiskey Manhattan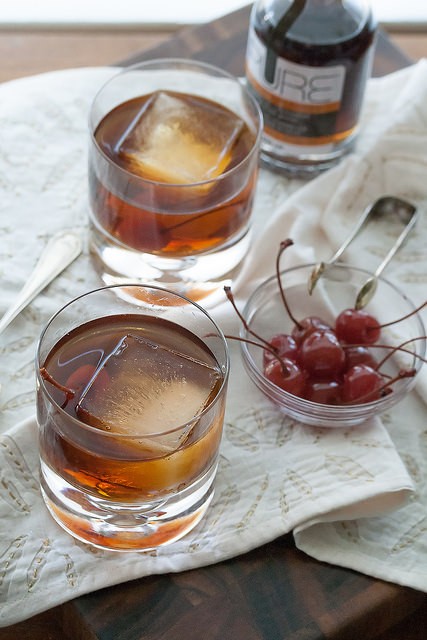 via Crumb Blog
INGREDIENTS:
2 oz rye whiskey
½ oz sweet red vermouth
¼ oz PURE Infused Vanilla, Cinnamon and Star Anise Maple Syrup
2 dashes orange bitters
Maraschino cherries, for ganish
DIRECTIONS:
In a mixing glass, stir the bourbon, vermouth, maple syrup and bitters with ice.
Strain into a lowball glass and garnish with a cherry.
Cranberry Bourbon Fizz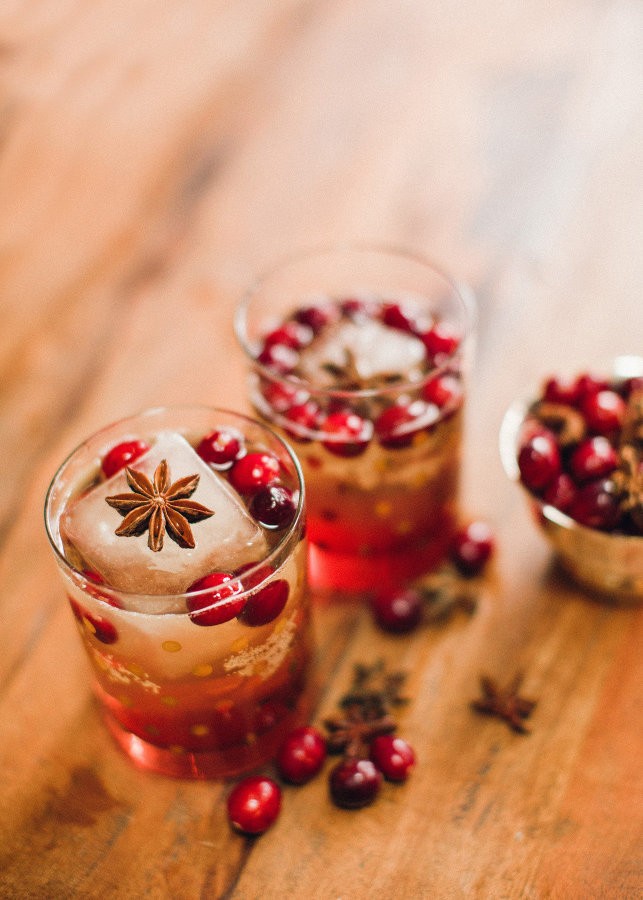 via Style Me Pretty
INGREDIENTS:
2 oz Bourbon
.75 oz Grenadine
Seltzer water
Cranberries
Star Anise
Ice
DIRECTIONS:
Mix bourbon and grenadine over ice and stir to combine.
Top the glass with seltzer water to taste.
Garnish with cranberries and star anise.
Since it's the holidays…and winter means chilly weather for most of you, here are a couple of delicious soul warming cocktails.
Bourbon Butterbeer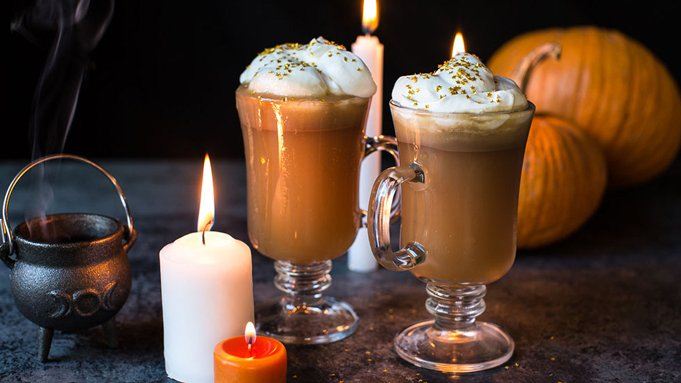 via Half Baked Harvest on Tablespoon
INGREDIENTS:
1/2 cup butterscotch sauce (use 1/3 cup for a less sweet version)
4 cups apple cider
1/2 cup bourbon, or more or less to your taste (optional)
1 cup ginger beer OR sub ginger ale
2 tablespoons vanilla
2 tablespoons butter
Whipped cream, for garnish
Edible Gold Stars or cinnamon, for garnish
DIRECTIONS:
Combine the butterscotch sauce, apple cider and bourbon in a large pot and cook over medium heat until steaming, about five minutes.
Stir in the ginger beer and cook another 1-2 minutes or until warmed through. Remove from heat and stir in butter and vanilla. Ladle into mugs.
Serve with whipped cream and cinnamon.
Here is what you need. Butterscotch sauce, apple cider, bourbon, ginger beer, vanilla extract and butter. See? Simple, right? You're also going to want some whipped cream for topping and maybe even some fun gold stars to make the drink really magical!
Christmas Coffee Cocktail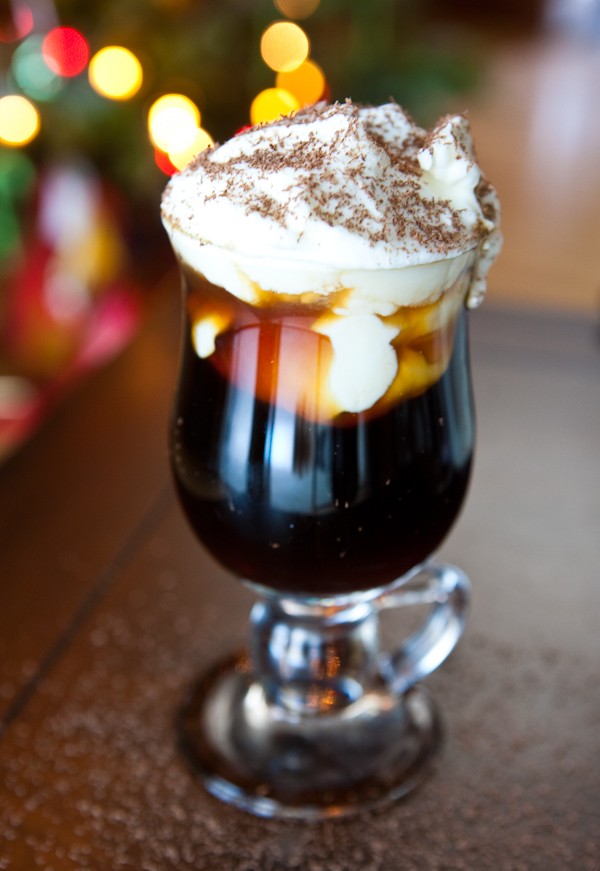 via Eclectic Recipes
Sometimes you don't want dessert, but you definitely need something to tie the meal together.  This is an easy way to warm the soul.
INGREDIENTS:
4 oz strong coffee
1 1/2 oz amaretto liqueur
1 1/2 oz coffee liqueur
1 oz butterscotch schnapps
1 oz creme de cocoa
fresh whipped cream
grated chocolate, for garnish
DIRECTIONS:
Combine strong coffee and liqueurs in a glass. Stir to combine and top with fresh whipped cream. Garnish with grated chocolate.
Serve warm or over ice.
Equal Housing Opportunity Rental providers will not refuse to rent a rental unit to a person because the person will provide the rental payment, in whole or in part, through a voucher for rental housing assistance provided by the District or federal government.
Offers included in posts
Pricing and availability is subject to change. | Terms and conditions may apply to any special offers referenced. Contact the apartment communities for details.
Sponsored Posts
Aparrtminty may receive payment for sponsored posts and guest posts