Healthy Work From Home Habits to Incorporate
As an Amazon Associate I earn from qualifying purchases. | Amazon and the Amazon logo are trademarks of Amazon.com, Inc, or its affiliates. | As a content creator, I may receive payment for the endorsement of apartment communities.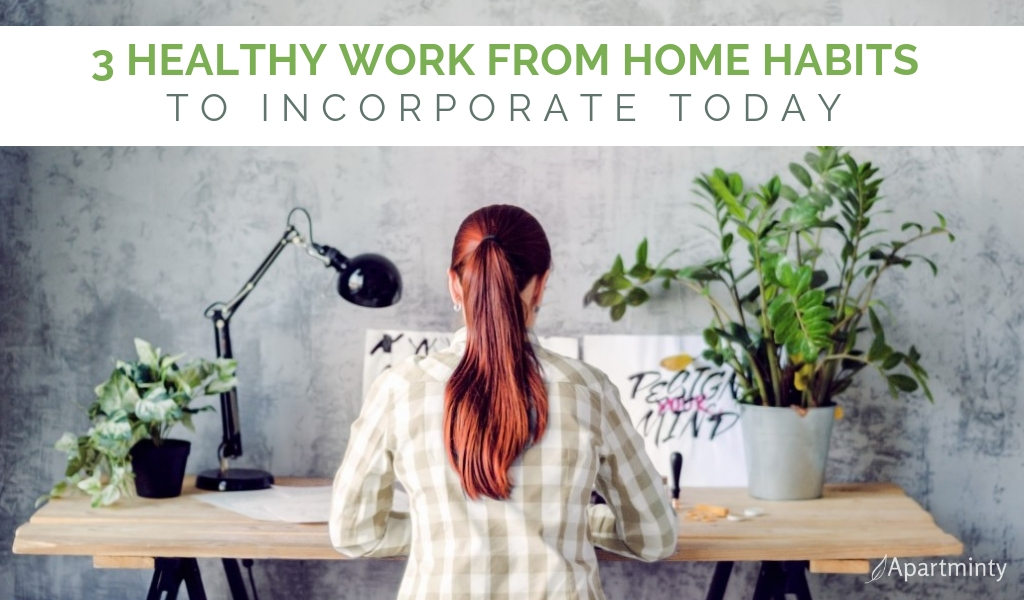 We're seeing a major trend in employees working from home in 2019. In fact, work from home is the new standard for 50% of the workforce.  While there are perks aplenty when you have a home office (sweatpants for the win), it's easy to forget to take care of your health.  Below are some tips to make sure you take care of your mind and body while cranking out solid work.
Invest in good furniture
If you're going to be working from home, it's important to invest in good furniture to ensure you're taking care of your body ergonomically speaking. You don't want to be slouched over at your dining room table all day or sitting on your couch for 8+ hours. It's important to read up on ergonomics and find the best furniture to support your work. This may be a chair with lumbar support, a wrist rest for typing, or even a footrest, it all depends on your comfort and job duties. Furniture that supports ergonomics can be pricey but this is an investment in your health, especially if you work at home every day.
Be aware of digital eye strain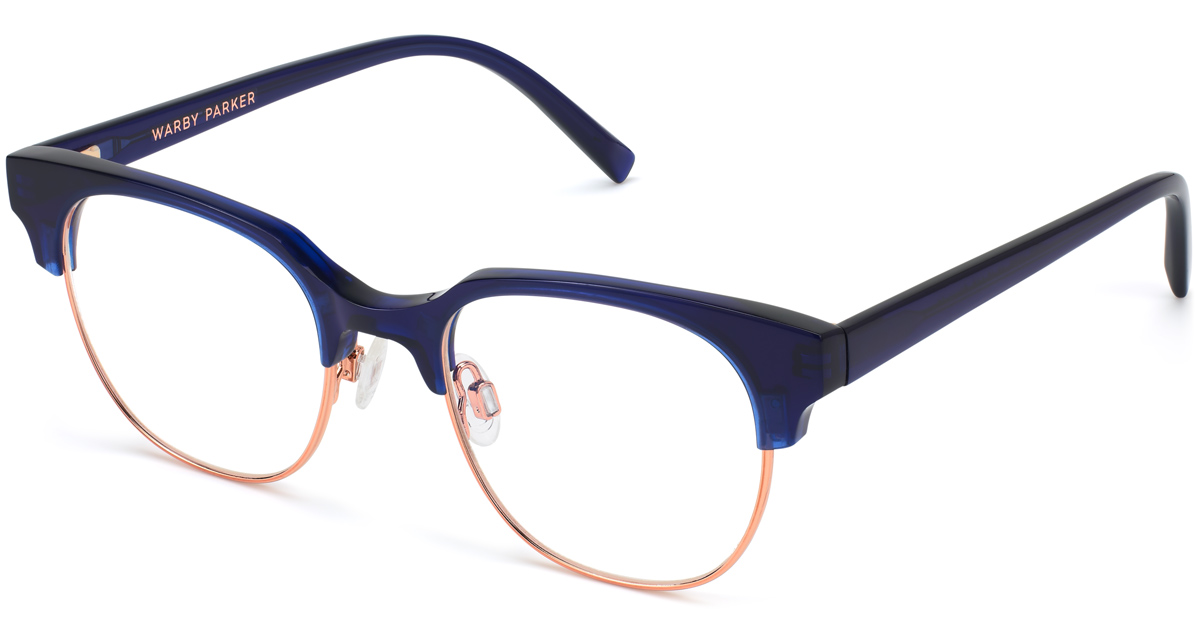 Digital eye strain is the discomfort felt from extended use of digital devices. This includes your computer, television, smartphone, gaming device and tablets. You may feel the effects of digital eye strain after just two hours of device usage, maybe even less if you use multiple devices at once. Natural blue light isn't harmful (it's the light that makes the sky appear blue) but the artificial light from digital screens is emitted at a much higher frequency. Consider buying a new pair of eyeglasses to help avoid headaches, dry eyes, and blurred vision, which are common physical symptoms of digital eye strain.
Schedule your days
Scheduling your work day to the fullest extent possible can have many positive effects. Firstly, if you are able to schedule your day by the hour then you can be as productive within that hour as possible and avoid overworking yourself. It's common for people who work from home to work from the moment they wake up until they go to sleep at night. This can cause the inability to be productive in your work and ultimately, burn out.
Second, it's important to schedule a time to workout, have lunch, and take breaks. Seeing these breaks on your calendar will allow you to be more mindful about actually taking the time for yourself, not skipping over it. Take breaks to stretch, go for walks, or grab a coffee. Things you'd normally do with your coworkers to get time away from your desk are still important to do at home! If you need some inspiration, treat yourself to a new planner to help motivate you to plan ahead, take time for yourself, and be the most productive that you can be.
Working from home is an amazing perk that the Internet has brought us. However, it can be harder to pay attention to your workplace health when your workplace is your comfy home. These tips are an easy way to improve your overall wellbeing! Do you work from home? Share your tips to stay healthy throughout the day below!
Equal Housing Opportunity Rental providers will not refuse to rent a rental unit to a person because the person will provide the rental payment, in whole or in part, through a voucher for rental housing assistance provided by the District or federal government.
Offers included in posts
Pricing and availability is subject to change. | Terms and conditions may apply to any special offers referenced. Contact the apartment communities for details.
Sponsored Posts
Aparrtminty may receive payment for sponsored posts and guest posts
Summary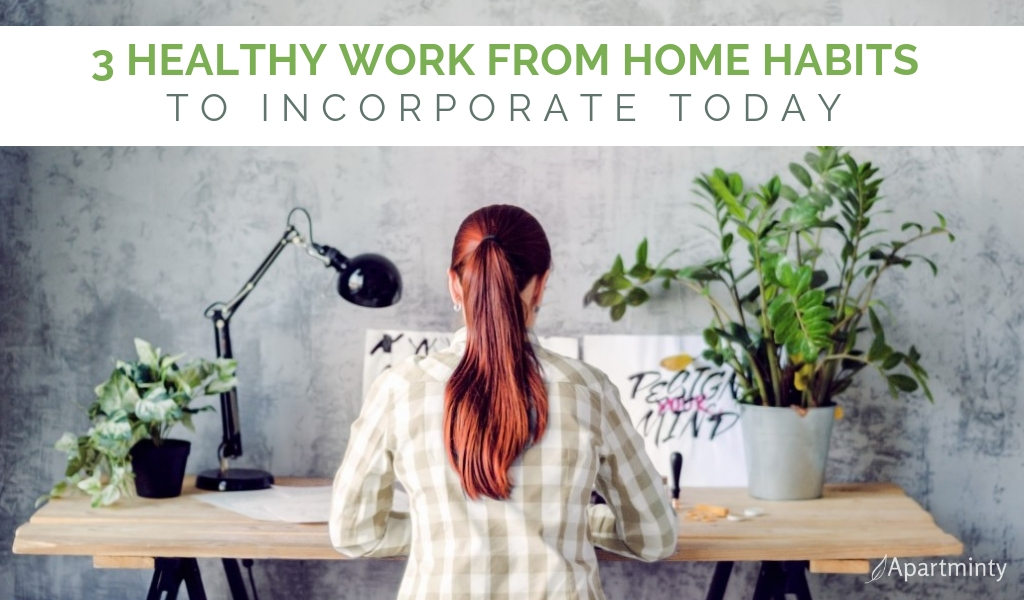 Article Name
3 Healthy Work from Home Habits to Incorporate
Description
As the trend of work from home employees continues, it's important that we remember to take care of ourselves. From scheduling out our days to protecting our eyes, check out these three habits to incorporate when working from home.
Author
Publisher Name
Publisher Logo