Email Marketing Insider Secrets from Expert: Lori Valenti-Webb
As an Amazon Associate I earn from qualifying purchases. | Amazon and the Amazon logo are trademarks of Amazon.com, Inc, or its affiliates. | As a content creator, I may receive payment for the endorsement of apartment communities.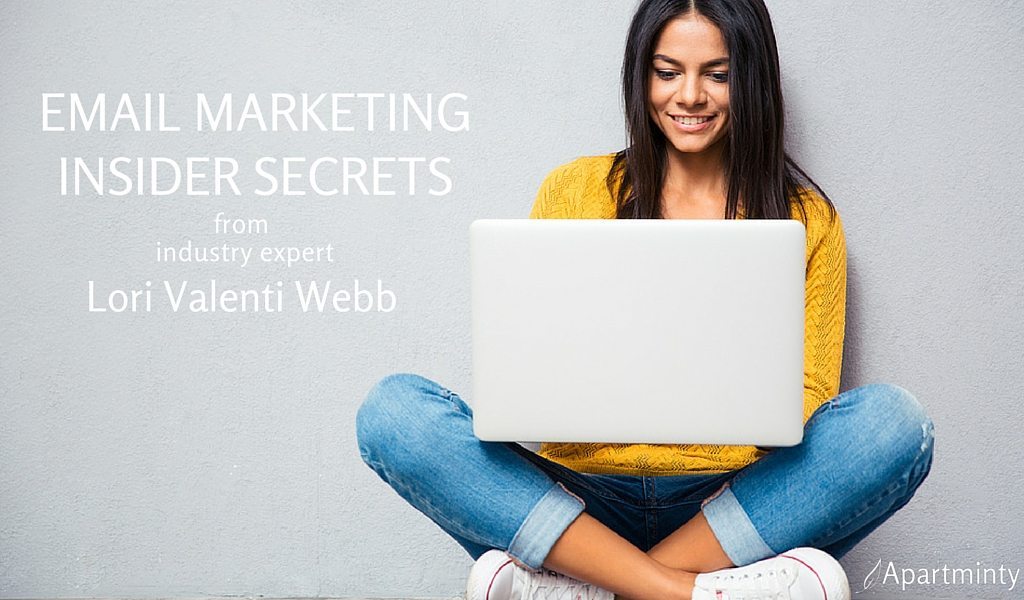 Guest Post By Lori Valenti-Webb
Email marketing has consistently become a passion of mine. It's hard to ignore it, the return is fast and furious when sending out an email blast. Specifically for Multifamily, there are things that are expected, like the auto-response generated when a new lead comes in, and then there are detailed and strategic ways to garner an audience through eblasting older prospects, drip campaigns set up to hit the different cycles in the rental choice and resident mailings that share awesome and exciting community information.
Getting started
Our company uses Lead2Lease as a management tool for leads. We have the emails all right there in a shiny, packaged dashboard. We also have a MailChimp account for our eblasts. We chose MailChimp because of the ease, pre-made template designs, experience our team had with it, and the nice tutorials…plus it's free until your lists start getting too large. In our first test, a selected property chose a list of 607 actionable leads to send an email blast to. These are all prospects that have in some way inquired about our property. The blast went out about an Open House that the property was having over the weekend. We had a 41% open rate, with a 9% click through rate (social media and our website) and about 10% of those open rates had people opening the email 3+ times. We knew those were hot leads! We had 12 leases that week and 30 pieces of traffic, which directly tied into the blast and shot our numbers up more than double from the previous weeks. Our teams were smitten.
Open Rates
We've become a bit more advanced now. About 6 months ago our open rate averaged 28% and now we teeter on 40% as a whole. MailChimp has excellent reports that you can view to see detailed numbers on Open Rates, Click through rate, the number of views, what they viewed, unsubscribe rates and much more. Mailchimp says that the Real Estate Industry has an average open rate of 15%.
Call to Actions
We know that having a strong, succinct Call To Action will get people to open the mailing. We've grown from the traditional "Great Specials" to "Open House this Saturday with $250 off your 1st month"- specifically noting what the special is and getting to the point. Having a CTA that conveys urgency and exclusivity is something that we practice and we see about a 14% higher open rate when we do this. My personal preference is to keep it to 1-2 clear objectives in the blast- keeps out too much confusion.
Getting a person to open your email blast is critical and then you only have about 4-5 seconds to hold their attention to have them read the rest. We always use images; (Hubspot) reports that 65% of people prefer mostly images over using mostly text. We love images that show our team, our residents having fun and using our amenities, enjoying their lives. Bold, vivid colors make the blast come to life. Recently we have started to embed video into our content. On a recent email blast, we saw our typical click through ratio of 3-5% jump to 15.5% by adding a Matterport video to the blast. People love a good video. Additionally, we like to add humor to our videos and picture overlay. A CTA for an email subject line could read, "Watch our pups PAW-TY at the pool: FUN VIDEO" and then our video will show some great footage of our pet pool event.
Pro Tips
Some last tips that we have found to be very helpful:
Keep information organized and clean and always have your most interesting info/graphic at the top.
Add social links to the blast for more engagement to your social platform. Add a picture of food or puppies whenever it's appropriate!
Make sure to have hyperlinks that bring people directly to your website.
It is extremely important to give people as many ways to easily connect. A subscribe button can be a good option if you have the tools and connectivity to feed the emails into a management system.
Having a firm or graphic designer brand a template for you and your teams to use can also be helpful in keeping your look consistent as a company. This would need to be an editable template that allows you to change up photos, video, content, etc.
Once you have gotten comfortable with the format and process of an email blast, start to create your drip process (hitting your prospects at different stages of the leasing cycle) with 2-3 more follow up email blasts. You can follow the same tips for resident blasts and automated new inquiry blasts- it's important to cover all facets of your email marketing program at the property.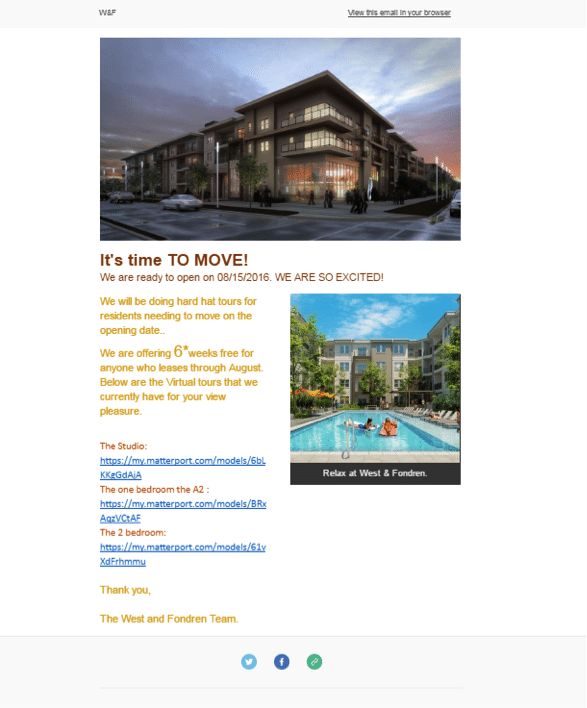 Above you can see an example of one of our blasts. We show our specific Opening date, a great visual property picture or a couple and many clickable links that show video tours of our floorplans. We also have our clickable social icons at the bottom. West & Fondren is our newest community to open in Houston, TX!
Equal Housing Opportunity Rental providers will not refuse to rent a rental unit to a person because the person will provide the rental payment, in whole or in part, through a voucher for rental housing assistance provided by the District or federal government.
Offers included in posts
Pricing and availability is subject to change. | Terms and conditions may apply to any special offers referenced. Contact the apartment communities for details.
Sponsored Posts
Aparrtminty may receive payment for sponsored posts and guest posts