Eco-Friendly Home Decor Ideas You Should Try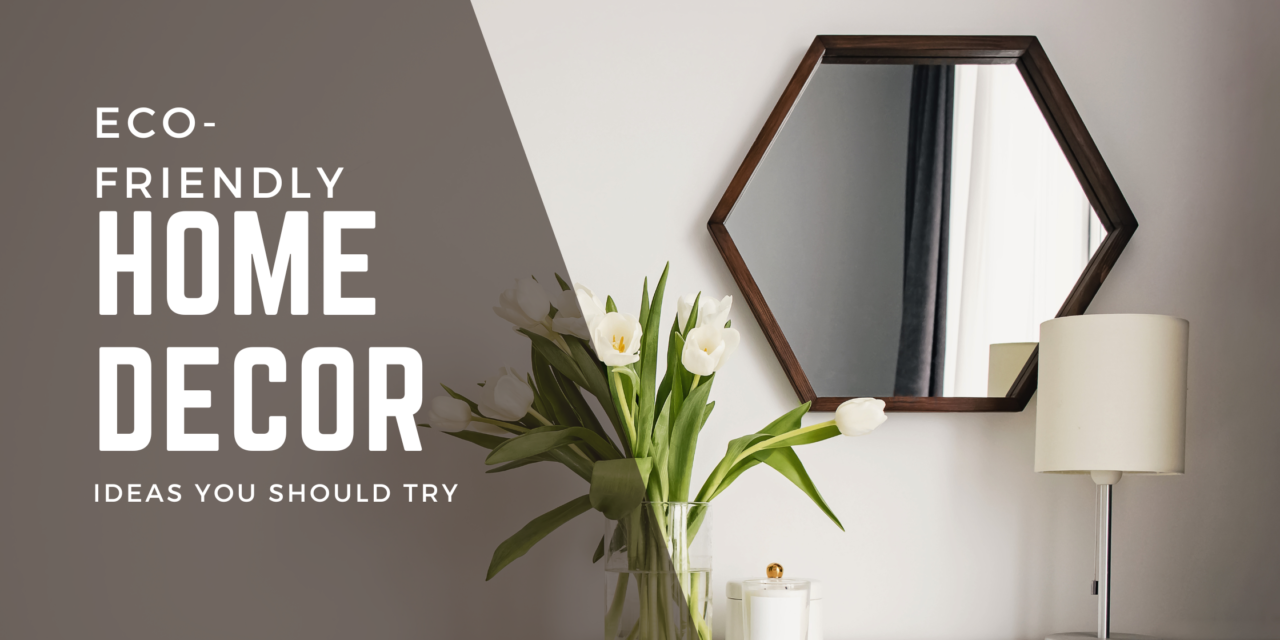 As an Amazon Associate I earn from qualifying purchases. | Amazon and the Amazon logo are trademarks of Amazon.com, Inc, or its affiliates. | As a content creator, I may receive payment for the endorsement of apartment communities.
Eco-Friendly Home Decor Ideas You Should Try
People these days have become more fashionable and direct towards their home decorations. Style and fashion are everywhere, and modern people know how to lift their lifestyles with innovative living conditions. 
But it is also the time to focus on global warming, which is increasingly threatening our wildfires with wildfires and melting snow to raise the sea level. If we do not become aware of our environment now, it will be too late to save our planet. 
Though the fashion world is not fully related to decorations, the alarming thing is that the fashion industry is causing 10% of the total global carbon emission. We see people trying to renovate their homes more frequently than before, which is how modern people engage their sense of living. 
So the only way is to consider Eco-friendly approaches like reuse, going plastic-free, and using sustainable materials for decoration purposes. 
Eco-Friendly Ideas To Decor Your Home 
While we are going to decorate our home, we should be focused on highlighting the eco-friendly aspects. There is no better way than using eco-friendly products to decorate your house to save both the planet and your health. It's time to go paraben free, and it's time to be organic. 
1. Choose Non-Toxic Wall Paints 
During the decoration process, we love to go colorful. Plain walls with a prominent color are a past, and now people love to see their colorful walls with a proper match to the whole decoration. 
In that case, you should consider the paints that are VOCs (Volatile Organic Components)-free. It's time to become aware of the chemicals that we inhale every day from our wall paints. VOC paints are bad for health and the environment. 
So, hire landscaping services to go with eco-friendly paints that are made of lemon peels and seed oil beeswax. 
2. Make Space For Indoor Plants 
Many people try to increase the beauty of their interior with plastic plants. It may possess a rich sense of home decoration but is extremely environmentally negative. 
Instead, you can simply go for the indoor plants that are ready to provide your oxygen for 24 hours. It's both sustainable and can give your home a more natural and healthy atmosphere. There is no better way than using indoor plants for suitable and eco-friendly home decoration. 
3. Opt For Eco-Friendly Materials
It's always advisable to use sulfate, paraben, and silicone-free materials for the decorating purposes of your home.
We all have a common dream to live and manage our home as we feel it. Environmental awareness adds to the modern aspects of life. 
So, it's better to go eco-friendly with the materials that you will use to decorate the house. 
4. Reuse The Furniture 
When your main focus is to become sustainable, you need to be more concerned about the process and steps that you take during the home decoration. Especially when you are trying to go for interior decoration, you will need to practice re-usage. 
Try not to buy too many new products and rather invest in repairing the old products. It's time to become aware of the serious environmental factors. With every new material, you are engaging more carbon footprint on this planet. 
It's not necessary to use new chairs and tables to decorate a proper home. Instead, you can simply opt to go for the old ones or buy second-hand products. 
5. Choose Eco-Friendly Wallpapers
Deforestation is a big issue to modern environmental factors. Many of the forests are getting wiped out due to man-made reasons or wildfires. One of the man-made reasons can be the huge usage of paper that is made from plants. 
We should stop using too much paper and go digital. Many of us like to use wallpapers at home. It is also a proper way to style your home. Try using biodegradable, compostable, and reusable wallpapers. 
Understand The Importance Of An Eco-Friendly Approach And Go For It.
It's time to be responsible and find sustainable ways in all senses. Decorating with an eco-friendly approach is possible if you follow the above-mentioned simple steps. It's time to become aware of the serious environmental factors and engage in sustainable decoration for your home. 
Equal Housing Opportunity Rental providers will not refuse to rent a rental unit to a person because the person will provide the rental payment, in whole or in part, through a voucher for rental housing assistance provided by the District or federal government.
Offers included in posts
Pricing and availability is subject to change. | Terms and conditions may apply to any special offers referenced. Contact the apartment communities for details.
Sponsored Posts
Aparrtminty may receive payment for sponsored posts and guest posts