Was Cutting the Cord one of Your Resolutions? Here are 5 Amazon Shows to Stream
As an Amazon Associate I earn from qualifying purchases. | Amazon and the Amazon logo are trademarks of Amazon.com, Inc, or its affiliates. | As a content creator, I may receive payment for the endorsement of apartment communities.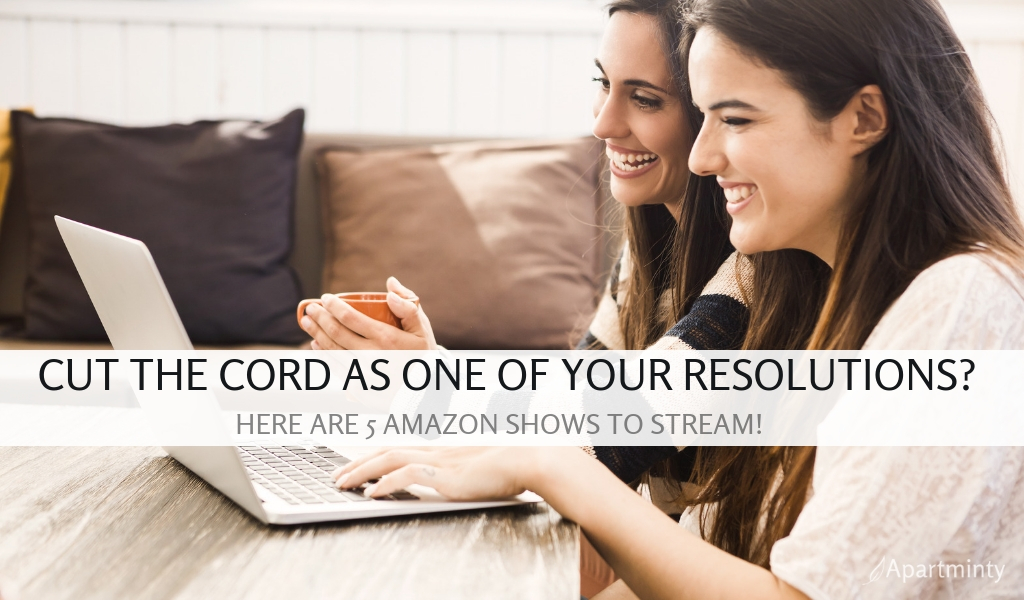 Cut the Cord as one of your Resolutions? Here are 5 Amazon Shows to Stream
Cutting unnecessary costs from your monthly budget is a popular resolution, especially at the beginning of a new year. When it comes to cost of living, it can be difficult to find ways to eliminate those costs. The easiest way? Getting rid of cable. Depending on your roommate situation, and the level of cable you choose to maintain, you could save anywhere between $50-$300 (roughly). If you took the leap this new year and cut the cable cord, not to worry, there are still plenty of ways to get your TV fix. We are loving Amazon's selection of shows to stream, and we think you will too. These are our top five favorites at the moment, get ready for some binge-streaming!
The Marvelous Mrs. Maisel
This eight Emmy award-winning show is at the top of our streaming list this year. The Marvelous Mrs. Maisel is a unique comedy that highlights the lives of a Jewish woman and her family. You'll get a glimpse into Midge Maisel's life, their family dynamic, their religion, and how Midge overcomes the expected gender roles in 1958 New York. Her transition from a homemaker to a stand-up comedian will have you both laughing at her jokes and admiring her as an individual. Insider tip: some say it takes 2-3 episodes to be totally hooked, but after that, you won't be able to get enough.
The Man in the High Castle
Even after three seasons of The Man in the High Castle, we are still wishing for more. The show is based on Philip K. Dick's award-winning novel, and just like the book, the show does not disappoint. The Man in the High Castle explores what life might be like if the Allied Powers lost WW II, and if the United States were ruled by Japan and Germany. As if that isn't thought-provoking enough to have you hooked, love stories and family drama are intertwined into the story as well. This is definitely a show you will want to pay close attention to while watching, as it can get a bit confusing, but we don't think you will have any trouble with that.
Tom Clancy's Jack Ryan
We can't get enough of this action-packed political drama, and for many reasons. For one, Jack Ryan is a character created by Tom Clancy, a world-renowned thriller author, so it goes without saying he will captivate you from episode one. Jack Ryan is a CIA analyst who goes from working behind a desk to being thrown into the field, helping fight terror throughout Europe and the Middle East. Season one is made up of eight one-hour episodes so it won't feel like a huge time commitment to get through the show. While no date has been announced, it has been confirmed that season two will be released. Time to binge season one before that happens!
Catastrophe
Who doesn't love finding an amazing show with three full seasons to binge on, and a fourth season on the way? We know we do! While Catastrophe isn't technically an Amazon Original, it is an Amazon exclusive in the United States. Hilarious yet heart-wrenching, this show will give you all the feels. A surprise pregnancy between a Bostonian man and a woman from London who shared a "one-week stand" leads to a cross-country move and an attempt at a relationship between two near strangers.
Homecoming
Anything involving Julia Roberts is an immediate love for us, and Homecoming is no exception. This three-time-nominated Golden Globes show is about a woman named Heidi who works at Homecoming, a facility that assists soldiers to have a smooth transition back into the normal world. After leaving the facility and starting a new life, Heidi finds out that Homecoming was hiding a secret, and now people are coming after her for answers. Season one will have you hooked, and lucky for you, they will release a second season to answer all of the lingering questions.
Equal Housing Opportunity Rental providers will not refuse to rent a rental unit to a person because the person will provide the rental payment, in whole or in part, through a voucher for rental housing assistance provided by the District or federal government.
Offers included in posts
Pricing and availability is subject to change. | Terms and conditions may apply to any special offers referenced. Contact the apartment communities for details.
Sponsored Posts
Aparrtminty may receive payment for sponsored posts and guest posts