Conquer the Cold with our Winter Bucket List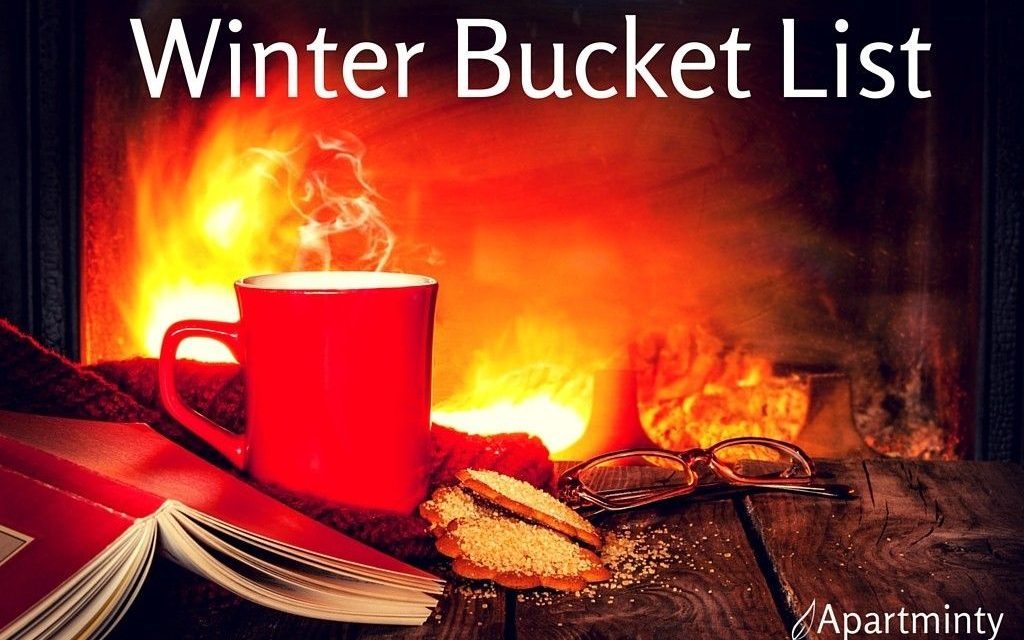 As an Amazon Associate I earn from qualifying purchases. | Amazon and the Amazon logo are trademarks of Amazon.com, Inc, or its affiliates. | As a content creator, I may receive payment for the endorsement of apartment communities.
Winter is one of our favorite times of the year because it means spending quality time with family and setting goals for the next year! Check out our Winter Bucket List to enjoy the cold weather and bring in the new year right!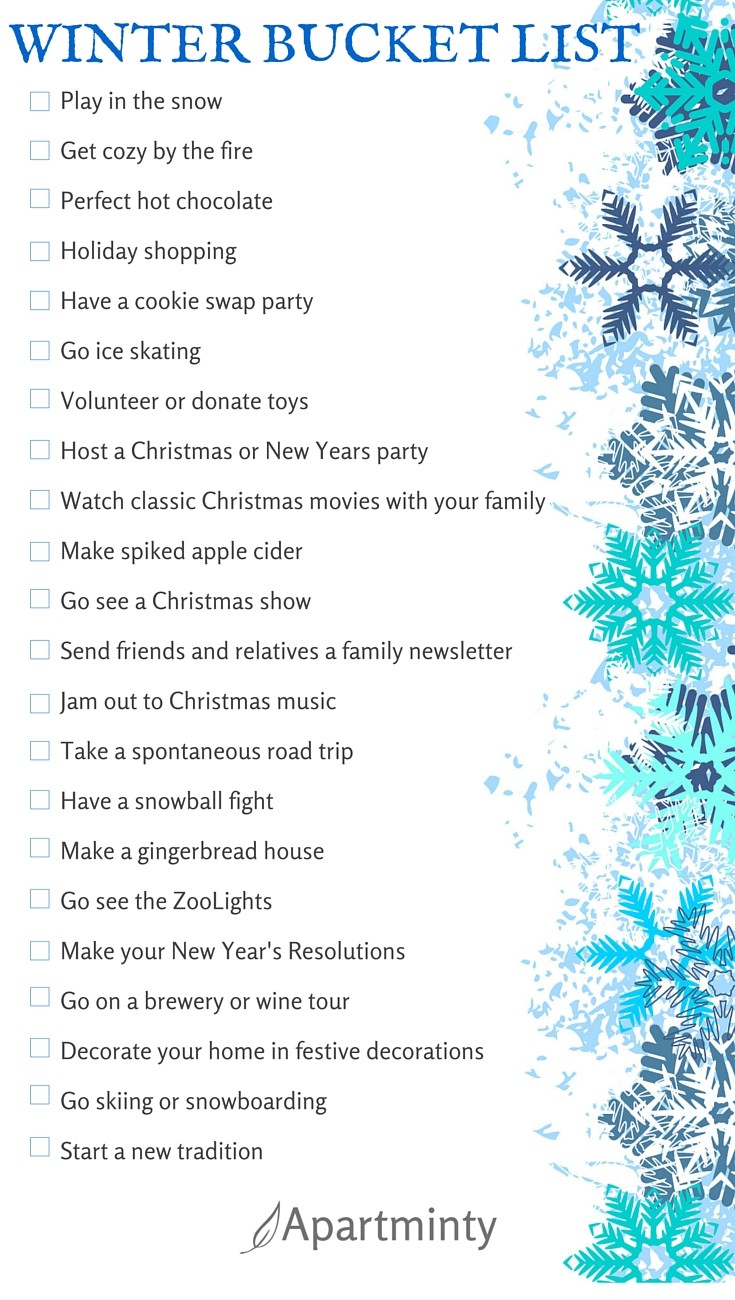 Play in the snow
There are so many fun things to do in the snow like make snow angels, snow forts, and of course snowmen!
Get cozy by the fire  
Cuddle up next to your fireplace with a new best selling book you got for the holidays. Or just cuddle up with your loved one, either will do.
Perfect hot chocolate
You're probably thinking, "hot chocolate is already perfect". We promise you'll be wowed when you add Nutella or this surprise ingredient, because everything goes well with chocolate!
Holiday shopping
Shopping is a fun year round activity, but during the winter months and holiday season there is an added element of enjoyment.
Have a cookie swap party
Winter is the best time to bake. Invite some of your closest friends over for some wine and see who makes the best cookies! Who doesn't like wine and cookies?
Go Ice Skating
Ice skating outside is one of our favorite winter activities. It's great for large family outings and also makes for a very romantic date night.
Volunteer or donate
Tis' the season to help out others and give back to the community. Donate toys to great organizations like Toys for Tots and the Salvation Army or search here to find volunteer opportunities in your local neighborhood.
Host a Christmas or New Years party
Whether you're hosting an Ugly Christmas Sweater party or a Gatsby style New Years Eve party, it's the time of year to bring family and friends together to celebrate! (Make sure you have plenty of Eggnog for Christmas and champagne for New Years)
Watch classic Christmas movies with your family 
Start channel surfing for the best Christmas movie marathons. You may stumble on a National Lampoon's marathon, Home Alone marathon, or if you're on TBS you'll most likely be watching A Christmas Story over and over again. Or you can just put Elf on repeat, just make sure you have plenty of candy, candy cane, candy corn, and maple syrup.
Ready to find your next apartment?
Make spiked apple cider
If there was a drink that truly defined winter, it would be warm, spiked apple cider. While you can't go wrong with the traditional combination of warm apple cider and whiskey, try these cider recipes with a twist.
Go see a Christmas show
Head to your local theater or performing arts center to catch a winter classic performance like the Nutcracker and It's a Wonderful Life.
Send friends and relatives a family newsletter
Family newsletters are a great way to keep those close to you up to speed with everything that's going on in your life. We do not recommend writing a novel, so consider these things when drafting your masterpiece!
Jam out to Christmas music
Radio stations around the country start gracing us with Christmas melodies the day after Thanksgiving. Pick out your favorite bands' Christmas album and start singing along. Don't worry, we won't judge you if you're still listening to it in July.
Take a spontaneous road trip
Surprise a friend or relative you haven't seen in a while with a spontaneous road trip. This is the best time of the year to be around people you love!
Have a snowball fight
Tons of cities and towns around the country have started their own citywide snowball fight. Find out when your local snowball fight is and use these tips to come out victorious.
Make a gingerbread house
Set aside an afternoon putting together a gingerbread house with all the sweets and treats of the season. Don't know where to begin? Here's a helpful guide.
Go see the ZooLights
ZooLights have become another popular attraction during the winter months. Zoos across the country decorate their grounds with a magnificent display of holiday lights and it's a must see for people of all ages!
Make your New Year's resolutions 
Take a minute to reflect on your previous year and think about what you'd like to change in the next year. Set goals and promises to improve your well being and the well being of others around you. Challenge yourself to live a healthier lifestyle both mentally and physically!
Go on a brewery or winery tour
When you're around family this winter, I'm sure things can get very hectic. That's why we suggest finding a local brewery or wine tour to loosen everybody up and have a good time!
Decorate your home in festive decorations 
Pinterest has a ton of DIY guides to decking out your home in holiday decor. Try out paper snowflakes, make your own stockings, and many more creative ideas!
Go skiing or snowboarding
Rent a cabin or chateau for a long weekend in the mountains with friends or family and hit the slopes. Ski trips are a great time to bond with the ones you care about most!
Start a new tradition 
Winter and the holiday season are full of traditions. Why not start your own? Pick something that is both creative and meaningful, then pass it on to the generations after you!
What's on your Winter Bucket List?
Equal Housing Opportunity Rental providers will not refuse to rent a rental unit to a person because the person will provide the rental payment, in whole or in part, through a voucher for rental housing assistance provided by the District or federal government.
Offers included in posts
Pricing and availability is subject to change. | Terms and conditions may apply to any special offers referenced. Contact the apartment communities for details.
Sponsored Posts
Aparrtminty may receive payment for sponsored posts and guest posts