You and Your Customers are Co-Branding Partners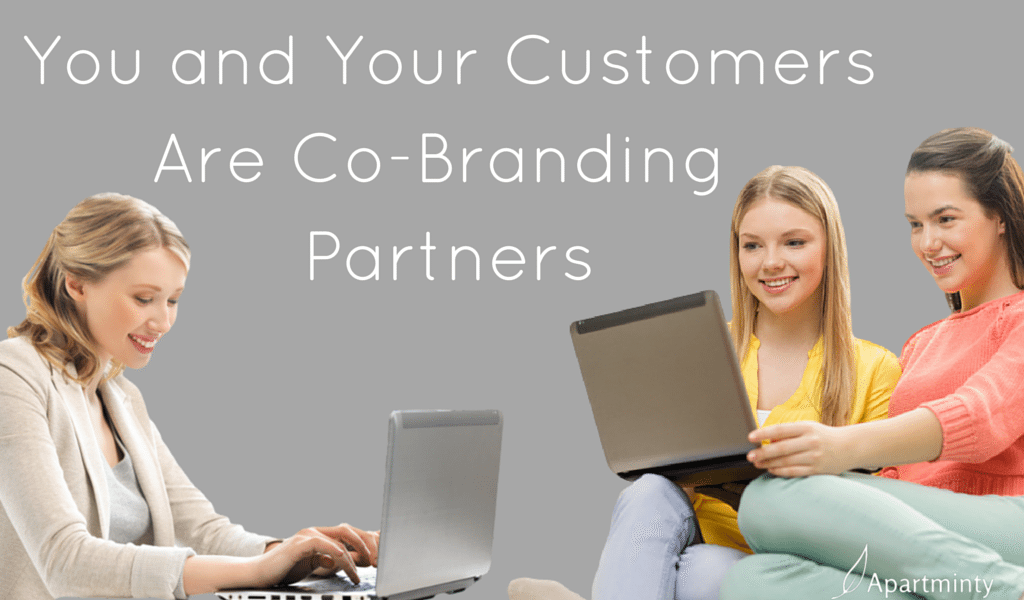 As an Amazon Associate I earn from qualifying purchases. | Amazon and the Amazon logo are trademarks of Amazon.com, Inc, or its affiliates. | As a content creator, I may receive payment for the endorsement of apartment communities.
Apartminty has been incredibly lucky this year.  Don't get me wrong, we work our behinds off and we do offer a killer service, but we also have encountered some of the most amazing customers.  Customers that used our product, enjoyed the experience, and then took to their social media platform of choice to share their delight….totally unprovoked.  They are willingly sending us more customers and the result is just a repeat of happy evangelists.  Not all people are natural influencers, so we feel really lucky that we've encountered so many early on.
It has made me realize, in today's world, with so many channels of communication, we are no longer marketing to our customers, we are marketing with our customers. TWEET THIS  
The true value of this co-marketing relationship comes from it being genuine.  People nowadays rarely trust brands, but they implicitly trust their friends.  Today it's no longer about self-promoting it's about being preferred and referred.  Stop asking for people to like you.  Instead give the consumer unlimited reasons to love your brand and deliver an experience worth talking about.  This could be a kickass experience directly related to your product, a process, or an employee.  The value could also be in the form of an event you invite them to, a blog that helps them out, or a video highlighting how awesome they are.
It starts with your employees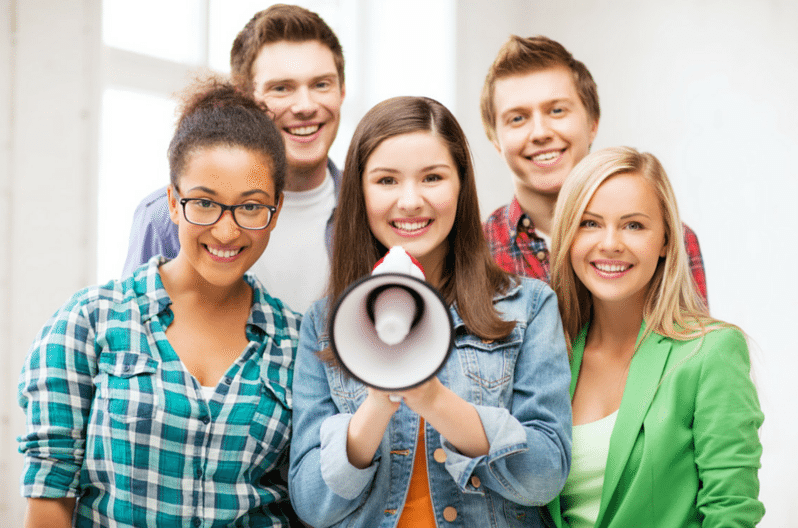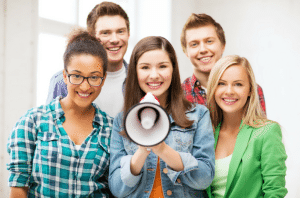 There is so much that goes into making this work. Lets break it down into a four-part process. Remember, that in today's social world every person has an extended circle of personal influence. Read: every person has an opportunity to endorse or damage your brand, including your employees.  In fact, especially your employees.  What are you doing to make sure you have the right personnel to deliver an incredible customer experience?  Have you given them the right tools and enough power to solve problems?  Furthermore, what are you doing to give them the opportunity to be your strongest brand advocates?
Build a foundation
After considering your employees, but far before you plan on engaging your customers, take some time to build a foundation of information about your company on the social sites.  This step is crucial to deflecting negative trolls later.   Again, this is about highlighting community involvement and your employees…NOT bragging about how great your product is.  This is the other side of reputation management…the part where you actually build your reputation.
Social media is a forum to build trust and credibility for your brand-there's no better way for people to see what you are up to before they choose to engage with you.
Are you worth talking about?
After your employees and reputation, the biggest contributor to your success is the actual customer experience.  At Apartminty, we remind ourselves daily of our goal of delivering an extraordinary experience to our customers.  If we can't execute on this crucial step, nothing else matters.  If you are struggling with this step, STOP reading this blog now and go read this.
Make it easy…not sleazy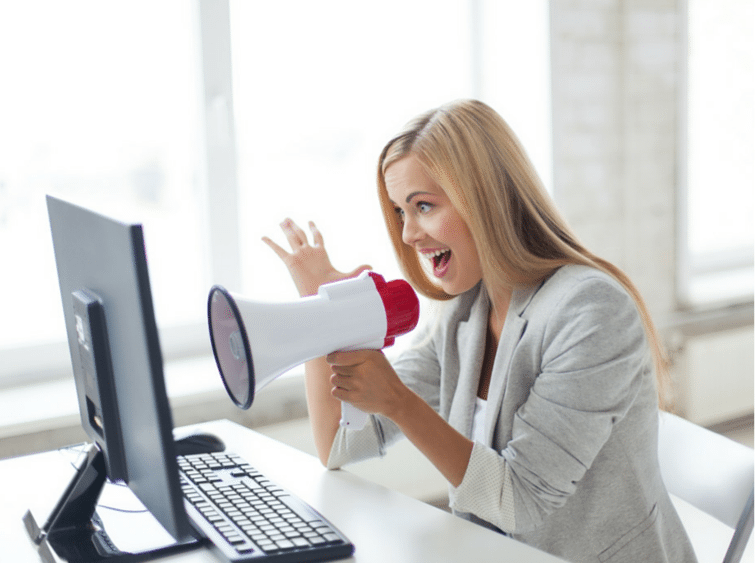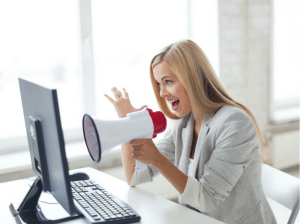 If you know you are consistently delivering an awesome experience worth talking about, then step four is to make it ridiculously easy for your customers to talk about their experience!  This is not as hard as it sounds.  Hopefully, you or someone on your team is checking in on your customer's experience.  This can easily be an automated survey or part of your drip email campaign but the more authentic it feels, the better.  During that check in, offer the chance for the customer to talk to you or about you right then…in this case you can suggest/direct the customer to the social media or review channel of your choice.  But remember: this isn't about begging, badgering, bribing or coercing your new friends into talking about you.  There is nothing worse than an inbox clotted with spam surveys and requests for reviews.  This has to start with you genuinely caring and wanting to hear about the customer's experience.
Be Aware: You must listen & be available to respond
We see it happen all the time on Twitter.  We will want to highlight another business for being awesome and they don't have a Twitter account.  So, while we can still talk about them, we can't directly refer people to them on that platform.  Furthermore, if we have a question, we can't get it answered through the method in which we want to communicate.  I guess that creates step 5A: be available on the channels where your customers are…I mean unless you have all the business you need already!
And remember…
Regardless of whether or not you ask for feedback, your customers are giving it.  Regardless of whether or not you are participating, the conversation is still happening.  Being available and listening in on your customers' favorite platform allows you the earliest advantage to solve a problem or earn new business.  Make it a point to engage with your audience where they are.  This goes back to making it easy.  We've all heard it before, but it's incredible how many of us still get this wrong: social media is intended to be a two-way conversation.  AND it should mostly be about you listening!  BUT in order to listen, you have to be present.  Then if someone is reaching out to you or commenting on a post, comment back or at least say thank you!
We all work hard because we have a passion for what we do.  In the end, our customers hold the key to our future success. Embrace them as your co-branding partner and make it easy for everyone to celebrate the awesomeness that is you!
Equal Housing Opportunity Rental providers will not refuse to rent a rental unit to a person because the person will provide the rental payment, in whole or in part, through a voucher for rental housing assistance provided by the District or federal government.
Offers included in posts
Pricing and availability is subject to change. | Terms and conditions may apply to any special offers referenced. Contact the apartment communities for details.
Sponsored Posts
Aparrtminty may receive payment for sponsored posts and guest posts