The 8 Biggest De-Cluttering Mistakes You're Making At Home
As an Amazon Associate I earn from qualifying purchases. | Amazon and the Amazon logo are trademarks of Amazon.com, Inc, or its affiliates. | As a content creator, I may receive payment for the endorsement of apartment communities.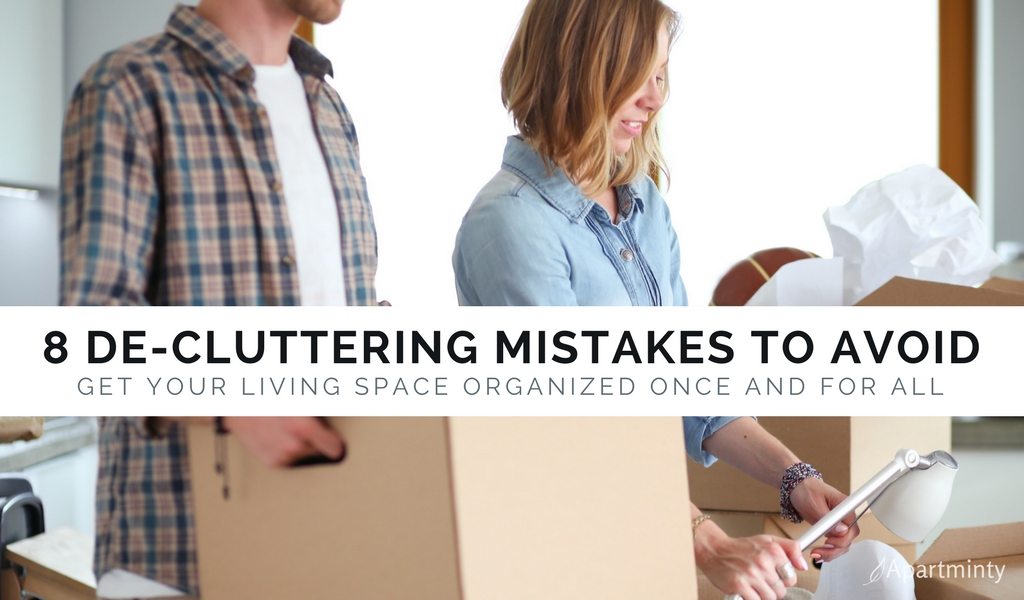 De-Cluttering Mistakes To Avoid
Getting a jump start on your spring cleaning?  De-cluttering can be a therapeutic, if daunting, task to take one, but by avoiding these common mistakes, you'll be enjoying your newly well-organized, clutter-free space in no time.
Trying To Do Everything at Once
If you try to tackle too much at once, you can feel overwhelmed. In fact, you may quickly feel the urge to give up. So start small by picking out one area, and start cleaning one spot like the coffee table, the bed, or the dining room table. Finish one task before proceeding to another. If not, you could end up feeling drained and defeated.
Ignoring the Calendar and the Clock
You must mark time on your calendar to deal with your decluttering projects. Depending on how small or big the task is, you may want to block at least a two-hour window for initial decluttering. Make sure to stay away from tempting distractions like the internet or television.
Not scheduling time means you end up getting everything out of the closet to start sorting and then realizing you have another commitment. Your things end up sitting in a pile bringing you to a situation far worse than where you began.
Diving In Without a Plan
Not having a decluttering plan will shift your clutter from one area to another. The five-box method is an effective way of decluttering an area because it follows a systematic approach.
All you have to do is to get five sturdy boxes and label them with Put Away, Give Away, Toss, Store and Belongs Here. This can be an excellent starting point for removing and organizing items currently cluttering your living space.
Procrastinating
If you choose to follow the five-box method, make sure to remove the trash and donate containers from your home right away. If, for instance, you cannot donate your items immediately, consider moving the box into your car's truck or garage so you won't feel the urge to retrieve things you no longer need.
Buying Storage Impulsively
Think that stocking up on great storage products will help you get organized? Think again. Bear in mind that prior to buying big storage boxes, you must ensure that you have made a list of items you must store. Most importantly, you need to measure what stuff you have so you will be able to fit everything snugly in your storage bins.
Lacking Vision of the Final Result
If you do not have a vision of the final result, the task of decluttering and organizing your home may feel draining and daunting. You can achieve great success if you have clearly defined goals.
Say, for instance, you are decluttering so you can rent out your home and travel more, or perhaps you want to host your family and friends without feeling ashamed. Taking the time to define your reasons for cleaning and organizing your space will help keep you motivated and on track. Whenever you get stuck along the way, just remind yourself of what you want to achieve to keep going.
Getting Emotionally Attached
If you can live without your doll from your childhood, now is the time to let it go. Ask yourself what will happen if you get rid of this and the other clutter. You should encourage yourself not to get too caught up in sentimental stuff. Items you no longer need should be removed from your home environment – you can donate it, sell it or place it in a safe storage unit.
Going It Alone
It will take a lot of time and effort to declutter your home, especially if you have a lot of stuff. If that is the case, consider getting help from your family, friends, and relatives. Just ensure that you have refreshments and snacks on hand. If not, you can hire professional movers and packers or organizers to help you declutter and clean up.
Like most people, clutter is probably among the things you try to avoid. But in reality, you are often left with a seemingly unavoidable mess. So after you've successfully decluttered, stay ahead of messes and incoming item buildup to ensure that clutter won't become a recurring problem. Most importantly, avoid the above mentioned decluttering mistakes to create a clutter-free and organized home.

Chris Humphrey
General Manager | Easytruck Moving & Storage
Chris Humphrey is the General Manager of Easytruck Moving & Storage. In 2013, the company combined their expertise in professional moving services & storage to create an entirely new approach to the business – and mobile storage was born! Easytruck now operates over 30,000 sq.ft. of air-conditioned facilities in three convenient locations in Dubai and is the only Mobile Storage operator in the UAE.
Equal Housing Opportunity Rental providers will not refuse to rent a rental unit to a person because the person will provide the rental payment, in whole or in part, through a voucher for rental housing assistance provided by the District or federal government.
Offers included in posts
Pricing and availability is subject to change. | Terms and conditions may apply to any special offers referenced. Contact the apartment communities for details.
Sponsored Posts
Aparrtminty may receive payment for sponsored posts and guest posts