Ask The Apartment Experts: What Is "Normal Wear And Tear"?
As an Amazon Associate I earn from qualifying purchases. | Amazon and the Amazon logo are trademarks of Amazon.com, Inc, or its affiliates. | As a content creator, I may receive payment for the endorsement of apartment communities.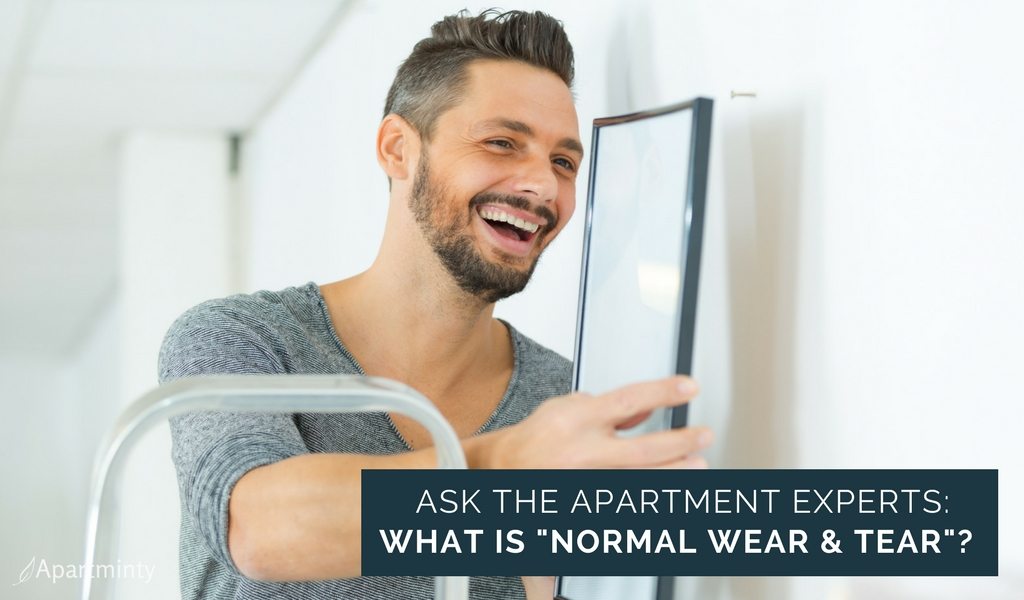 This week's "Ask the Experts" post is about a question we receive in a couple of different variations:
Can my landlord charge me for wear and tear?
What is considered normal wear and tear?
What is normal wear and tear?
We asked a couple of different landlords and property managers to get their take on what is considered "normal" and when is an extra charge assessed upon move-out? As usual, the first thing we are going to tell you is,
check your lease!
If you are working with a professional management company, the lease will often outline what "normal wear and tear" is to them.  Anything beyond that will likely be taken out of your security deposit. Second, do a walk through with your property manager or landlord when you move in. Often, there will be a move-in checklist you can use to document any current damage or conditions you do not want to be charged for when you move out (similar to when you rent a car).  Also, take time to take pictures to document the condition upon move-in.
So, what is "normal wear and tear"?
"Normal wear and tear" encompasses any damage that occurs through the ordinary course of living in an apartment. For instance, your carpet will start to have some wear patterns in highly traffic areas. However, a giant red wine stain on that carpet is not typical.
Examples of typical wear and tear and where it crosses the line into excessive damage:
Holes In The Wall
Small holes in walls from nails or shelves less than the size of a nail head are perfectly acceptable. If you drill large holes and anchors into an apartment wall to mount a TV or significant shelving units, expect to be charged for wall repair.
Paint
The paint question is one a client asked us to address specifically. "Can a landlord really charge me for paint? Don't they paint in between each tenant anyway?" Most landlords do paint in between residents. However, if you have painted the walls a different color, especially if it's a dark or saturated color, the extra labor and goods cost to return the walls to the original color will be your responsibility to pay. We've seen past residents that painted their walls a dark blue and before leaving, slapped on one coat of primer…which just turned the walls a slightly less dark blue and were shocked when they received a charged for a paint job. Don't do this. In fact, skip painting your rental and just
use these tips to bring color to your apartment
.
Carpet
A carpet will generally be replaced after 3 or 5 years, depending on the company. If you live in your apartment for five years, you should not get charged for carpet replacement. However, if the carpet requires replacement after 12 months, you will most likely pay a prorated charge for the replacement. Also, if you have a pet, know that pet stains can seep down into the pad below the carpet. That is where the odor sits, and a landlord has to replace the carpet padding, and you should expect a damage charge for it.
Misuse & Neglect
Damage due to misuse or neglect is another area of some confusion. If you notice that a pipe under your sink is leaking, but you fail to report it, the damage caused to the cabinet or floor could be your responsibility. Always report maintenance issues ( and take time-stamped photos) as soon as possible, especially when they involve water or leaks. Also, make sure to document any time you communicate maintenance issues to your landlord – this is best done by communicating in writing/via email. Neglecting to clean appliances properly is another big area for charges. The Today Show states
you should clean your oven every three to six months
and you should clean your refrigerator monthly. Beyond obvious health threats, if you neglect to clean appliances regularly after you move out, the cost for the 'deep clean' can and will be passed on to you. Speaking of appliances, it's relatively common to find stainless steel appliances in apartments these days. While we love their sleek look, you do need to treat them with care. If you break a refrigerator's handle or shelf, or scratch or dent the stainless steel, expect charges for damage.
Items Left Behind
One last note: when you move out, ALL of your things need to go with you. You are not generous by leaving your old couch or nightstands behind. Whether it's trash or furniture or food in the fridge, someone will have to move it, and the cost to remove it will be yours to pay.
We hope this answers your questions about normal wear and tear. Need clarification or have follow-up questions? Feel free to give us a shout!  
Equal Housing Opportunity Rental providers will not refuse to rent a rental unit to a person because the person will provide the rental payment, in whole or in part, through a voucher for rental housing assistance provided by the District or federal government.
Offers included in posts
Pricing and availability is subject to change. | Terms and conditions may apply to any special offers referenced. Contact the apartment communities for details.
Sponsored Posts
Aparrtminty may receive payment for sponsored posts and guest posts
Summary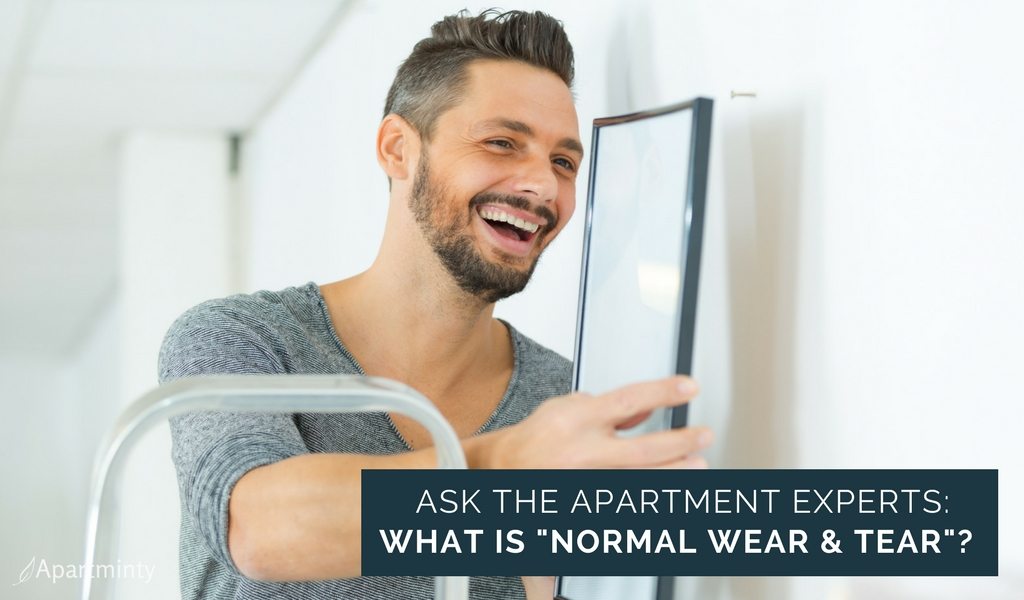 Article Name
What is Normal Wear and Tear?-Apartment Experts Answer Your Questions
Description
Ever hear the term "normal wear and tear"? As renters, it's crucial to understand what it means when it comes time to get our security deposits back.
Author
Publisher Name
Publisher Logo