7 Carpet Cleaning Hacks You Haven't Tried Yet
As an Amazon Associate I earn from qualifying purchases. | Amazon and the Amazon logo are trademarks of Amazon.com, Inc, or its affiliates. | As a content creator, I may receive payment for the endorsement of apartment communities.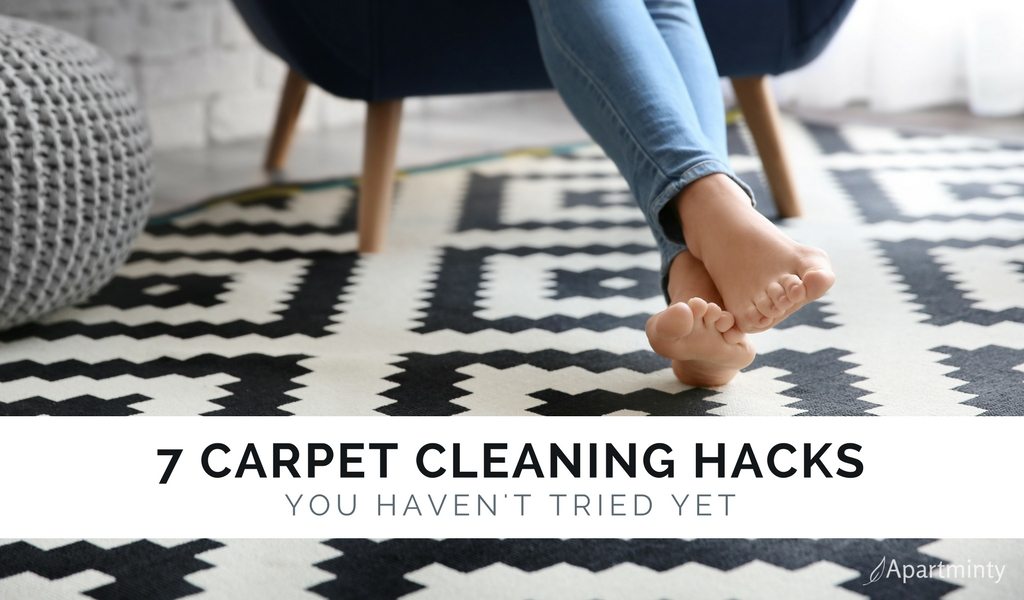 While hardwood and wood-style flooring continue to gain popularity in the world of apartment rentals, plenty of landlords and property management companies continue to use wall-to-wall carpeting in their rentals.  No matter what your preference, there are, in fact, some benefits that come with carpeted flooring.  From sound dampening to comfort for bare feet, carpet still has a lot to offer and is much easier to maintain with minimal wear & tear with a few great cleaning hacks.  Whether you live with wall-to-wall carpeting or choose to cozy things up with rugs, check out our carpet cleaning hacks to help keep them looking their best.
DIY Carpet Cleaning Tips:
Use a lint roller to help extract small debris
Sometimes, suction from a regular household cleaner is just not enough to help you get rid of all the dirt, crumbs, pet hair, spills (i.e. flour, sugar, rice or etc), or the many other tiny particles nested in the fiber of your carpeting.
Truth is, that's normal. The experts at Fantastic Cleaners say that regular steam (or dry chem) cleaning at least once every 6 months is a mandatory chore for any conscientious homeowner or renter. High-end steam cleaners and dry compound solutions remove up to 95% of the unsanitary agents in both carpets and rugs, unlike regular vacuums.
A great way to extract pesky particles DIY is by using an almighty lint roller! The one downside of using one to further extract fiber-stuck dirt is the need of some manpower. On average, you'll need anywhere between 5 and 15 minutes to cover a fully carpeted room.
Use a squeegee to remove pet hair from carpets
Have you ever seen what happens to a carpet in a house full of cats? How about dogs? Either way, you can surely imagine the excessive amount of hair pets leave behind as they shed.  What doesn't stick to furnishing and upholstery will inevitably end up on the carpet.
Bear in mind: This works best for short-haired carpets and rugs.
Squeegees might be meant for cleaning your windows but their efficiency with hair removal is a know-how must for pet-owners! All you have to do is rinse the squeegee so it's moist enough for pet hair to stick. To maintain a clean carpet when living with pets can be a hefty task, but some know-how, discipline, and persistence is the one sure way to success.  
Apply heat to help remove stubborn stains
Although there are some stains that are not susceptible to removal via heat, most are. The challenge of removing a stubborn smear has pushed human creativity and ingenuity to the maximum.
You can find many different recipes for removing stains via ironing but the one we have comes in 5 simple steps:
Remove all dirt possible vie regular vacuum cleaning;
Mix water and vinegar 3:1 and pre-treat all stubborn stains;
Leave the mixture to set in and work. 5 to 10 minutes should be enough;
Use a towel or a rag to cover the stain;
Gently iron the area, being mindful to move quickly to avoid damaging the carpet fiber.
The combined forces of water, vinegar, pressure, and heat causes most stains to "relocate" from your carpet to the rag or towel.
Blot a stain rather than rubbing it
We rub one too many things in our daily life – washing silver and dinnerware, brushing our teeth, washing our face in the morning, all the way to wiping smudges off your shoes and etc. Rubbing something to clean it is an instinctual reaction, but when it comes to cleaning a carpet – rubbing is a huge no-no.
Here's why: When applying pressure to your carpet will only worsen the situation. The more you rub the deeper a stain will set in. Once fiber and dirt spots bound for good – cleaning could render impossible.
Always mind what direction you blot at:
Start at the outer edges of the stain, working your way in toward the center.  Working outward could further spread the stain.
Mind the arrangement of fibers. You would not want to blot the opposite way, for it could further damage the piece.
Deep clean using safe and effective DIY solutions
The market is oversaturated with products meant for people who own gear for deep cleaning a carpet, but unfortunately, most detergents are heavy on chemicals and pose health hazard risks to you and your family.
If you're looking for an eco-friendly and nature-safe solution for your steam cleaner, here's a green recipe you should definitely try:
What you'll need:
Hydrogen Peroxide
White vinegar
Essential oils
Dish soap
A regular fabric softener
Hot water
Directions:
Pour about 3/4 cup of hydrogen peroxide in a cup;
Add ¼ cup of white vinegar;
Add 2 tablespoons of dish soap;
Add 2 tbsp of fabric softener;
Dilute in a gallon of hot water.
Optional: add a few drops of your favorite (colorless) essential oil, such as lavender, to help neutralize the vinegar scent
Although not always as powerful as off-the-shelf carpet shampooers, this DIY deep cleaning solution is relatively inexpensive and harmless when diluted in this way.
Shampoo your carpet with shaving cream
Bright and light colored carpets are vulnerable to signs of wear and tear.  Naturally neutral colors can easily become a victim of accidents, mud marks, and kid and pet stains.
An efficient yet lesser known cleaning solution is the hack of using regular shaving cream! It's budget friendly and can work wonders. It not only helps with aged stains but rejuvenates and freshens the entire fabric of your carpet!
Some call shaving cream "the anti-aging solution". It not only leaves a pleasant aroma but softens the fabric itself.
Make a DIY carpet deodorizer
Deodorizing your carpet on a regular basis can help maintain a pleasant smelling apartment and is rather simple to do. Simply mix a tablespoon or two of Borax with a few drops of your essential oil of your choice, then add the mixture to a cup or two of baking soda and your DIY deodorizer is good to go.  Simply sprinkle liberally and evenly on your carpet and let the mixture sit for at least 10 minutes and up to an hour or two, then vacuum it all up and take a deep breath!  Take care to keep any children or pets out of the room while the mixture works its magic – while these ingredients are relatively safe and natural, you want to avoid ingestion and the spreading of the mixture beyond the intended treatment area. 
Carpets are simply a must but cleaning can be a hefty burden. Surrounded by numerous chemical-rich products, we often ask for eco-friendly cleaning hacks to do so. Use these handy carpet cleaning hacks to handle stains and dirt-mark spots in an efficient, cost-effective and eco-friendly way!
Equal Housing Opportunity Rental providers will not refuse to rent a rental unit to a person because the person will provide the rental payment, in whole or in part, through a voucher for rental housing assistance provided by the District or federal government.
Offers included in posts
Pricing and availability is subject to change. | Terms and conditions may apply to any special offers referenced. Contact the apartment communities for details.
Sponsored Posts
Aparrtminty may receive payment for sponsored posts and guest posts