5 Things That Might Happen When You Go From Owning To Renting
As an Amazon Associate I earn from qualifying purchases.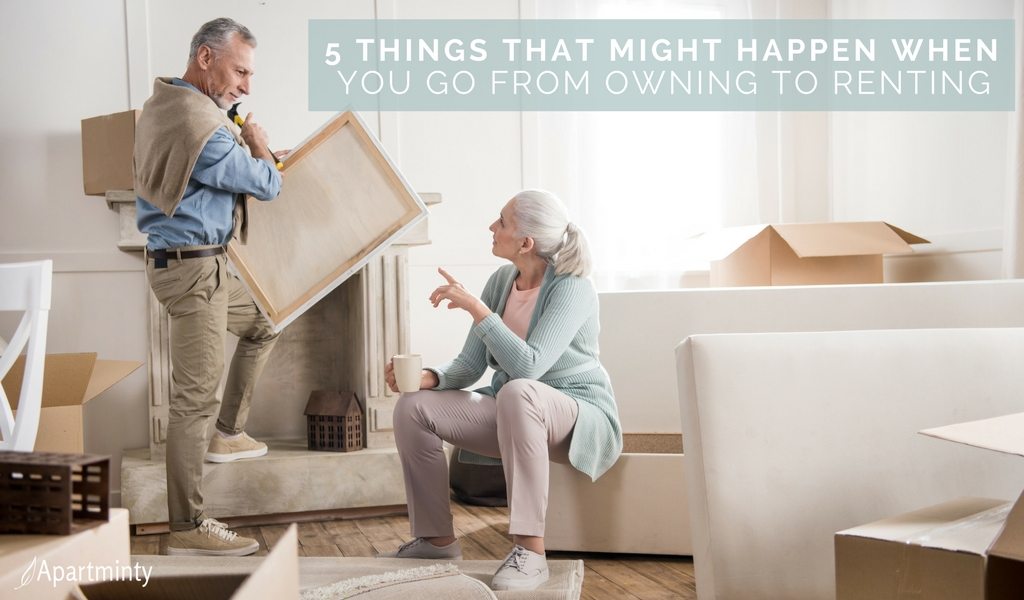 In the age of "renting by choice", the debate between renting an apartment vs. buying a home is starting to heat up.  No matter where you stand, you can't argue with the fact that renting comes with a set of perks that homeowners don't necessarily enjoy.  Millennials are often the focus of this discussion as they start to build a life, settle down and go from renting by necessity to shopping for a house to buy.  On the other end of the spectrum, however, are the retired set who no longer want or need to own the home they've been living in.  Rather than downsizing to a smaller (purchased) home, empty-nesters and retirees are beginning to consider renting an apartment as a more attractive option.  Here are a few things that might happen when you go from owning to renting.  
You Might Enjoy A Newfound Sense Of Freedom
Owning a home means being locked in until you're able to sell the house.  This comes with a lot of uncertainty – timing, price, and terms of the sale are all relatively out of your control, which can be scary.  As a renter, you're only locked in to the lease term that you agreed to upon move-in, and even then you can break your lease, typically with a penalty of some sort, such as one full month of rent payment or forfeiture of your security deposit.  This means that when your lease is up, you're free to explore a different floorplan, apartment building, neighborhood, or even a new city altogether.
You Might Save Money (Or At Least Have More Predictable Expenses)
Depending on where you live (and just how much you're downsizing), trading in your mortgage payments for rent payments can add some extra padding back to your wallet.  Renting means eliminating your mortgage payments and property taxes, but it also means cutting out those often unpredictable and poorly timed expenses like replacing an old roof or fixing a plumbing issue.  Having more predictable expenses to deal with, particularly after retirement, can be a very attractive notion.
You Might Pare Down To Just The Essentials (And Be Happy About It!)
Owning your own home often comes with the not-so-pleasant side effect of accumulating a ton of stuff over time.   When there's an abundance of storage space available to you, like an attic, basement, or garage, it can be very easy to just put something away to deal with later rather than really taking the time to think about if and when you'll need or want that item again in the future.  The process of clearing out this accumulated clutter can be a daunting one, but once it's done, you're likely to be more mindful about letting the clutter build up again.  Plus, your apartment isn't as likely to have the extra space for stuff, even if you were tempted to fall back into that bad habit.
You Might Seriously Upgrade Your Surroundings & Amenities
Apartment communities, particularly in metro areas, are becoming more and more luxurious in their finish packages and amenity offerings, but developers are moving beyond simple luxury and putting some real thought into the amenities and features being offered.  In an age where residents are choosing to rent as a long term plan, the focus has turned to creating a rental space that provides as many of the comforts of home ownership as possible.  In your individual apartment, downsizing to a smaller floorplan could mean that you are able to upgrade your space with nicer and newer appliances and finishes.  In your apartment community, you may be able to enjoy amenity offerings ranging from rooftop gardens and swimming pools to state-of-the-art fitness centers and dog washing stations, right in the comfort of your own (extended) home.
You Might Get Your Weekend Back
In addition to eliminating most unexpected home expenses, renting means that when an issue does come up, the landlord or management company will most often be responsible for addressing the issue.  In addition, regular maintenance items like replacing your AC filter and mowing the grass will be a thing of the past.  This means you get to reclaim some of your weeknight and weekend time and use it to do something you love!
Interested in further exploring the idea of renting as a retiree?  Check out our piece for the Allstate Blog about Things To Consider Before Renting for Retirees.
Equal Housing Opportunity Rental providers will not refuse to rent a rental unit to a person because the person will provide the rental payment, in whole or in part, through a voucher for rental housing assistance provided by the District or federal government. Amazon and the Amazon logo are trademarks of Amazon.com, Inc, or its affiliates.