All You Need to Know When Designing a Walk-In Pantry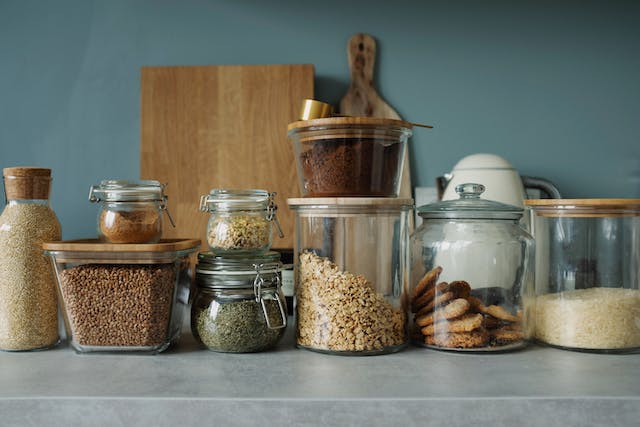 As an Amazon Associate I earn from qualifying purchases. | Amazon and the Amazon logo are trademarks of Amazon.com, Inc, or its affiliates. | As a content creator, I may receive payment for the endorsement of apartment communities.
Today, walk-in pantries are for more than just storing food. If you design this space with your needs in mind, this storage area can help with entertainment, and food storage, or even serve as a quiet space for you to get away from everyone for a couple of minutes. If you are thinking of redesigning or building your own walk-in pantry, here are some things to consider. 
Get the Space Prepared
Maybe you already have a pantry that is big enough for a walk-in one, but it's just not done right. If that's the case, it's time to prepare the space for renovation. Start by taking everything out, including shelves you may already have in there. This will allow you to inspect the space better. Maybe there is some moisture on the walls to get rid of, maybe some paint is falling off the old walls, etc. 
This is also a perfect opportunity to see if you need to insulate the pantry. Since you want to protect the food and appliances that will end up here, you should consider insulation products for better climate control and protection of the space. Once the insulation is installed, you can start taking measurements to see how much space you are working and what you can do with it exactly.
Consider If You Want Appliances Here
If you decide that you want to have working appliances in your walk-in pantry, create a list of appliances and see where you can fit them in. Also, if you do want this, make sure to install utilities such as water and electricity in the area before you start remodeling. Appliances that you might want to store and use here include a small fridge, freezer, coffee maker, microwave, or an espresso machine. 
On the other hand, if you are just going to store smaller appliances here, without using them, think about storage options. And you certainly don't have to install water and electricity here. 
Shelving and Cabinets
A walk-in pantry offers plenty of storage options. However, to maximize the functionality of the space, create a layout of shelves and cabinets that you want here. The first step here is to consider the visibility of the items you plan on keeping in the pantry. Narrower shelves will offer more visibility if you need it. However, if visibility is not vital, you can use wider shelves that will allow neat storage of larger items. Plus, you can keep baskets and containers to hold any smaller items.
Some great shelving options include fixed shelves, adjustable units, and pull-out sections. If the space allows it, you can install a fixed countertop and use the area for food prep or appliances.
Personalize the Space
Since this new pantry will serve plenty of purposes, you should personalize the space. You can start by choosing the materials that accent the decor that already exists in your home; especially the kitchen. You can also use similar colors you already feature around the house, and even bring in a few personal items. If you wish, you can even create a cozy nook where you can curl up with a good book when you need a minute for yourself. 
Don't Forget Lighting
Last but not least, your walk-in pantry should be well-lit. You don't want to stumble in the dark while searching for certain items. So, good overhead lighting is a must. Additionally, you can consider target lighting to emphasize darker areas of the room or bring light to certain pieces you want to highlight in your new pantry.
Messy and narrow pantries are a thing of the past. Today, we all want to maximize storage in our homes, and this is where a walk-in pantry comes into play. Make a list and see how you can turn that old small pantry into a space you will love and that will serve you well.
Author bio: 
Written by Victoria, Lim.
Victoria Lim is a lifestyle writer with expertise in scribbling a lot of words, traveling with a big pack of gummy bears (green ones to the victory!), walking a dog for miles and miles, and choosing a tea for her next cup.
https://twitter.com/VictoriasScrawl
Equal Housing Opportunity Rental providers will not refuse to rent a rental unit to a person because the person will provide the rental payment, in whole or in part, through a voucher for rental housing assistance provided by the District or federal government.
Offers included in posts
Pricing and availability is subject to change. | Terms and conditions may apply to any special offers referenced. Contact the apartment communities for details.
Sponsored Posts
Aparrtminty may receive payment for sponsored posts and guest posts