7 Tips for Reorganizing Your Small Living Room
As an Amazon Associate I earn from qualifying purchases. | Amazon and the Amazon logo are trademarks of Amazon.com, Inc, or its affiliates. | As a content creator, I may receive payment for the endorsement of apartment communities.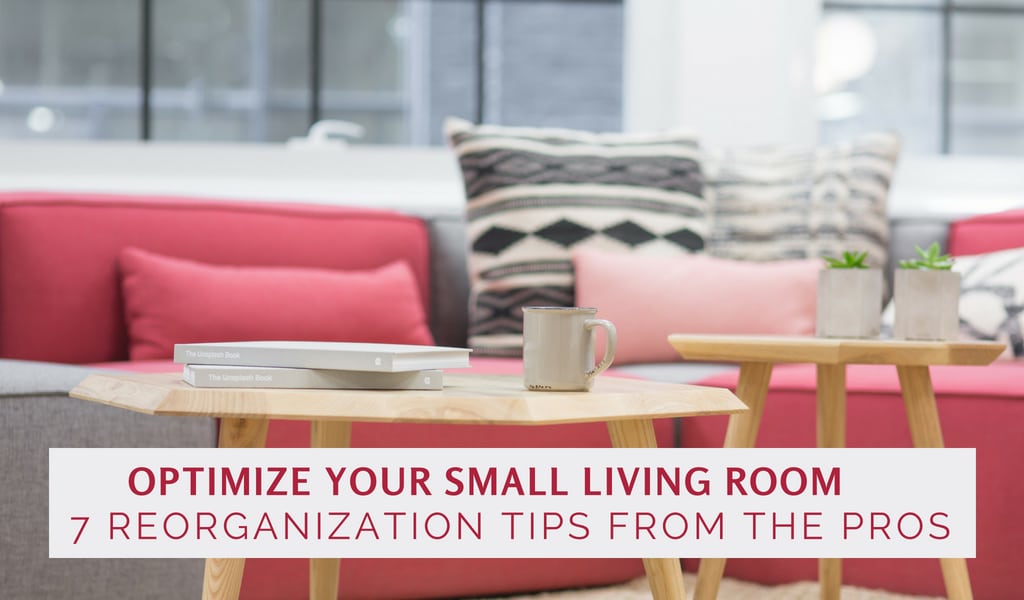 Feeling a bit cramped in your small living room?
Chances are, it's not the size of the room at all—it's the way you have it organized.
Living comfortably in a small space can be a challenge, but if you take advantage of every inch of space, you can make any room feel bigger
Check out these 7 unique tips on how you can organize your small living room and maximize your space.
Use Hidden Storage
Don't shove stuff under the couch or pile things up in boxes beneath chairs. Instead, look for furniture that does double duty as storage. Consider buying a storage ottoman to use in place of a coffee table.
Prefer a vintage-inspired coffee table? Look for decorative steamer trunks with flat lift-top lids that make it easy to stash all sorts of items inside.
Cords, chargers, and cables can also create unsightly clutter. Don't leave them hanging from every outlet in the room. Opt for decorative boxes that you can store on shelves or hide your cords in drawers so that they're out of sight. Check out this page for more cord storage tips.
Utilize Height
In a small space, it's always wise to draw the eye upward. This creates the illusion of a larger space and makes your room feel less crowded. There are a few chic, stylish ways to do this.
Use up-lighting or tall lamps to illuminate the walls and take the focus upwards. Add some tall plants in the corners or against one wall—greenery does double duty by adding a fresh, airy touch to a room.
Hang art and framed photos higher than eye level.
Mount your curtain rod or drapery rod higher than the top of the window. You'll need to buy longer curtains, but longer window coverings will make your windows (and your room) appear larger.
Keep Spare Chairs in a Closet
Think about how often you actually have company over. Now think about all the accent chairs you have to accommodate them.Seems silly, doesn't it?
Don't clutter your small living room with excess chairs. Instead, keep foldable chairs stacked neatly inside a closet. With fewer chairs on hand, you can maximize space. And then you can bring them out on those rare occasions that company comes by.
Folding chairs to not have to be cheap and ugly. Check out these stylish and affordable options from Ikea to find chairs that meet your budget and match your sense of style.
Replace the Sofa
Couches can take up a lot of space. If you have a tiny apartment, you may want to replace your sofa with individual chairs or a couple of accent chairs. Can't imagine a living room without some sort of sofa? Opt for a two-seater love seat instead of a full-sized couch.
If you love nothing more than coming home at the end of a long day and lying on the couch in front of the TV, chairs may not be the solution for you. Instead, look for a chaise lounge where you can stretch your legs and curl up with a good book without having to devote too much space to a large sofa.
Make Use of Multi-Functional Furniture
Multifunctional furniture comes in many forms.
Use ottomans as footrests, chairs, and tables.
Look for side tables that you can use as display tables and magazine storage.
Stools can double as both seats and accent tables.
Drop leaf tables, nesting tables, and convertible sofa beds can all help save space and provide different types of function.
Check out this post for chic, unique multi-function furniture for your tiny apartment or small living room.
Invest in Furniture With Drawers
When you live in a small space, it's essential that you have as many storage options as possible. Coffee tables and end tables with drawers offer storage for everything from magazines to mail to remote controls. You can also look for armchairs and sofas that have hidden storage compartments in the arms.
If that won't do it, be a bit unconventional and use a dresser as an entertainment console to hold your TV and audio components. Even with a small dresser, you can use the drawers to hold everything from clothing to sheets to towels.
Take Advantage of Glass and Mirrors
Let's make one thing clear—we are not suggesting that you mirror an entire wall the way your parents and grandparents did in the 1980s. But while their sense of style might have been a bit off, they did have the right idea in mind.
Mirrors and glass create the illusion of space and add more light to a small area. And there are a few chic, modern ways that you can incorporate mirrors into your home without it looking outdated.
For example, a glass coffee table can trick the eye into thinking that the table takes up less space than it actually does. Glass tables coordinate perfectly with all types of modern and transitional decor.
Another way to decorate with mirrors is to hang a collection of framed mirrors on one wall. Mix up the sizes and shapes and mix and match frames of different color, textures, and finishes. This looks great in any room decorated with rustic, vintage, or industrial decor.
Putting it all Together
If you're feeling cramped in your small living room, it's time to get organized and figure out how to maximize your space.
Look for pieces of furniture that double as hidden storage.
Make use of the height of your walls and draw the eye upwards with lighting and strategically placed accents that will make your room look bigger.
If you need spare chairs for company, store them in a closet.
Consider replacing your sofa with a loveseat, a chaise lounge, or a few comfortable chairs.
Look for multi-functional furniture and pieces that include drawers for added storage.
And to trick the eye into thinking your space is bigger, make use of glass and mirrors.
Follow these tips and you'll definitely be able to make big changes in your living room. With these solutions in mind, you can make any room look larger, no matter how small it may be.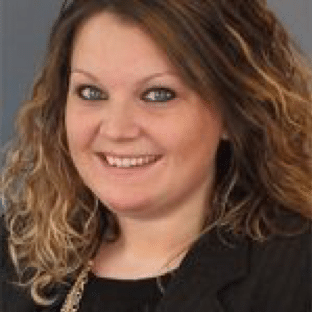 Kayla Cubellotti
Director of Property Management
Kayla Cubellotti is the Director of Property Management at Chestnut Portland, a quiet community of one, two and three-bedroom townhomes in Scarborough, Maine. Kayla has a BA from Iowa State University in Finance and Supply Chain Management.
Equal Housing Opportunity Rental providers will not refuse to rent a rental unit to a person because the person will provide the rental payment, in whole or in part, through a voucher for rental housing assistance provided by the District or federal government.
Offers included in posts
Pricing and availability is subject to change. | Terms and conditions may apply to any special offers referenced. Contact the apartment communities for details.
Sponsored Posts
Aparrtminty may receive payment for sponsored posts and guest posts