Moving To DC: The Checklist You Need For Moving Day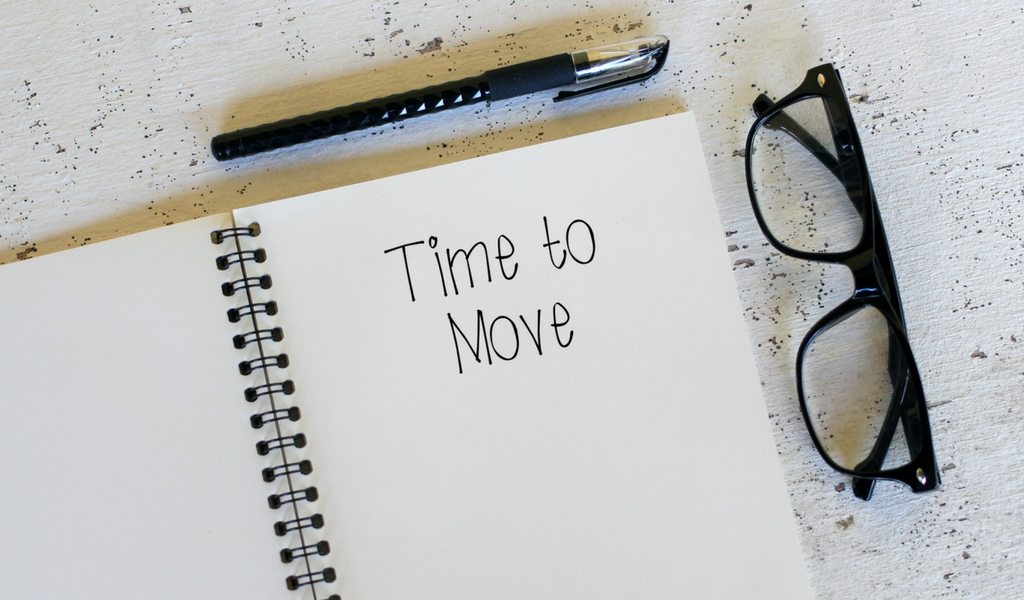 As an Amazon Associate I earn from qualifying purchases. | Amazon and the Amazon logo are trademarks of Amazon.com, Inc, or its affiliates. | As a content creator, I may receive payment for the endorsement of apartment communities.
Prepping for a move is no small feat. From finding a new apartment to packing up all of your belongings, there is a lot to do before moving day. When moving day arrives, help ensure the smoothest move possible with this moving checklist. We've included our general guide for moving day as well as some Washington, DC specifics you'll need to be prepared for.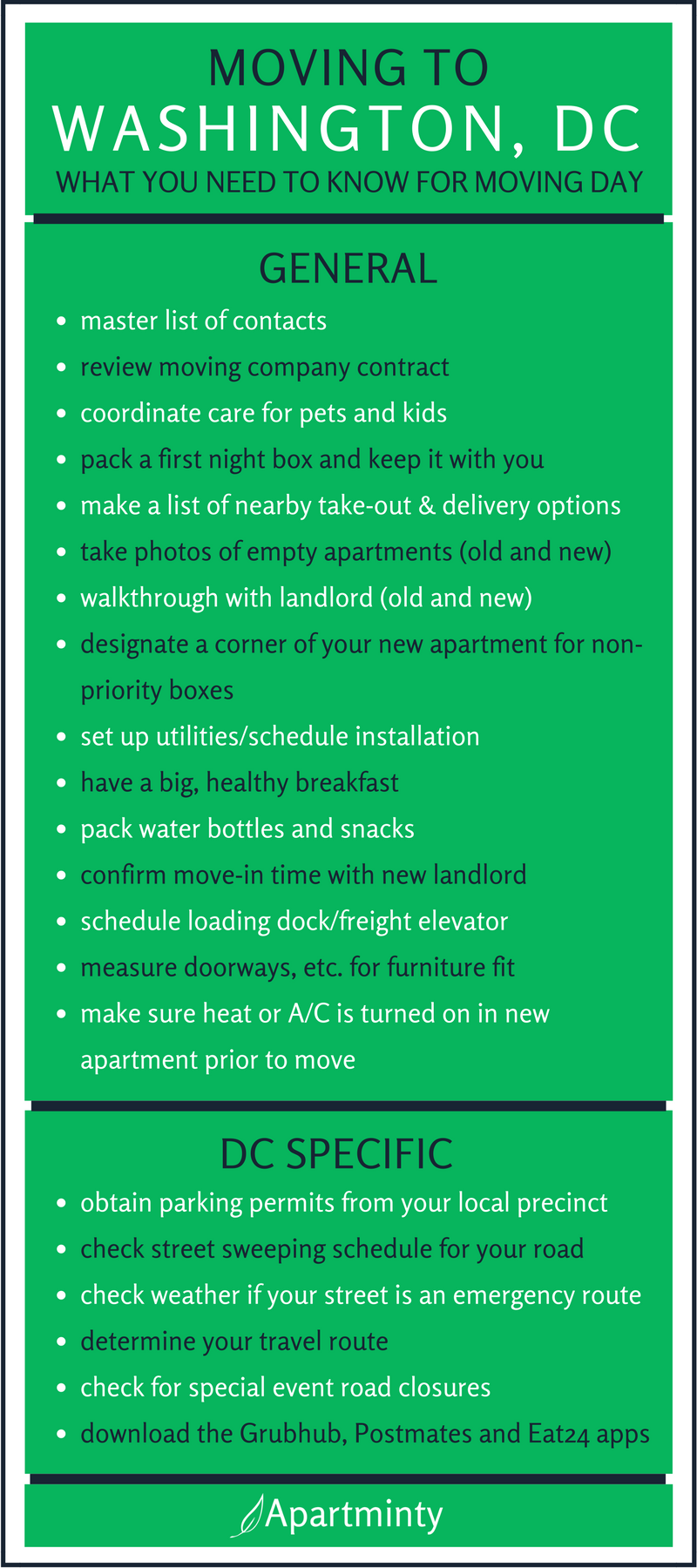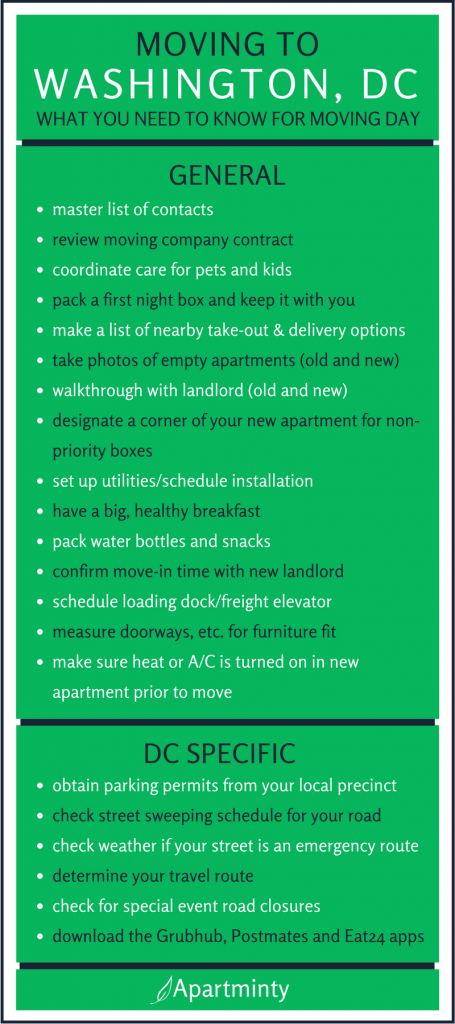 Need the checklist now? Download a printable version here that you can take with you on moving day:
What Do I Need To Have With Me On Moving Day?
A Master List Of Moving Day Contacts
Even with impeccable planning, you can't account always or traffic, delays, and the timeliness of your moving company. Keeping a list handy with the contact info for anyone you may need to reach that day is essential for a smooth move. In the midst of a long day, you don't want to depend on your cellphone's battery to access those numbers. Some numbers to include: your moving company, moving truck driver, your old landlord, your new landlord, pet sitters, babysitters, and any brave souls that might be lending a helping hand.
A First Night Box With All Of The Essentials
Do your future-self a favor and pack a box of all the things you'll need for the first night in your new apartment. The last thing you want to do after a long day of moving is to break into a stack of boxes to find what you need. Keep this box in the car with you and be sure to include items like toiletries, paper plates, medications, garbage bags, pajamas and, of course, all the fixings for your favorite cocktail!
A List Of Nearby Take-Out and Delivery Restaurants
When you sit down for the first time at the end of moving day, you're going to want dinner to be a no-brainer.  Do your research and make a list or collect menus for the best take-out and delivery options nearby because no one is breaking out the pots and pans on the first night.
Bottled Water and Calorie-Dense, Healthy Snacks
Calorie-dense snacks such as energy bars or nuts are a quick and easy fix when hunger strikes mid-move. You may want to keep some in your car as well as in both your old and new apartment if possible.  Keeping hydrated is especially important when performing physical activity such as packing and moving. Consider having some bottles of water on hand, too.
What Do I Need To Do In Advance To Prepare For Moving Day?
Review Your Contract From The Moving Company
Choosing a moving company usually requires doing a little research to find a reputable company with reasonable prices and favorable reviews.  Once you've settled on a company, be sure to review your contract so that you have a full understanding of the terms.  Good things to understand include: -What is the policy if the movers are late or no-shows? -What is the policy if you are not prepared when the movers arrive? -Who is liable for items broken or damaged during the move? -What exactly does the cost of your move cover? (packing boxes, wrapping furniture, moving in, moving out)
Coordinate Care For Your Pets And Kids
Moving day is hectic. Hire some help or cash in a favor to make sure your kids and/or pets are well cared for. Your attention will be consumed with moving details and logistics so don't place any unnecessary burden on the process.
Set Up Utilities For Your New Apartment and Schedule Installation
Scheduling the beginning of service or getting utilities switched into your name for the start date on your lease is something you can do in advance, so don't wait until you're in your new apartment to do so.  Many companies and apartment communities are also allowing residents to install cable and wireless internet on or before move-in day so check with your provider and new landlord to see if this is an option.
Schedule The Loading Dock or Freight Elevator
Most apartment buildings have either a designated loading dock, a separate elevator designated for moving furniture, or the ability to lock out an elevator for residents to use during their move.  Check with both your current and soon-to-be landlords or property management company to ensure you've taken the steps you need to in order to make reservations accordingly.  It may seem like no big deal to use the loading dock and elevator at your own pace, but there's always a chance that another move is occurring that day – schedule a moving window and do your best to stick to it and be sure to inform the landlord of any delays or last minute changes as soon as you know about them.
Measure Doorways, Elevators, and Stairways To Ensure Your Furniture Will Fit
Measuring your new apartment to see how and where your furniture will fit is always a good idea prior to moving day, but it is also important to measure any doorways or spaces you'll need to navigate through in order to get to your apartment.  The last thing you need to deal with after a long day of moving is getting your couch all the way to your new apartment and not being able to get it through the front door or into the elevator.
What Do I Need To Do On Moving Day?
Take Photos of Your Empty New and Old Apartments
Once all of the furniture and boxes are on the moving truck, snap a few quick photos of your now-empty apartment as proof of the condition you left the space in.  Do the same with your new apartment before everything is moved in (either the morning of or the day before), taking note of anything that is broken, damaged or out of place to prove the condition of your new space upon move-in.  You should also be conducting a walk-through with both landlords, but photos don't lie and having physical proof is always a good idea.
Perform a Walk-Through With Both Your Old And New Landlords
To be done preferably on moving day (though a day or two early or late is ok), walk through your old apartment with the landlord with lease in hand to ensure you're both on the same page about exactly what you can you expect back of your security deposit and account for any deductions/cleaning/repair costs.  Walk through your new apartment with your new landlord to ensure you're on the same page about the current condition of your new space, noting any damage you discover.  Your new landlord should provide you with a move-in condition checklist, but if they do not, put any damage or areas of concern in an email and print it out for your own protection.
Designate A Corner or Room Of Your New Apartment To Store Non-Priority Boxes
Before the moving truck arrives to unload all of your possessions, pick a corner or room where boxes that do not need to be opened immediately can be stored.  Boxes containing decorative items, special occasion dinnerware, and extra linens are examples of boxes you'll want out of the way until you're ready for them.  Designating a space for these items also helps to ensure that the boxes you want to open first don't get buried under less important items.
Have a Hearty, Healthy Breakfast
On our busiest days, when we need to stay fueled the most, it is easy to forget to start the day off right.  Avoid a mid-morning crash by planning a healthy breakfast such as oatmeal with fruit and nuts, yogurt with granola or eggs and whole wheat toast.
Confirm Your Move-In Time With Your New Landlord
This can be done in the days leading up to your move, but you may want to follow up one last time on moving day to ensure your new landlord is ready and aware of your move-in time and that the loading dock and freight elevator are free for your use.  It's also a good idea to confirm your move-out time with your old landlord so there aren't any hold-ups getting out of your old space.
Turn On The Heat or A/C In Your New Apartment
Whether you choose to do this the day before or the morning of your move, take the time to make sure your new apartment will be comfortable for your first night.  This is also a thoughtful measure to take for the benefit of your movers, giving them a brief break from the outdoor temperature.
What Do I Need To Know For Moving Day When Moving To Washington, DC?
Obtain Parking Permits From Your Local Precinct
Moving in any city usually involves some planning when it comes to parking on moving day.  Many apartment communities have loading docks or parking lots or garages that you can utilize during your move, but there are plenty that do not have these features.  When street parking is the only option, turn to your local precinct to obtain parking permits.  These permits will allow you to block off multiple adjacent street parking spaces by posting the provided "no parking" signs a day or two before the move.  You can obtain temporary parking permits by visiting your local DC police station or by visiting
this website.
Check The Street Sweeping Schedule For Moving Day
Between March and October, the streets and alleys of DC are kept clean by regular street sweeping.  While much of this service is conducted overnight, vehicles are prohibited from parking on the street for a period of time before and after scheduled street sweeping.  Avoid a moving day dilemma by visiting
this site
to learn more and get in touch with the Department of Public Works.
During Winter Months, Check To See If Your New Apartment Is On An Emergency Route
When snow falls in The District, certain main arteries of the city are designated as emergency routes and parking is prohibited.  This allows for quicker and safer clearing of snow but can be an issue if you're trying to move during a snow storm or in its aftermath.  If your new apartment is on one of
these emergency routes
 and you're moving during the winter, be sure to have a backup plan in place, such as picking a nearby side-street to park the moving truck on or asking if there are any alternate entrances to the apartment building.
Determine Your Travel Route In Advance Of Your Move
Like any city, Washington, DC has its fair share of traffic.  Plan accordingly by mapping the best route based on the time of day you'll be traveling and paying attention to any side streets or one-way streets you may want to avoid in a moving truck!  To avoid traffic on moving day, you can also choose to rely on a navigation app like
Waze,
which allows users to provide live updates of road conditions.
Check For Any Road Closures Due To Special Events
Between the transporting of government officials, constant repairs and renovations, and the seemingly weekly marathon races that occur within the city, you're almost guaranteed to hit a road closure somewhere along your route.  Be prepared by checking for any road work or special events occurring on your moving day by checking the
District Department of Transportation
website.
Download These Apps For Convenient Moving Day Dining
While these apps are available to use in most cities, the convenience factor of having almost any restaurant in the city deliver directly to you is worth mentioning.  Having 
Grubhub, Postmates 
and
EAT24
loaded on your phone and ready to use will make ordering lunch and dinner a breeze when you're too tired to make or pick-up anything.
Ready to find your next apartment?
Equal Housing Opportunity Rental providers will not refuse to rent a rental unit to a person because the person will provide the rental payment, in whole or in part, through a voucher for rental housing assistance provided by the District or federal government.
Offers included in posts
Pricing and availability is subject to change. | Terms and conditions may apply to any special offers referenced. Contact the apartment communities for details.
Sponsored Posts
Aparrtminty may receive payment for sponsored posts and guest posts
Summary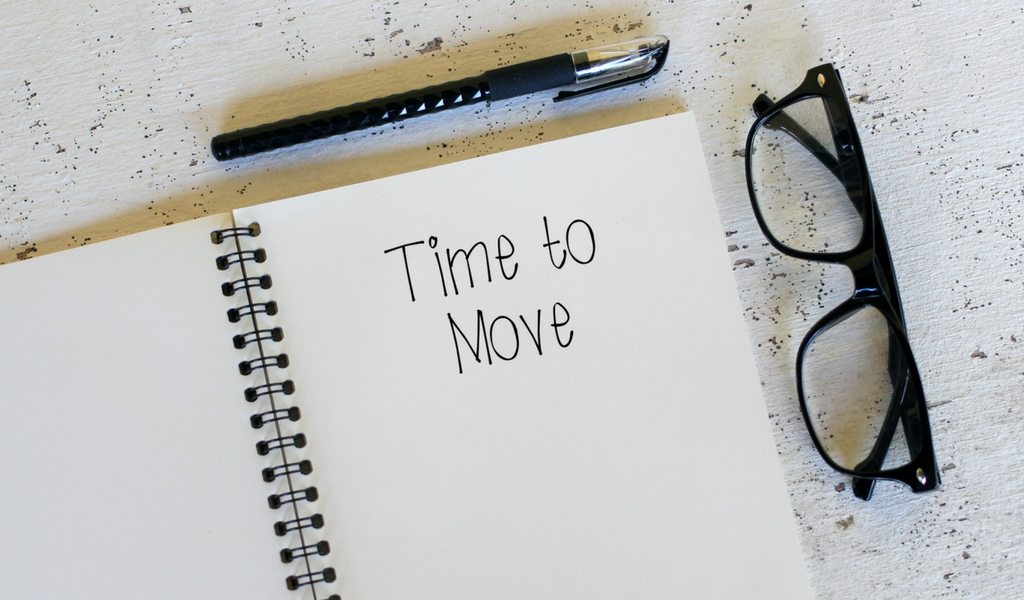 Description
Moving to DC? You need to be prepared! No worries. Apartminty has your back. Our checklist has everything you need for moving day.
Author
Publisher Name
Publisher Logo