Guest Post: 10 Packing Tips To Help Minimize Stress On Moving Day
As an Amazon Associate I earn from qualifying purchases. | Amazon and the Amazon logo are trademarks of Amazon.com, Inc, or its affiliates. | As a content creator, I may receive payment for the endorsement of apartment communities.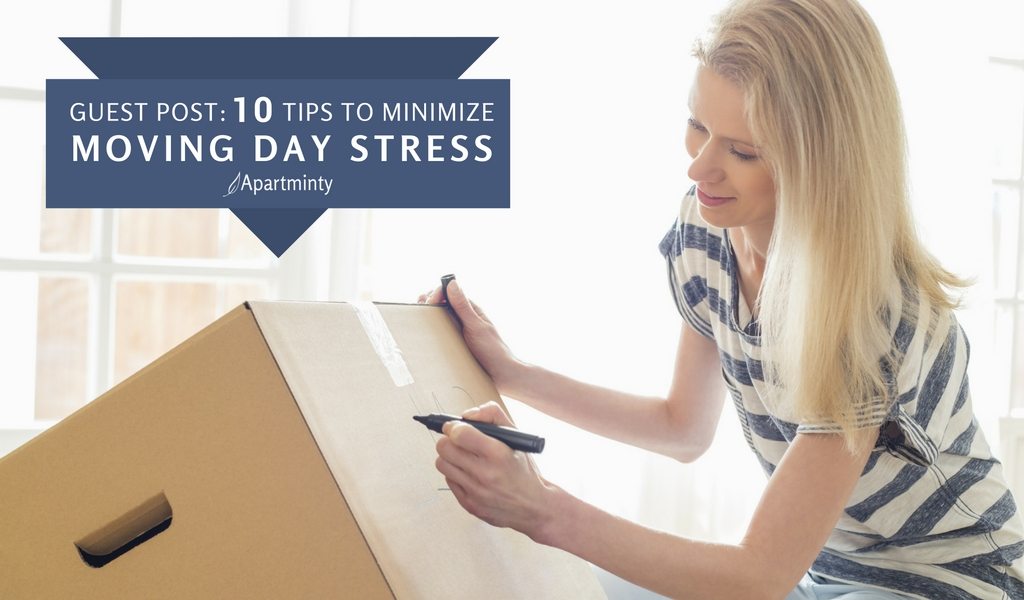 Guest Post From Evelyn Kail of Cera Packaging
Moving to a new apartment is exciting and promises a fresh start. However, the packing and moving part can be a hassle. Packing all your belongings into dozens of boxes is not an easy task. Things around the home will be crazy, and you may feel like the process is never ending.
But, there has got to be a better way! It shouldn't be so tiring! To avoid the stress, confusion and damage associated with moving, keep these tips in mind.
Tip 1: Pack in advance
Your moving day will arrive quicker than you realize. Waiting until the last moment to pack is a recipe for disaster. So start preparing at least a month before your move. Start with small items such as the hangings on the walls and your CDs. Formulate a plan and pack one box every day until your moving date arrives.
Tip 2: Ease your load
Moving is a great opportunity for a clean start. When you're storing things, sort out the items that you haven't used in a while. If they are in a good condition, give them to charity or have a yard sale and make some money. The Bottomline is, don't move the stuff you don't need.
Tip 3: Get moving supplies
Since moving requires a ton of boxes, you can save those extra bucks you spend on buying them. Get used boxes from local liquor or grocery stores. Most of them will be in a pretty decent condition. Some companies like usedcardboardboxes.com sell used boxes. You can also keep an eye on Craigslist to find people who are giving away their packing boxes.
Ready to find your next apartment?
Tip 4: Label each box
Label the boxes and write a summary of the contents on each one of them. You could also use different colors of sticky notes or tapes according to the nature of the box, like green for all the kitchen items. And don't forget to number the boxes. This way, you will know if any of them have gone missing while unloading.
Tip 5: Take pictures
Before you seal the boxes, click images of their contents just to be sure that you have packed everything. Also, take pictures of the backside of all electronic items. This will be helpful when installing them, and you won't have trouble finding out which wires go in each of the sockets.
Tip 6: Pack an overnight bag
It is not advisable to pack valuable items and documents with the rest of your stuff. An emergency may arise at any time. So such items must be easily accessible. Pack personal documents such as birth certificates, medical and education records in an overnight bag and carry it with you during the move.
Tip 7: Store items correctly
When you pack breakable dishes, put packing paper and bubble wrap around each one. And place them like vinyl records as they are less likely to break this way. Your movers may treat your plasma TVs like any other furniture. So store them in the boxes they came in and instruct your movers to handle them with care.
Tip 8: Choose the right-sized boxes
When heavy items are placed in large boxes, they will be hard to carry and may even break. So put any heavy items in smaller boxes and light ones in larger boxes. Don't leave any empty spaces, stuff the gaps with crushed papers or towels.
Tip 9: Pack room-by-room
Some people may cringe at the idea of packing up the things in their closets and drawers. Try clearing out messy areas first. Focus on one place at a time to avoid mixing items from different rooms. It will make your packing quicker and make unpacking a much easier task.
Tip 10: Hiring movers
Movers typically charge more at the beginning and end of each month. So try avoiding moving on these days to make your wallet happy. Above all, hire someone who is reliable and doesn't overcharge. Get a written estimate of all charges to avoid mix-ups in the future.
Before you start packing, check out these tips to get the job done. This way you won't be scrambling around to find the tools required to reassemble your bed or table at your new place. The more time you spend on packing now, the more energy you'll save at your new home.
Equal Housing Opportunity Rental providers will not refuse to rent a rental unit to a person because the person will provide the rental payment, in whole or in part, through a voucher for rental housing assistance provided by the District or federal government.
Offers included in posts
Pricing and availability is subject to change. | Terms and conditions may apply to any special offers referenced. Contact the apartment communities for details.
Sponsored Posts
Aparrtminty may receive payment for sponsored posts and guest posts
Summary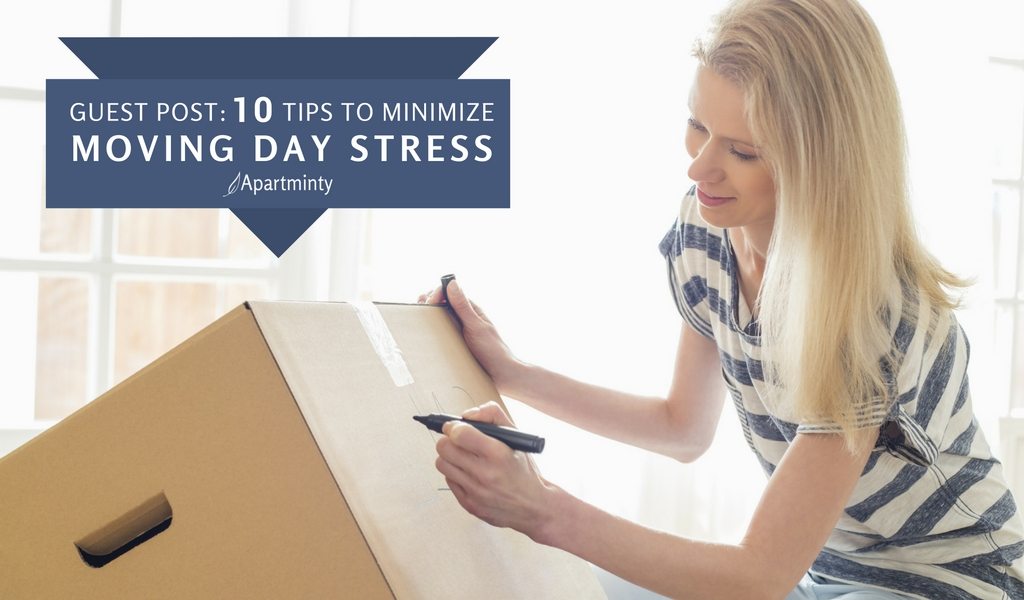 Article Name
Guest Post: 10 Packing Tips To Help Minimize Stress On Moving Day
Description
Moving day doesn't have to be stressful if you plan ahead! Evelyn Kail of Cera Packaging shares her top 10 packing tips to help you prep for moving to a new apartment.
Author
Publisher Name
Publisher Logo